Entertainment
Jada Pinkett Smith Shows "Will" On Married Life & Husband As Serious Oath Takes Place
Amercian actress Jada Pinkett Smith has walked down almost three decades of her acting journey after debuting from the TV series, True Colors in 1990.
But most of her share of fame comes as Mrs. Will Smith and recently, her romance with husband has also marked two decades of married life.
However, their journey was not paved with the golden tiles as the couple has been facing numerous divorce rumors over the years. Most interestingly, both husband and wife have their unique methods to slam those rumors whether through interviews or song lyrics. 
Longtime Married To Hancock Actor; Openly Discusses Sex With Children 
American actress Jada Pinkett Smith has been weaving her married life with the actor-musician, Will Smith since 1997. They first met on the sets of the TV series, The Fresh Prince of Bel-Air in 1994 and started dating in 1995. 
After tying the knot on 31 December 1997 at The Cloisters near Baltimore, Maryland, the couple welcomed their son Jaden Smith six months post their wedding. Now, the pair is cherishing their married life with their two beautiful kids, 18-year-old daughter, Willow and 20-year-old son, Jaden. 
Recommended:- How Chris Rock Wrecked Wife Relationship, Girlfriend Affair Fueled Divorce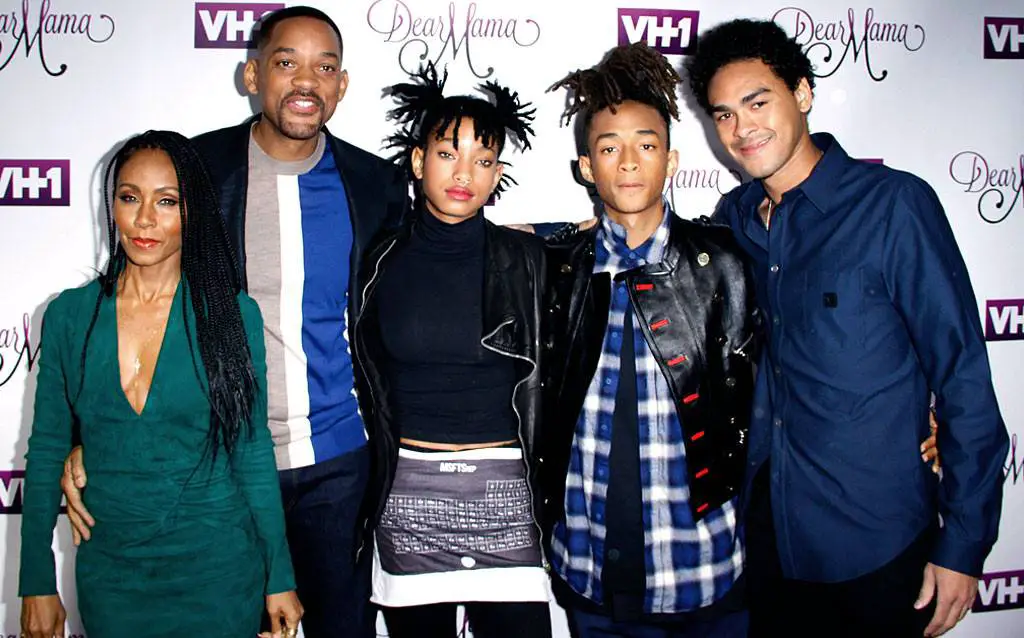 Jada Pinkett with husband Will Smith and children (Photo: e-online.com)
Similarly, the couple celebrated their 20th anniversary in December 2017, and the Men In Black actor gushed about his two decades of the married relationship. He stated in an interview with eonline.com:
"Two decades. When you're married with somebody that long and we were talking about it, we was like, 'You know, it's 20 years, what are we gonna do?' She was like, 'We're gonna high-five and keep it moving.'"
He further mentioned that unconditional love is a whole lot harder and different than romancing on-screen. And it does seem a lot harder to sustain the relationship without any controversies.
The couple, who prefers exchanging gifts like a newlywed couple, has been embracing their family life with love and determination. Not only Jada maintains an intimate relationship with her husband, but the Girls Trip star also shares a strong bonding with her children.
Will Smith's Mistaken Son:- Justice Smith Parent Details: From Father To Dating Status - Explained!
Jada, who stands at the height of 5', runs a Facebook talk show, Red Table Talk, along with her mother, Adrienne Banfield-Norris, and daughter, Willow Smith. Through the show, Jada's daughter can openly talk about her life and reveal her personal experiences.
In the show, the Gotham star has revealed that she openly discussed sex and physical relations with her two children. Further, she also opened up that she did not hesitate to talk to Kelly about her son Jaden's virginity lost. 
Well, the Smiths are not strict parents but do provide guidance and safety to their children.
See Also:- Is Joe Namath Married After Divorce With Wife? At Age 75, Here's Answer
Slams Divorce Rumors; Stands Strong With "Unique Partnership"
With their 20 years relationship on the peek, the couple has been surrounded with several divorce rumors.
In an interview with Sway in the Morning on 13 June 2018, the 46-year-old actress responded to the rumors and mentioned that their married relationship couldn't end in divorce. Most importantly she disclosed that they are family and is going to hold the ties tightly before it goes down. She stated:
"Here's the thing about Will and I, we are family, that's never going down. It's just not — ever! We are family. Take out all that whole marriage, relationship crap — at the end of the day, Will and I are family. I'm going to hold him down. Did you hear that? Never, ever."
Also, Jada, who claims a net worth of $20 million, called her relationship with husband Will as a "unique partnership" while disproving her divorce gossips. Not only the actress but her musician husband also addressed those rumors with his new song, To the Clique, in which he has rapped about the constant reports of their split. His rap followed the lyrics:
"Stop the divorce rumors and mind your damn business." 
It seems the 49-year-old actor would like to have some privacy when it comes to his beautiful marital bond.
Dive In:- Ross Bagley: Where is He Now And What is His Net Worth?
Jada Pinkett going strong with husband Will Smith (Photo: People.com)
Later on 26 November 2018, Jada justified more on the split rumors claiming she would never break apart with her husband by getting a divorce. During one of her show's episode, she discussed the possibility of her divorce with mother, Adrienne Banfield-Norris.
While addressing the rumors of her divorce, the actress explained that "partnering" was more important than "romance".
"Partnering is a lot more than romance. It has a lot to do with survival, resources, and just having somebody or somebodies by you that can help you figure it out."
The mother of two, who herself witnessed her parents' abusive relationship, also candidly claimed that she never thought she was mature enough to get a divorce with her husband. When her mom added that there's a lot more maturity needed to stay together, Jada immediately responded that she possessed the maturity.
The couple has been facing the split rumors over the years. But still, they are standing firm and will be cherishing their 21st wedding anniversary in December 2018