Entertainment
Chloe Green Reportedly Pregnant With Boyfriend Jeremy Meeks! Details
The TOPSHOP heiress and former star of the reality show, Made in Chelsea, Chloe Green had taken over the internet with a passionate kiss with his model-boyfriend, Jeremy Meek. While the details of their relationship have not faded out from the internet, they have another good news to share.
The new lovebird is ready to take their relationship a step further and embrace parenthood. So, if you want to know more, then go through the article!
Chloe Green, Ready To Welcome New Member
The multiple sources of the US Weekly confirmed that Chloe Green is pregnant with her first child with hot model-boyfriend, Jeremy Meeks. Chole who is 27 of age and Jeremy (34) were first spotted together back in June 2017. Since then, they have been inseparable and dating in public.
During that time, Jeremy had a responsibility towards his married life with estranged wife, Melissa. And when his extramarital affair surfaced on the internet; it created trouble for Jeremy's marital bond. Later, Jeremy filed divorce papers in October 2017.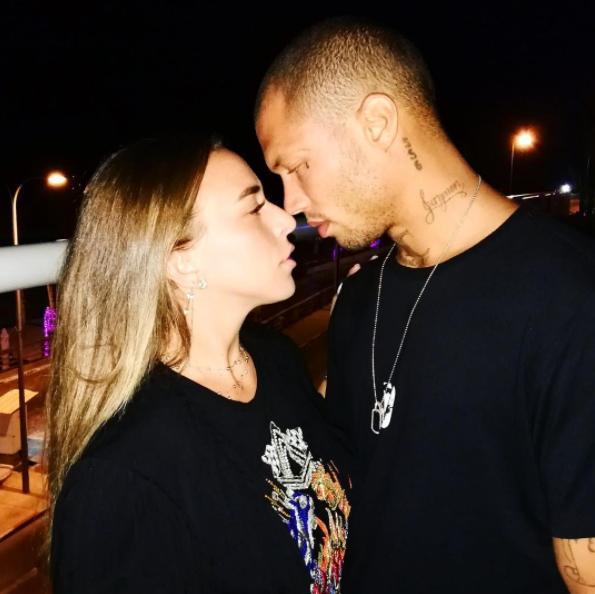 Chloe Greens, with Jeremy Meeks (Photo: thesun.co.uk)
Their news of Jeremy's failing marriage became evident after he was first photographed kissing Chole in Turkey in June; while the fashion model's wife claimed they were still a couple. That hasn't stopped him and the former Made in Chelsea star, Chole from flaunting their romantic life in public.
Notably, a reliable source told to US magazine that, Chloe and Jeremy are very much in love and she thinks they will get engaged at some point and would not have a kid with Jeremy until they are married. So, since they are heading towards parenthood, they could get married too.
Though Jeremy and Chloe have not confirmed their engagement yet, she was spotted with a big ol' diamond during a Beverly Hills shopping spree in December 2017.
The criminal-turned-model, Jeremy also shared that he's not a gold digger and is not after Chloe for her dad, Philip Green's £3.8 billion fashion empire,
"I love Chloe for her and if she didn't have a dollar I wouldn't give a s*** because we're so happy."
The baby would be the first child of Chole while Jeremy shares a biological son Jeremy Jr. and two stepchildren with Melissa.
Previously, Chloe dated an actor double of her age, Marc Anthony who was 45 years when she was 22. The two were serious about their relationship, and Chloe even met his children, twins Max and Emme. But they broke up after a year of togetherness blaming their distance as the reason behind their split