Entertainment
Openly Gay Chris Colfer Is In A Relationship! Boyfriend Is An Actor
American actor Christopher Paul, who is commonly known as Chris Colfer, skyrocketed to the hall of fame after starring as Kurt Hummel on the TV singing series, Glee.
With his outstanding acting skills and his mesmerizing looks, Chris has attracted a lot of followers and well-wishers, who wish to date the talented actor in real life.
However, Chris is blissfully dating a boyfriend, who happens to be in the same profession as him. Also, the Clovis, California native was spotted together with his partner on various events and occasions.
Curious to get familiar with Chris's dating life? If yes, join us in the article below!
Together With Partner On Numerous Events
Chris Colfer, who was previously rumored to be dating Darren Criss and Heather Morris, is an openly gay figure and shares a beautiful dating relationship with his boyfriend, Will Sherrod.
The couple's dating life is evident to media; despite that, both Chris and Will are yet to spill the beans on how they sparked their romance.
Chris first attracted dating speculations with his actor-boyfriend after they attended the Screen Actors Guild Awards together in January 2013. In the same year, the two flew together to Paris to promote Chris's film titled Stuck By Lighting.
Moreover, the duo was spotted celebrating the Fourth Of July holiday at Mendocino Farms in West Hollywood along with matching dress. They even appeared at Elton's Oscar Party and shared the table with Chris's best friend and former Glee co-star, Ashley Fink.
The pair were noticed roaming the stages of Coachella together throughout the event. ​​​​​​​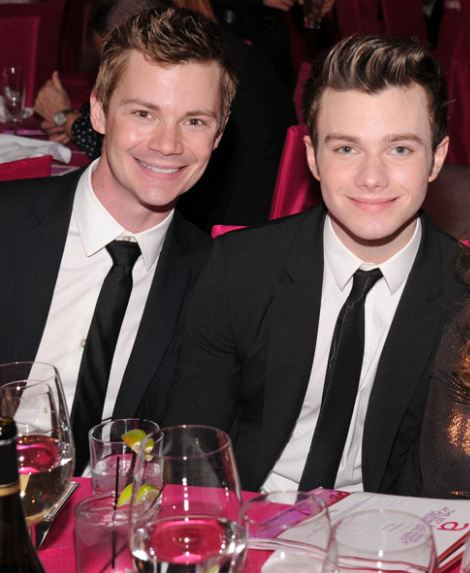 Chris Colfer with boyfriend Will Sherrod (Photo: wetpaint.com)
The pair attended their next event together in 2015. Dressing as flying monkeys from The Wizard Of Oz, the couple attended the Matthew Morrison's 6th Annual Halloween Masquerade Ball at Hyde, West Hollywood on 24 October.
Not only events and occasions, but Chris has made his love visible on social media as well. He took the couple's moments of him and his boyfriend in a Halloween suit along with their fluffy cat on Instagram on 28th October 2013.
As evident from various events, the pair has been spending quality time with each other. Hopefully, the couple's love lasts till the infinity, and the two soon get married to take their relationship to a new level even though that means breaking hearts of many female fans of Chris, who wishes to be his girlfriend.
Keep Visiting as we keep you updated on the life of Chris Colfer!