Entertainment
Race Matters' Author Cornel West Wife Rift; Education, Net Worth & Facts
Author Cornel West, known for his book Race Matters, was married thrice before. He first exchanged the wedding vows with his former wife...back in...they even share a...together making them a family of...however, their marital bond ended and years later cornel was married to...they tied the wedding knot in...but the pair divorced silently. His third marriage to...came after two decades back in...they even share a...together. despite sharing the family, Cornel and his last ex-wife signed divorce paper...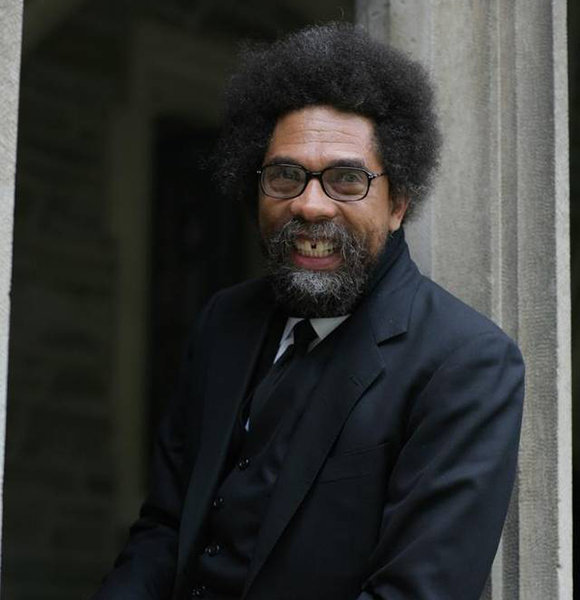 "We have to recognize that there cannot be relationships unless there is a commitment unless there is loyalty unless there is love, patience, persistence" is what author Cornel West believes in and lives by. 
While his quotes speak the truest form of love and life, his way of living is no different. With the lack of love, persistence, and patience or either one of them, Cornel lost the relationships he shared with his former wives.
Indeed, he has been married thrice before and each of the time, the marriage has ended with a divorce.
Marital Bond With Spouse Ended - Thrice
Cornel West is a philosopher, political activist and also a social critic, widely recognized for his book Race Matters. While Cornel has made his own recognition, his love life has grabbed attention as well.
Discover: Brigitte Gabriel Bio Unravels Old Love With Husband! Married To Last
Now at the age of 65, Cornel has been married thrice before but unfortunately, all his marital relationship ended in a divorce. On the other hand, he still pays alimony to his last former wife.
Cornel, who has earned his education in philosophy, first exchanged his wedding vows back in 1977 with his then-wife Hilda Holloman. Back then he was at the age of 24 and was deeply in love with his wife. Cornel and Hilda even share a son together.
They are proud parents to Clifton Louis, who is now married and father too. Well, this makes Cornel a grandfather to his 16-year old grandson.
However, despite sharing a family with Hilda, their love disappeared with a course of time. Eventually, they parted ways and their years of marriage came to an end with divorce papers.
But as Cornel was determined to find love, he tied the wedding knot with his second wife back in 1981. Just after four years of his first wedding ceremony, Cornel exchanged the vows with his second wife Romona Santiago. The did not share any kids together.
You May Also Like: J. D. Vance Adorable Family Photo; Who Is Wife Of 'Hillbilly Elegy' Author?
Turns out their relationship was not blessed either as Cornel's marriage with Romona ended. The reason for their separation is still a mystery.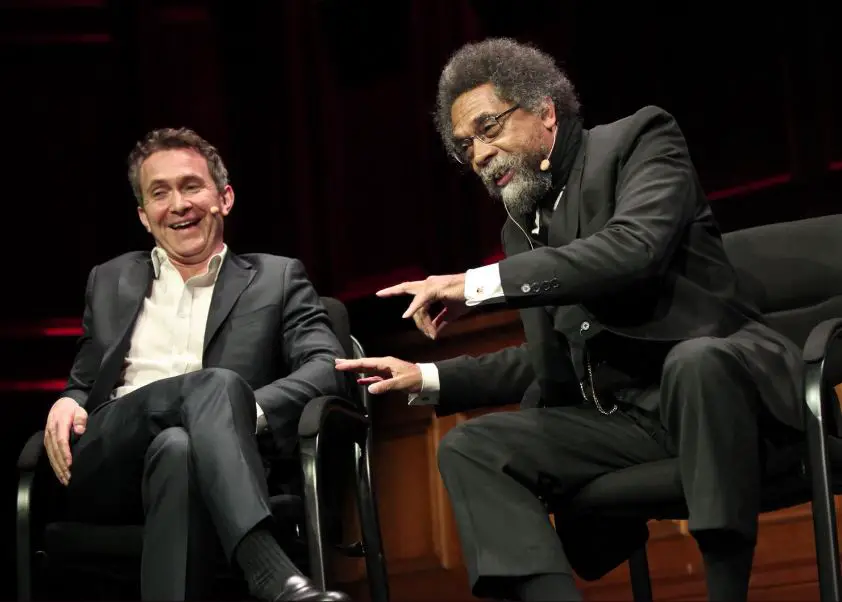 Cornel West with Douglas Murray in Brisbane. (Photo: Cornel West's Twitter)
With the end of a romance with Romona, Cornel had no thoughts of getting married any sooner. After almost two decades, Cornel finally found someone he was willing to spend his life with. 
In 2001, Cornel tied the nuptial knot for the third time with Elleni Gebre Amlak. Cornel and Elleni share a daughter together. Their first-baby Zeytun was born in 2000 before her parents exchanged the wedding vows. 
According to Cornel himself, Zeytun is an outcome of a "love relationship" he shared with Kurdish journalist, who was on a Nieman Fellowship at Harvard.
Turns out Zeytun is dearest to Cornel and he visits her every six weeks and calls her every single day. Adding to it, he even keeps a "lock of her hair tied with a ribbon " in his wallet.
A year after the birth of Zeytun, Cornel and Elleni whom he crossed path with while teaching at Yale exchanged vows during a wedding ceremony that took place in Addis Ababa. As Elleni was from an Ethiopian family, the pair had a Coptic ceremony accompanied by almost 2500 guests.
At the ceremony, he was also given a name: Ficre Selassie which is an honorary Amharic name meaning "Spirit of Love."
Don't Miss:Leafar Seyer First Baby With Wife Kat Von D | Find Out His Name
The pair shared their loving relationship for years but as per the report, their relationship too ended with a divorce. It is not known why the couple parted ways but it has come to light that Cornel, who has a net worth of $500 thousand, still pays alimony to Elleni.
Well, most part of his life is off limits, his followers hardly get any insights into his personal life.
25 Years With Race Matters
While Cornel has most part of his personal life off the radar, he is excelling as an author. Cornel marks the 25th anniversary with his book  Race Matters which was first published back in 1993.
On its first anniversary, Cornel's book became the national bestseller selling more than half a million copies. The book dwelled on the issues relevant to black Americans ranging from the crisis in leadership in the Black community to myths about black sexuality. 
With the introduction of his twenty-fifth-anniversary edition, Cornel argues being in the midst of a spiritual blackout surrounded by racial animosity, and unchecked brutality. Well, the book has been regarded as an essential for building a genuine multiracial democracy.