Entertainment
Chris Randone & Krystal Nielson, Bachelor In Paradise Couple Live Together
TV-love always carry the burden of a curse, that how the stars dating life is limited only for the duration of the show!
However, the Bachelor In Paradise's eye-catching couple, Chris Randone and Krystal Nielson are standing as an exception with their ever so increasing love for each other, set to break the myth.
Like Rihanna's lyrics, the couple Chris Randone and Krystal Nielson found love "in a hopeless place."
The duo, who got engaged to each other in the finale of the TV show, has broken a pattern, unlike other couples. From joining the reality show, Bachelor In Paradise and finding love in the show, the story of a sales enthusiast and business person with that of a fitness instructor grabbed everyone's attention!
Bachelor In Paradise Couple; "Cannot Picture A Life Without" Girlfriend
The only couple to stay together after the end of the show, Chris Randone and Krystal Nielson have enjoyed a different level of romance; they even moved in together in a gorgeous San Diego situated apartment.
The Florida residing sales company CEO, Brandon had been looking for a place in California, where Krystal currently lives in after getting engaged on the finale of the show, Bachelor In Paradise.
Similar: Bachelor In Paradise's Jenna Cooper & Jordan Kimball Reconciling Split?
On the finale of the show aired in September 2018, Chris went down on one knee on the gorgeous beach setting in Mexico and proposed Krystal with some incredibly romantic buildup.
"I love you so much, and I honestly cannot picture a life without you. You're the woman I know I want to be with."
After a heart touching message, he finally asked Krystal to marry him and presented her a gorgeous Neil Lane engagement ring, to which Krystal happily replied, "Yes."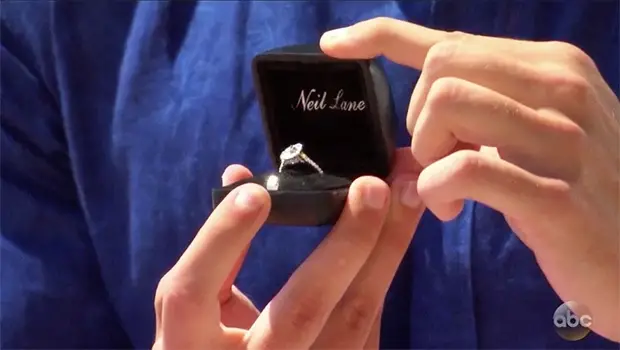 Chris Randone presenting a Neil Lane engagement ring to his fiancee Krystal Nielson circa September 2018 (Photo: hollywoodlife.com)
With the end of the season on such a romantic height, the couple was looking for a place to live together in the ever-so-happening state of California. And on 21 October 2018, Chris via Instagram revealed that they had finally found their dream home.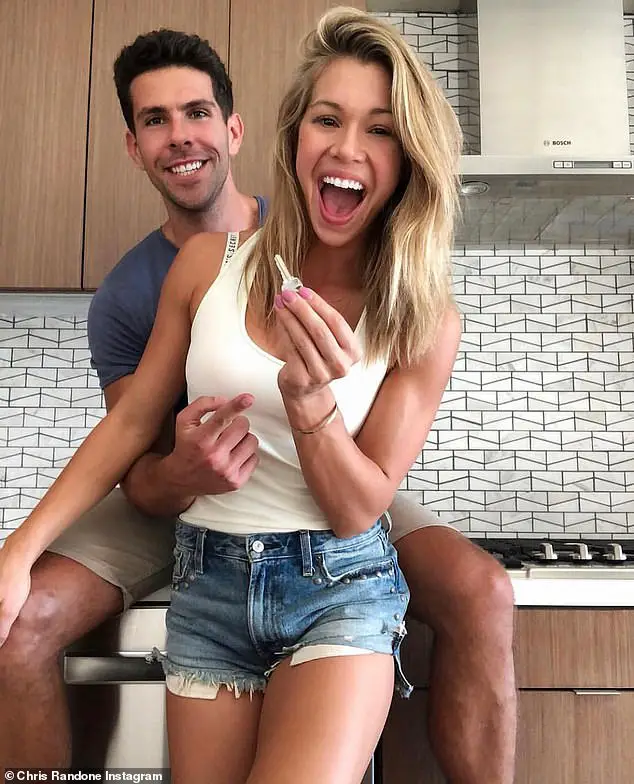 Chris Randone and Krystal Nielson showing off their new apartment's key circa October 2018 (Photo: Chris Randone's Instagram)
By showing off the key to their new home, the star announced the good news,
"In the words of all my boys back home....Let's Goooo Babyyyyyy. It's OFFICIAL we're APPROVED for our first place together! Excited for this new chapter!"
He further asked for some advice regarding some proper furniture to fill the house,
"Now we need furniture to put into this amazing place! Any recommendations for @coachkrystal_ and I ?!?! #LFG"
The couple's joy and excitement while announcing their new place brought a smile to every one of their fans from the show, who then eagerly anticipated for a grand wedding between the two lovebirds.
Bio - Birthday, Job & Dating history
Originally from Orlando, Florida, Chris celebrates his birthday on 13 December every year.
At 31 years of age, besides being a popular household name, he maintains a job position of a CEO of a sales company he established himself. With a degree in health service administration, the reality star is equally focused on his fitness as well.
With a fairy tale love story, their post-Bachelor admirers must think that Chris and Krystal didn't face any relationship hiccup early on. But, before Chris met the fitness coach on Bachelor In Paradise, he had a brief history with Tia Booth at the beginning of the same show.
It later resulted in a love triangle between Chris, Krystal, and Tia. Thankfully, the situation got cleared after Chris announced he was all in for Krystal.
With the two being engaged and then living together as well, they remained fully committed to their marriage!
Don't Miss: Jared Haibon & Girlfriend Ashley Iaconetti Hyped For Marriage! Here's Their Talk On Wedding
Talking about his wedding to E! magazine in September 2018, Chris confirmed that the marriage is undoubtedly going to happen,
"We're 100 percent getting married, and we're 100 percent making it happen, I think as time goes on, we will have a better understanding of when and where that can take place."
With rumors of a televised wedding between the two, their fans couldn't be excited enough for the couple finally exchange their vows.
Engagement Party; Fiancee Opens Up About Depression
The guests attending Chris' engagement party with then-fiancee Krystal - held on 2nd May 2019 - also shared the same excitement felt by many of their fans.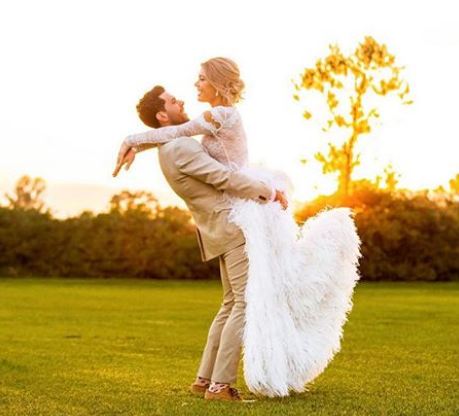 Chris Randone lifts his then girlfriend-turned-fiancee Krystal Nielson for the engagement party photos circa May 2019 (Photo:- Chris Randone's Instagram)
Interestingly, the attendees at the bash believed it to be a surprise wedding. By his admission, the event had an eerily marriage-like quality to it. Talking to E! News, Chris revealed:-
"Everyone thought it was a surprise wedding... "
Calling the engagement party an enchanting affair, his then-fiancee Krystal reasoned that they wanted to give their friends and family a day to celebrate their engagement.
Fellow Bachelor Nation personalities Ashley Iaconetti, Jared Haibon, Jade Roper, Tanner Tolbert, Josh Murray, Chelsea Roy, Annaliese Puccini, Katie Morton, and Heather Martin were all present at the event.
Barely a month earlier, in April 2019, Chris' then wife-to-be Krystal took to Instagram to open up about the year that was 2018.
Per her lengthy post, she dealt with anxiety, depression, and even got admitted to hospital for psychiatric help in 2018. That very year, she started a business and went on to find the love of her life, Chris on Bachelor In Paradise.
Married At Last! Inside Bachelor In Paradise Alumni' Wedding
A little over a month following the much-publicized engagement party, Chris and Krystal finally got married.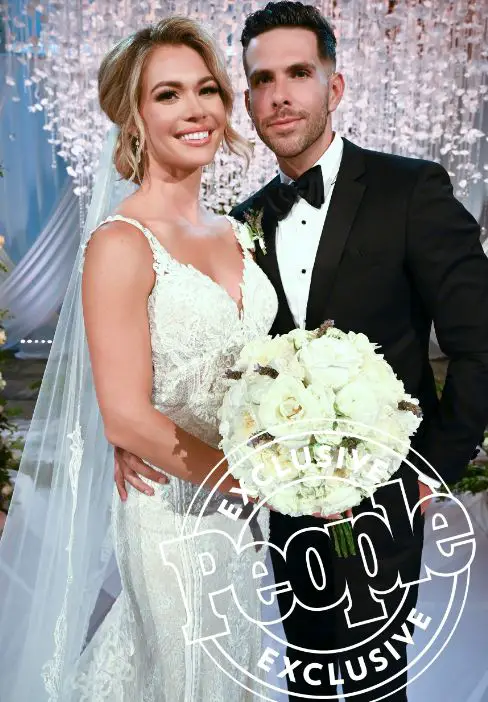 Chris Randone & his wife Krystal Nielson in their wedding attire circa June 2019 (Photo:- People.com)
In an exclusive June 2019 interview with PEOPLE, the Bachelor In Paradise Alumni provided an insight into their intimate wedding. Held at the "Vidanta Hotel" in Puerto Vallarta, Mexico, the ceremony got officiated by The Bachelor host, Chris Harrison.
Mexico holds a particular spot in both Chris and his now wife Krystal's heart. It was where the married pair enjoyed their first date and eventually got engaged.
The guests at the celebratory event included several The Bachelor Nation stars, namely: Ashley Iaconetti, Jared Haibon, Becca Kufrin, and Ben Higgins.
Per reports, the wedding would get aired on 5th August 2019 as a part of the sixth season of Bachelor In Paradise.
Talking to PEOPLE, Chris opened up about his dreaming of being a father. He and his wife Krystal are parents to two adorable puppies. Back in January 2019, the pair denied being pregnant but, insisted on expanding the family by adopting one more puppy.