After a season as the lead on the dating show, Nick Viall got engaged to Vanessa Grimaldi in 2017, but the pair split just after five months before they could get married...Despite several heartbreaks, Nick still hasn't given up on love, and exciting news is making rounds about his new romance...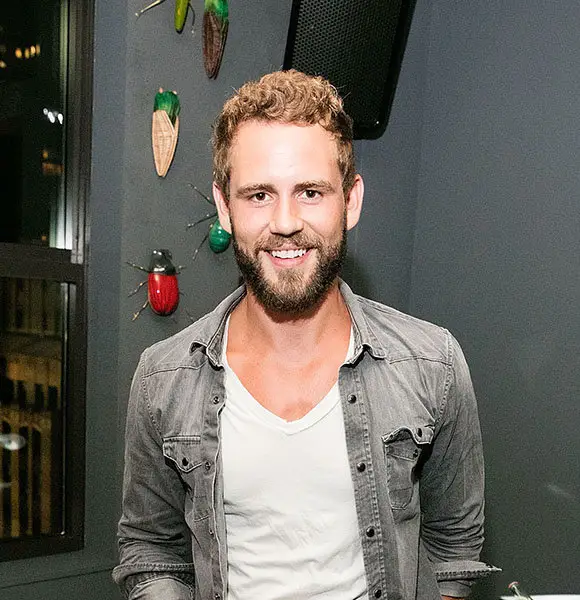 Heartbreaks can be tough on anyone, but what happens when you get dumped in front of the world? One person who is qualified to answer this question was The Bachelor star, Nick Viall.
Before handing out roses on the dating show, he was dumped as the runner-up in two seasons of The Bachelorette. He even tried finding love in Bachelor In Paradise but was unsuccessful. 
After a season as the lead on the dating show, he got engaged to Vanessa Grimaldi in 2017, but the pair split just after five months before they could get married. Despite several heartbreaks, Nick still didn't give up on love, and exciting news made rounds about his new romance. 
Nick's Biography
Nick was born on 29th September 1980 to parents Mary and Chris in Milwaukee, Wisconsin, USA. He hails from a huge family. He is the second oldest among his ten siblings.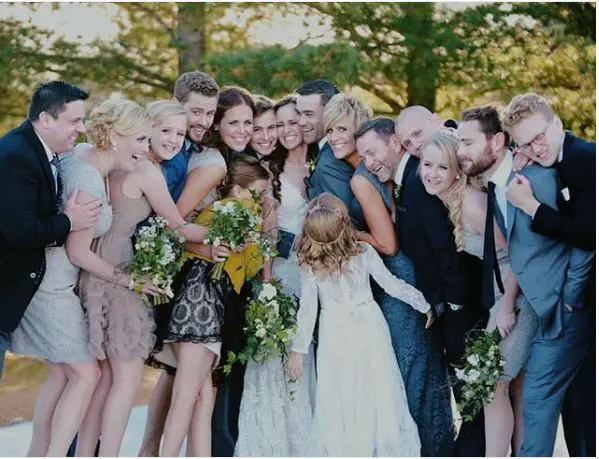 Nick Viall shares a moment with his siblings and family members on 11th April 2016 (Photo: Nick Viall's Instagram)
Although a shy kid, he was quite athletic in school. He won a state championship in the 800-meter run at the 1999 WIAA Track And Field Championship. Keeping up his athletic prowess during his college education, he ran the track of the University of Wisconsin-Milwaukee as team captain. 
After spending much of his childhood and education time in native Milwaukee, Nick - age 38 - moved to Chicago. The Bachelor alum worked as an executive accountant at salesforce.com. 
So what motivated the lad from accounting occupation to find love in the national television? 
What Is Gorgeous Bachelor Star Upto?:- Whitney Bischoff Pregnant, Husband, Bio
Well, in this regard fans have to thank his best friend's wife, Kaia Hernandez. A superfan of the dating show, she thought her beau's best buddy would qualify for the show as his past serious relationships hadn't worked out.
Poor Nick wasn't even aware of his nomination at the famous dating show. But, when the call came from ABC's renowned show, he did agree to take part. 
On His Dating Life And Girlfriend
If anyone was thinking of making a movie titled Unlucky In Love in Hollywood, Nick would be the perfect guy to cast for it. After getting his heartbroken for two times on national television and a failed engagement later, his love life didn't seem to be doing well in terms of a relationship.
But, despite all, he seemed to be giving a chance to his dating life again. 
Media was abuzz with new romance on the block when Mad Men actress January Jones talked on The Late Late Show With James Corden about her love for the ABC's dating show and how Nick reached out to her.
But, the rumors were just smoke without fire as Nick wasn't dating the beautiful actress.
Another Bachelor Alum:- Jessica Clarke Dating, Ben Higgins, Family
Similarly, in December 2018, the Bachelor fans went into a meltdown when Ashley Iaconetti uploaded a video of Nick and Haley Ferguson, shipping them as a couple. When the rumors didn't die down, he cleared the air that he did love Haley but only as a friend. 
Tired of dating in the public eye, Milwaukee native became extra cautious. He refused to reveal his girlfriend while hawkeyed fans - girls and gay guys - didn't believe a handsome guy like him could remain single for long.
And it turned out they were right, to some extent. Rumors started to blaze about this possible affair with American actress, Rachel Bilson. It turned out that she had grabbed his interest since the start. For one of the episodes of his podcast  The Viall Files, he invited her by personally sending a message on Instagram. Rachel then agreed to be featured in an episode.
Moreover, the two seem to get on very well and in the show, he frankly made it clear he was captivated by her quoting,
"I've been a fan of Rachel for some time. I had noticed throughout, maybe the past couple of years, there was one time I think you might have commented on my Instagram and I noticed it. I was like, '[Gasp!] Really? '"
Also, the two remained in touch a few months after the interview, at least in social media. Nick and Rachel exchanged comments on each other posts back and forth, which led fans to speculate about their possible romantic relations. However, the two never confirmed their relationship.
Interestingly, the former cast of Bachelorette star also sparked a feud with his ex-Bachelor partner Kristina Schulman in 2019. It all started after his ex called out Nick's name condescendingly, comparing him with another contestant named Luke Stone.
As a result, he fired back disclosing that she had initiated a conversation with his brother during their relationship.
However, the online feud didn't last long but the two didn't settle the differences either.
Possible New Girlfriend?
A Reddit post by an anonymous user claimed that Nick Viall is dating the Bachelor in Paradise alum Demi Burnett. And as usual, rumors filled the internet. The rumors started when Nick was seen with Demi spending time at his home in Venice.
But alas, the speculations turned out to be false. Nick, in response to this, said that he has been violated and there is someone who spies on him. He further mentioned that he and Demi are close friends and have become close and care about each other.
But he did not deny the fact that he spent time with Demi. He said,
"Demi has in fact been to my place...As sometimes friends do go to each other's places."
After clearing out the rumors, Nick claimed that he knows who the anonymous lurker is and added that he won't stop until he gets to the bottom of it and asked the "Venice lurker" not to invade his privacy.
Let's hope he succeeds in finding out every detail of this incident.