Entertainment
Chris Young Reportedly In Dating – With Someone Else's Wife; True?
With the stardom that comes along with being a public figure, there are some apparent setbacks. One never has the assurance of waking up the next morning with their name not making headlines for undesirable reasons.
In short, public figures are prone to getting involved in rumors; sometimes even without them being aware of the fact. Similarly, Chris young, the American country singer, was reported to be in a dating affair with somebody else's wife. But how true was the speculation? Let's see through to find out!
Chris Young Addressing Rumors Of Dating Someone Else's Wife:
Chris Young, who is also the songwriter and garnered stardom after winning the singing competition Nashville Star, has suffered the speculation game quite a time!
Amidst the speculations and romantically being linked with few ladies in the past, reports had it that singer Blake Shelton ended his four years of married life with his wife, Miranda Lambert, following the rumors of Miranda cheating on Blake with Chris Young.
Chris, the countryman with a beautiful voice, is no doubt a charmer but to be blamed for somebody else's marriage falling apart isn't something anybody would stand. Chris, who is good friends with Blake and Miranda came forth addressing the matter claiming it to be downright false. Young expressed,
"I don't normally address gossip but in this case I will, My name has been mentioned as a contributing factor in Blake and Miranda's divorce. That is totally FALSE.'

'They are both my friends and I would not betray that friendship. Just wanted to clear that up.'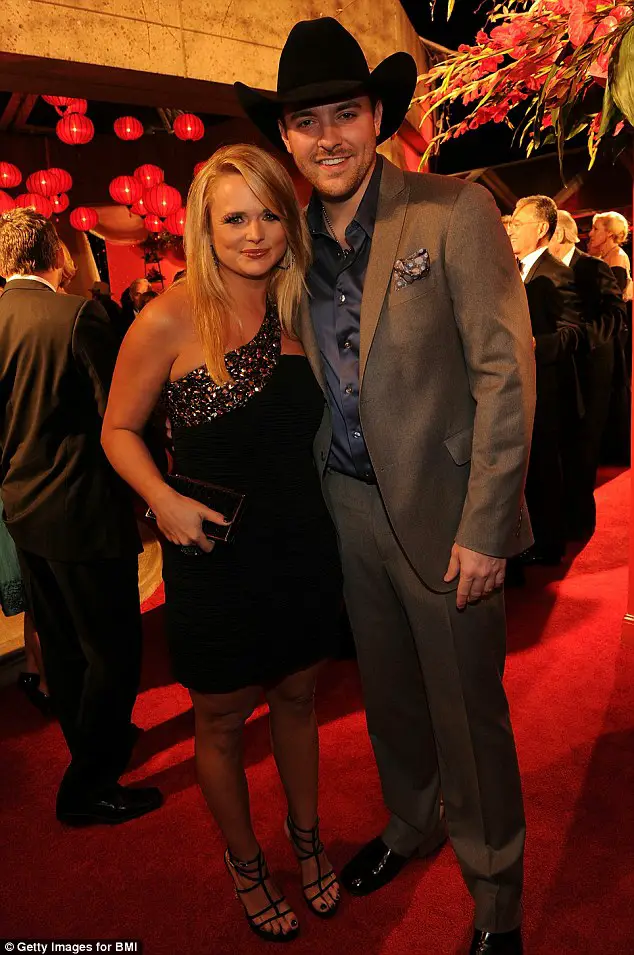 Chris Young, Miranda Lambert together (Dailymail)
Chris Young and Miranda Lambert had also toured together in 2012. Moreover, it was not just Chris who came to the light of attention in Blake Shelton and his wife's divorce as sources revealed that there was another un-named man involved too.
After the divorce, both Blake and Miranda have found love again. Blake is dating his girlfriend, singer, Gwen Stefani whereas, Miranda is with her boyfriend of two years, Anderson East. But, Chris however, has remained single over the period of time, as no dating affairs of him have circulated the media except for rumors.
Back in 2016, Chris was surmised to be dating Cassadee Pope, but the two were pretty much vocal about not dating one another. Pope even gushed mentioning that it's just their fans who like to think otherwise about their relationship status. She said,
"It's so funny. We've said a million times that we're not dating, but the fans still like to think so, so we let them think whatever -- if it makes for a good experience in seeing us live,"
Pope further added,
"We are just having fun on stage, and try not to take it too seriously. Obviously, the song is from that tough place that couples go through when they break up. They have to start this life apart, and they have a lot of the same friends. It is a very relatable subject line and a heartbreaking song, but it's also lighthearted, because it's life -- and that's what we go through and what we have to deal with. From the first time we did it live, we realized we had great chemistry together on stage, so we just went with it. If the fans think that, then we're doing it right."
Well, sadly one sure cannot control, over the way somebody else thinks!
Additionally, Chris, who believes dating is like gambling, was previously linked with actress Adrianne Leon in the year 2007.
Dating is like gambling... You have to hope you know when to cash out. #life

— ChrisYoungMusic (@ChrisYoungMusic) June 24, 2012
No matter what he thinks of dating, hopefully, in the future days, we will get to hear about Chris' actual dating affair and not just speculation, as many single ladies sure are waiting, fantasizing of dating this countryman.
Also, you can note down the requirements you need to have, to date Chris, as he seeks a certain quality in a girl,
1.You've got to be OK with staying up late, because I don't operate on the same hours as a normal person. 2. Being somebody that's OK with going to McDonald's or going to Morton's (Steakhouse). You've got to be able to do both, because sometimes I feel like one or the other. 3. You've got to have a good sense of humor. I crack jokes about stuff all the time, so that's a big thing for me. 4. You've got to be into music. 5. You've got to love going to go see a good movie."
See for yourself if you are a perfect match for Chris!