Entertainment
Does Comedian Dan Soder Have Girlfriend Amid Stormy Tour Dates?
Comedian Dan Soder is best known for making regular appearances on MTV2's Guy Code and Kieth and The Girl Podcast. Since 2015, the New York native has been co-hosting The Bonfire on Sirius XM's Comedy Central Radio alongside fellow comedian Jay Oakerson.
Over the years, his status as one of the best up and coming comedians have earned him quite a following. With his ever-so-growing popularity, it's only right that the 35-year-old should have an easier time finding the one who he can really call his girlfriend.
But dating a comedian - much less, a famous one like Dan - comes with qualms. Should the Guy Code star get a girlfriend, he will have to convince the latter to schedule their life around his tour fixtures.
Comedian's Search For A Perfect Girlfriend
For a comedian, Dan leads a life of a recluse. Well, some women may find his reclusive nature attractive, it has never materialized in the paper. Or that's what his Twitter handle would make you believe.
Other Interesting Article:- Ariela Barer Bio: Age 19 Actress Parents, Ethnicity Dating Status Revealed
As for his relationship status goes, the Keith and The Podcast star appears to be single. Like a true comedian, he has tried to make the most of his singlehood; often poking fun at his inability to land a girlfriend.
On 1st January 2012 when the hour hand had stuck the 12, Dan sent out a peculiar tweet that read:
"Didn't get a kiss at midnight but I also didn't get yelled at for not paying attention to a girlfriend that I don't have. Call it a wash."
More than six years have passed since he had sent out the now infamous tweet. And in those six years, the comedian's repertoire has added more muscles to it. 
If he is single today, chances are he's not looking for a committed relationship with a girlfriend.
Comedian In Our Vault:- Sommore Having Hard Time On Getting Married And Have Husband?
He might have "a bunch of girlfriends." for all we know. For one thing, his views on dating and relationship have been an evolving experience.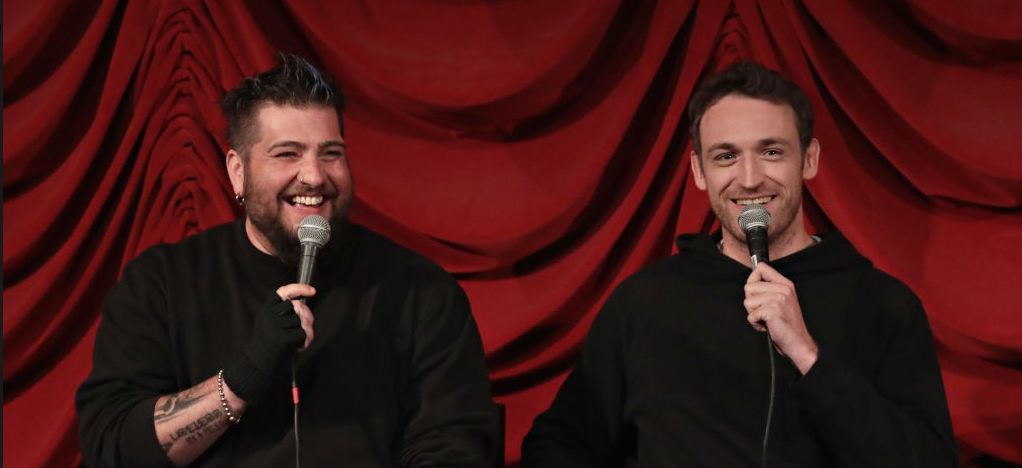 Dan and fellow comedian, Jay at a Q&A event (Photo:- Getty Images)
Speaking with fellow comedian Jay Oakerson in their podcast, The Bonfire in 2018, the 35-year-old delved into the dynamics of age and relationship. He professed to find the fact that a 40-year-old him could legally date an 18-year-old baffling.
Is it safe to assume that Dan won't be having 18-year-olds as his girlfriend?
Dan Hits The Road; Tour Dates
Girlfriend or not, the 35-year-old couldn't be happier with the fact he will hit the road in coming October. The one and a half month tour will see Dan travel to comedy clubs across the United States.
Discover:- Liza Tarbuck: Neither Lesbian Nor Single; Loves The Male Company. Boyfriend or Husband?
Between 11th October to 13th October, the comedian from New York will perform at the Drafthouse Comedy Theater, located in Washington DC. And for his next tour stop, Dan will perform at the prestigious comedic circuit The American Comedy Co.
A snapshot of Dan performing his bits on the stage (Photo:- frostnow.com)
After The American Comedy Co., the Guy Code star is scheduled to perform five gigs back to back at the Boston Laugh before he closes the tour on 1st December 2018.
If Dan's lucky enough, he should be able to find a suitable woman to accompany him in between the tour dates. It doesn't necessarily have to be a girlfriend.