Entertainment
Soon-Yi Previn Age 47 & Woody Allen News Flash | Sibling, Children & Facts
Soon-Yi had clarified the negative air surrounding her marriage to her husband, Woody Allen...Soon-Yi and Woody - who has a reported net worth...Woody has long been accused of being a pedophile, luring young...the couple adopted two children...Out of her 14 siblings, three have sadly...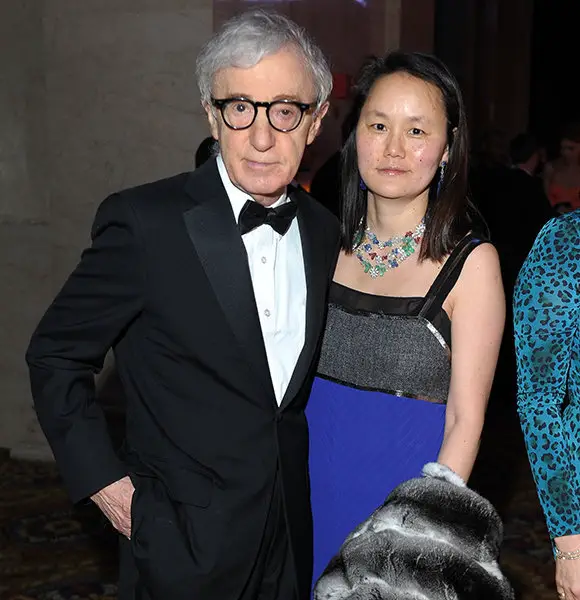 In a rare setback against the rising tide that is the #MeToo Movement, wife of legendary filmmaker Woody Allen, Soon-Yi Previn has seemingly opted to discredit the sexual allegations labelled against her husband by her sister, Dylan Farrow.
Soon-Yi, age 47 and her husband, Woody Allen, age 82, has led one scandalous public life. The one-time step-father and step-daughter have remained a subject of scrutiny ever since the public became aware of their sexual relationship, which would eventually develop into a married one.
Sexual allegations against her husband stick out like a sore thumb in otherwise immaculate filmography. Woody has long been accused of being a paedophile, luring young girls by promising them a role in his films. 
With the advent of the #MeToo Movement, sexual misconduct allegations have grown rampant. Even Soon-Yi's sister, Dylan Farrow had accused her husband of molesting her when she was just a young girl.
Siblings Rivalry: Family Feud Plays Out Publically
Soon-Yi, for her part, has opted to side with her husband.
Similar:- Aurora Perrineau Boyfriend! 'Equals' Star Dating Amid Rape Conflict?
After years of remaining silent on the matter, the 47-year-old Korea native finally decided to speak on the molestation charges filed against her husband by her sister in a recent Vulture (New York Magazine) interview. She then further delved into her relationship with her husband, who has 35 years advantage of her.
But jumping into the details of the recent development without the first-hand knowledge of Soon-Yi's complicated family tree would tantamount to natural calamity.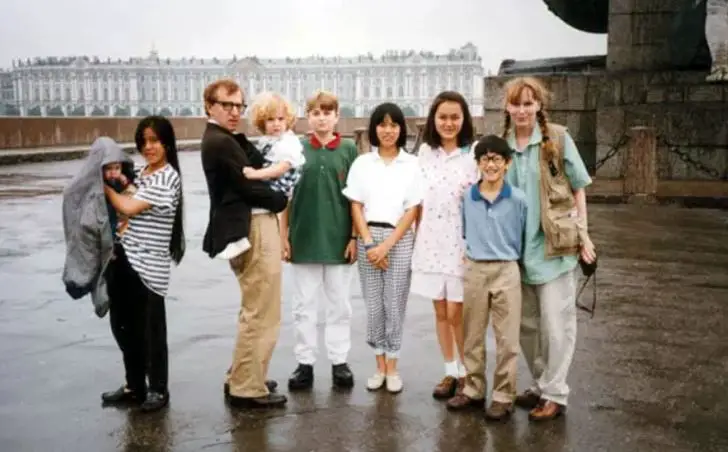 Family portrait of Previn-Farrow-Allen conglomerate (Photo:- Jezbel.com)
Soon-Yi is one of the fourteen children raised either by Mia Farrow & Andre-Previn or Mia Farrow & Woody Allen. She was adopted by Mia and Andre along with her sibling Lark Song Previn and Summer "Daisy" Song Previn before their marriage got dissolved in 1980.
But by then, Mia and Andre had three biological kids to the family tree: twins Mathew & Sascha and Fletcher.
Discover:- Jonah Hill Brunette Girlfriend; Girl He's Dating Is Stylist - For Real!
After their divorce, Soon-Yi's adopted mother, Mia, and then-step-father, Woody would adopt two more children: Moses Farrow and  Dylan Farrow. After the pair's separation, Woody contested for the joint custody of Moses and Dylan and won. 
Later, Soon-Yi's adopted mom, Mia gave birth to Satchel Farrow. The final additions to the family tree were Tam Farrow, Kaeli-Shea Farrow, Gabriel Wilk Farrow, Frankie-Minh Farrow, and Isaiah Farrow.
Out of her 14 siblings, three have sadly passed away. Lucky for Tam, Lark, and Thaddeus, they don't have to witness the scandal that has rocked their family apart.
Unknown to many people, Dylan was sexually abused by Woody the whole time when she was in Woody's custody, as suggested by Dylan's testimony. However, this abuse wasn't made public until recently; all thanks to the #MeToo Movement, which has inspired the likes of Dylan to come out with the story of abuse.
So when the Vulture article was first published; wherein Soon-Yi defended her husband - essentially discrediting her sister of abuse - she recieved a lot of backlashes online.
Interesting:- Alexander Calvert Age 28, Parents | Calls Girlfriend "Wife" - Married?
Instead of directly addressing the allegations, she went to great lengths to portray their adopted mother as the main culprit behind everything. She then accused her of using the #MeToo Movement for her gain. She said:
"Mia has taken advantage of the #MeToo movement and paraded Dylan as a victim."
In retaliation, Dylan and their brother Ronan released the statement criticizing the New York Magazine for publishing a one-sided story. Ronan then issued an account of his own, which read:
"I'm angry that New York magazine would participate in this kind of hit job."
Ronan ended his statement asserting that the victims of abuse deserved so much better.
Life With Woody Allen: 2 Children
Earlier in the interview, Soon-Yi had clarified the negative air surrounding her marriage to her husband, Woody Allen. Even after being together for 20 years as a married couple, she sounded agitated when she was once again asked to defend the pair's relationship and rightfully so. She quipped:
"I'm not a retarded little underage flower who was raped, molested, and spoiled by some evil stepfather — not by a long shot."
In her previous interview, the 47-year-old had professed to be at the crossroads when tasked with the decision -- to be with her then-step-father, Woody or not. In the end, she decided to follow her heart.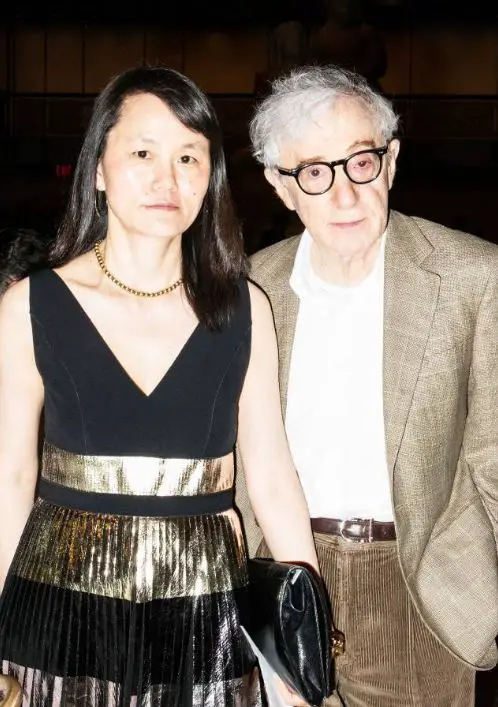 Soon-Yi and her husband, Woody at an industry event (Photo:- Gettyimages.com)
Soon-Yi and Woody - who has a reported net worth of $80 million - got married in 1997 amidst widespread criticism because of their history.
Better Not Miss:- How Much Is Maxine Waters Salary & Net Worth? Here's Detailed Biography
When the criticism surrounding their union finally began to wane, the couple adopted two children(both daughters): Bechet Dumaine Allen and Manzie Tio Allen. 
Husband Faces Yet Another Sexual Misconduct Allegations
Less than three months after making headlines for defending her husband in the now infamous New York Times interview, she would once again hit the news because of her husband's past wrongdoings.
Just when the pair was beginning to sense normalcy, their world got rocked after Hollywood Reporter published a lengthy piece on Woody's eight-year romance with a then-16-year-old actress Babi Christina Engelhardt.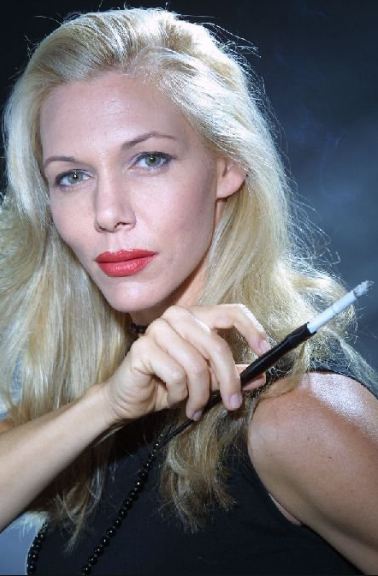 Woody Allen's alleged victim Babi Engelhardt (Photo:- imdb.com)
By Babi's admission, it was her who made the first move after initially meeting the Annie Hall director in October 1976. For the next eight years, she claims that she and Woody partook in the sexual activities at his penthouse on Fifth Avenue.
According to Babi, she wouldn't reach the legal age of 17 until three months into their sexcapades. In her unpublished manuscript, she chronicles their threesomes - most notably one with Mia Farrow - as well as more than 100 meet-ups.
It wasn't until Babi had moved to New York that their affair came to an end. Even splitting amicably, she always felt betrayed by the lack of regard in her former lover's part for developing a character based on her in the film Manhattan. She told Hollywood reporter:-
"How could he deconstruct my personality and our life together as if it were just some fictional creation for art house fatheads to pore over?" she questioned in the unpublished manuscript."
As for her decision to come out now as opposed to years earlier, Babi asserts no malice on the revelation as she had no regrets.
See Also:- WSVN's Lynn Martinez Family: Who Is Her Husband? Get All The Details
Neither Soon-Yi nor her husband Woody has commented on the allegations.