Entertainment
Crispin Glover Is Not Gay but Isn't Married Either! Has The Actor Talked About Relationships In Any Of His Interviews?
In the entertainment world, every person is bound to drive attention. During this process, some of them use their love life as a publicity stunt, while some of them work hard to establish themselves in the industry without blending their personal life with their profession.
The American actor, director, publisher and author Crispin Glover, who is known for appearing in American Gods, is one of the celebrities who prefers keeping his love life miles away from his profession. Nevertheless, we, today, will shed some light on the hidden life of this multi-talented personality!
Crispin Glover's Account Of Love And Affairs:
Being one of the talented actors with a number of acting credits, Glover has a large number of fans who are interested to know about his life behind the cameras. Talking about his love life, he has been in multiple relationships and affairs.
It may seem strange, but this actor has chosen not to get married even by the age of fifty-three-years-old, despite dating many gorgeous ladies.
Glover started dating at the age of eighteen, and a year later, he lost his virginity to a girl who attended same acting school as Glover did.
Some years later, the girl committed suicide which disturbed Glover. According to the RollingStone magazine in 2003-
He has had his heart messed with in the past and in the present has said, grimly, that it will never happen again. He's also firm about not wanting children and not going out with anyone who wants children. And he also has a pretty good idea of how any girl he dates should look: "Like they could fit into a period film, so to speak, from the Fifties or the 1920s."
During that time, Glover was dating Alexa Lauren. While Glover was making his way to the industry, he had many linkups and breakups.
From the year 2000-2002, Glover was encountered with the American singer, Jessicka. He then dated Alexa Lauren (2002 - 2003) and Marina Drujko (2004 - 2005).
After separating with Marina, Glover was encountered with Courtney Peldon (2005 - 2006). Similarly, Glover was rumored to be dating Amber Heard and was linked with Vanessa Marra (2008), Trisha Paytas (2013) and Fairuza Balk as well.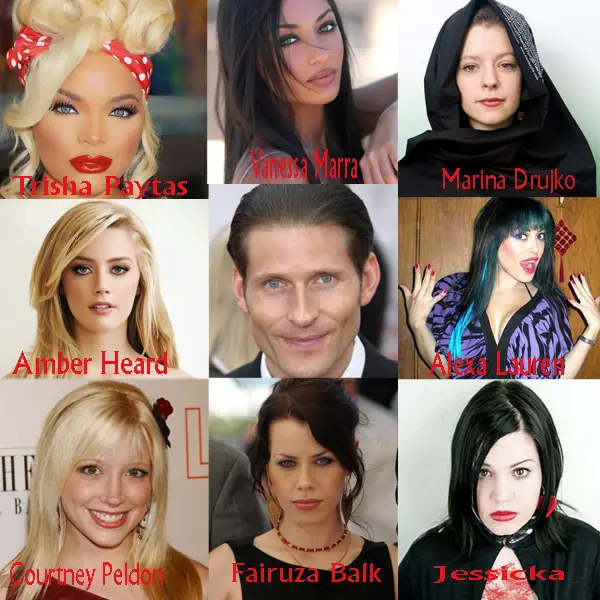 Caption: The grand ladies who were linked up or was in a relationship with Crispin Glover.
Photo Credit: Liverampup
Glover is not gay but isn't a married man either. In an interview with Guardian in 2015, Glover divulged his plans of marriage. He explained-
"I've never been close to having children. I'm on the road so much, but if I had children it would be something that I'd want to be present for and I feel like I would not be present."
Similarly, he said that he has never been close to getting married.
Glover now seems to be busy in his profession, as he is not found involved in any relationship and is neither witnessed with any lady, who could be guessed as his new love interest.
His acting credits include Charlie's Angels (2007), The Wizard Of Gore (2007), Alice In Wonderland (2010), Freaky Deaky (2012) and much more.
Caption: Crispin Glover's interview at the Hollywood premiere of the new Starz show, American Gods. (Published on Apr 22, 2017)
Moreover, Glover's latest acting credit includes The Brits Are Coming (2017), We Have Always Lived in the Castle (2017), and American Gods (2017).
Stay with us for the emerging updates on Crispin Glover!