Entertainment
Daddy's Girl, Actress Aja Naomi King, Thanked Father being Great Husband to her Mother
A father holds a special place in a daughter's heart. And when a daughter is raised by a great father, who also happens to be a great husband then the daughter is not less than a princess. Also, the wisdom and the teachings given by the father craves the path of your life and guides you in the tough as well as the good time of your life.
Similarly, actress Aja Naomi King is daddy's little girl and shares a special bond with her father. Also, she even shared that while being a good father, he is a good husband. So what more did she say in the honor of her father? Let's dig in.
Daddy's Girl Aja Naomi King:
Since King and her father are very close to each other, the father and daughter duo do all sorts of things together. From hiking to taking her father out as a date on award functions, King has always been there for her pops.
On the occasion of Father's Day on June 19, 2016, King posted an Instagram picture of her father and herself, wishing him a very Happy Father's day along with a heartfelt caption. In the caption, King shared that she feels lucky to be raised by a great father along with a great husband.
Apart from her father, she is close with her mother as well. The 31-year-old actress, not just love her father but also loves the food he cooks. In an interview with The New Potato, she revealed that her favorite meal is her father's spaghetti and turkey meatballs and her mother's homemade biscuits. She leaves no stone unturned in the course of demonstrating her love and respect she has for her parents.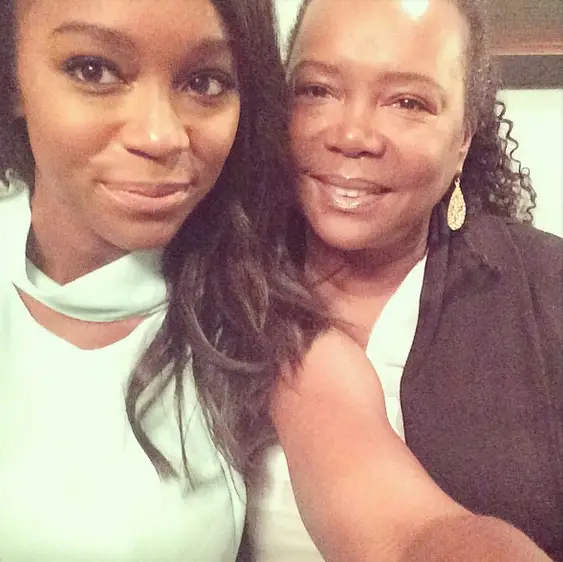 Caption: Aja posing for a picture with her mother.
Photo Credit: imgur.com
Aja Naomi King's Professional Journey:
Moving on to King's career, we all recognize King as Michaela Pratt from the Shonda Rhymes produced ABC drama series, 'How to Get Away with Murder.' The breakthrough role for King was followed by numerous opportunities that helped her to be a strong force in Hollywood.
She made her television debut in 2010, at the age of 26, with a guest role in CBS's Blue Bloods. Prior to that, she had appeared in a couple of short films and TV series.
Caption: Aja Naomi King explains how one phone call shaped her entire career.
King carved the success story with her hit film A Birth of a Nation and won many hearts with her performances. And King along with her co-star gave an interview regarding the glowing response of the movie in the Sundance Film Festival published on April 18, 2016.
Caption: Aja Naomi King portrayed the role of an alluring house slave in the Sundance hit, A Birth of a Nation, which chronicles the story of a preacher who decides to be the catalyst of change for the slaves.
Is King married to her profession which is making her too busy to search a boyfriend? Let's find the answers.
Does Aja Naomi have A Boyfriend?
Recently on March 26, 2017, the news circulated in the media about King's romantic life. King was shipped with his "How To Get Away With Murder" co-star Alfred Enoch. The rumors of their relationship sparked as King shared a picture with her parents and Enoch through Instagram on March 11, 2017, with an interesting caption.
Had the best time in Paris and London. Another great adventure with the people I love most in the world!!!
????????????
The caption states that she had the best time in Paris and London with the people she loves the most in the world, with a kissing face emoji. So was she dropping a hint on her relationship?
Moreover, King had an opportunity to clear the rumor on March 15, 2017, but she did not give a definite answered to her dating rumors with rumored boyfriend Alfred Enoch.
"I would like to clear up nothing, people could think what they want and I'm going to let them.
Moreover, King added,
"He's a beautiful man and I think I'm quite a lovely young lady,"
Furthermore, King revealed that her parents love Alfred Enoch, so was that a hint on the potential boyfriend?
"My parents love Alfie,they do. They do."
Talking more about the visit to London and Paris and King mentioned Alfred Enoch in her statements and said,
"It's so weird, when he was here, he would only speak with an American dialect. It's really startling. So when I called him for us to get together in London, I was like, 'Where are you doing? Talk normal. Stop speaking in this weird accent.'"
King has not acknowledged Alfred Enoch as his boyfriend officially yet but it seems that announcement in on the way. Now the question arises, is he the dream man she had been waiting for to get married? Only time will unfold the mystery.
Aja Naomi King was born on January 11, 1985, in Los Angeles, California. She received a BFA degree in acting from the University of California and an MFA degree from Yale University's School of Drama.
King portrayed the role of Michaela Pratt in the Emmy-nominated series 'How to Get Away with Murder', and getting her hands into different film projects as well. King along with her cast members won a jury prize in LA Film Festival for her role in the 2012 drama 'Four'. She has been applauded for portraying the role of Cherry, a slave in the critically acclaimed, Sundance Film Fest winning movie The Birth of a Nation.