Entertainment
Damian Lillard & Loving Girlfriend, Wife-To-Be? Married Status & Gay Talks
While it is not a new thing for people on the spotlight to be surrounded by gay and lesbian rumors, American professional basketball player, Damian Lillard dodges off all the gay rumors on style!
Indeed, Damian Lillard, who professionally plays for the Portland Trail Blazers of the National Basketball Association, shares a loving romance with his girlfriend of years.
Now, the couple is not only together for years but is already parents to their beautiful baby boy.
Well, here is what Damian's love life looks like at the age of 28!
Almost A Decade Of Romance With Girlfriend - Getting Married Soon?
Damian Lillard, who thrives in his career as a basketball player has an equally prosperous love life. He has been dating his girlfriend Kay'La for almost a decade since they began their romance back in 2010.
See Also: ESPN's Jay Williams & Wife First Baby Daughter, Amelia Is Extra Significant
While it is not common for people in the limelight to have such a long-lasting relationship, Damian is surely setting up relationship goals in today's world of breakups and makeups.
The pair marks their eight years of togetherness this year. Turns out 2018 has been one of the best years for the couple as they welcomed their baby boy into the world.
Indeed, Damian and Kay'La are proud parents to their eight months old son. The duo welcomed their first baby together back in March 2018. Turns out Damian learned that his wife had gone into labor when he reached the locker room after the game against Pelicans.
On 29 March 2018, Damian posted the first picture with his son revealing the news of his arrival through the post. The proud parents named their baby Dame Jr.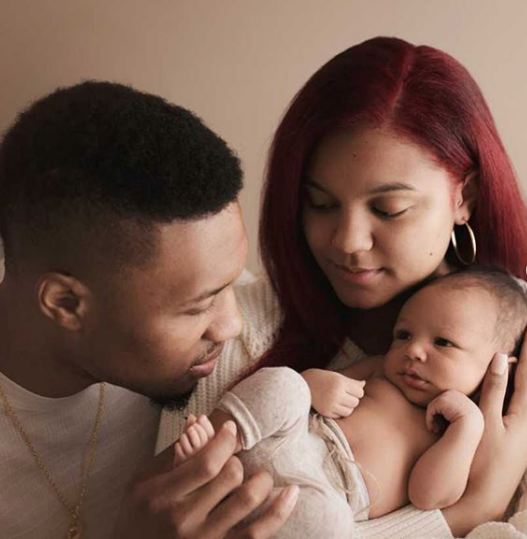 Damian Lillard with girlfriend Kay'La and baby boy Dame Jr. (Photo: Kay'La's Instagram)
With the addition of Dame into their family, the couple is now blessed with a family of their own. While Damian and Kay'La has not made any moves on getting married just yet, Kay'La sure seems like his possible wife as the love between the two grows with the time.
With their growing romance, the pair does not miss out on cherishing each other's presence in their life. The pair is open with their relationship as they often post pictures on Instagram during special occasions like valentines day and birthdays.
Have a look at: J.J. Redick's Wife Chelsea Kilgore Age, Origin, Wedding Photos With Details
This Valentine's day Kay'La posted a picture with her man and her baby bump while passing out Valentines wishes to her man Damian. Adding to the Valentines Day wishes, Kay'La also sent out birthday wishes to Damian on his birthday while cherishing his presence in her life.
Likewise, Damian also appreciated having Kay'La on his life while wishing her happiest birthday on her auspicious day. Well, the relationship that Damian shares with his soon to be wife sure is what everybody looks forward to having in their life.
Meteoric Rise To Stardom, Contract Details
Apart from his blissful love life, Damian is rising in his career as a point guard playing for the Portland Trail Blazers. Before he was drafted by the Portland Trail Blazers, Damian played college basketball for the Weber State Wildcats where he was able to earn himself third-team All-American honors in 2012.
Right after that Damian was drafted by Portland Trail Blazers back in 2012 as the sixth overall pick in the 2012 NBA draft. That year, Damian was voted NBA Rookie of the Year.
You Might Not Wanna Miss: Stacey Dales Awry Married Life; The Unexpected Divorce She & Husband Faced
Since then Damian has been bound with Portland Trail Blazers where he extended his contract by five years in 2015. This 2018/19 season, Damian earns a base salary of $27,977,689 adding up to his net worth.