Entertainment
Kevin Durant Dating Life Uncovered | Who Is His Girlfriend Now?
Kevin Durant is not married yet and does not have a wife...is searching for a perfect woman to make her his girlfriend...rumored to have dated many women, but most of them have not been confirmed yet...was engaged to a woman, but broke off the engagement for personal reasons...is now single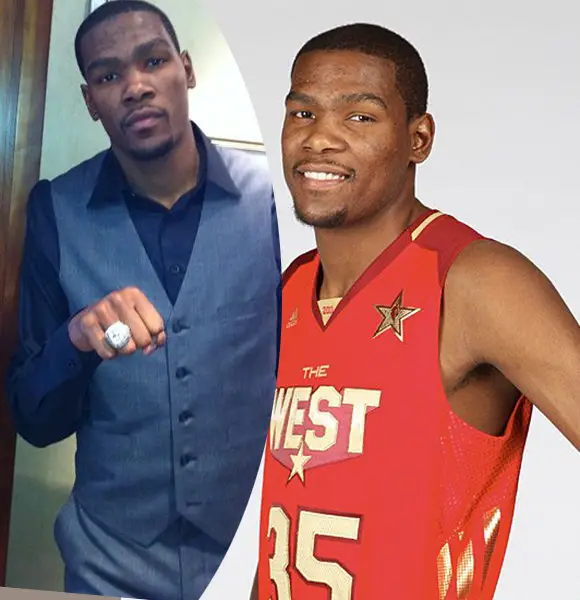 Kevin Durant is considered one of the greatest players to have played the game of basketball. He has been performing consistently throughout his life, even during high school and college careers. Ever since his draft in the NBA, Kevin has been one of the best players in the league in every season he has played.
Drafted in the 2007 NBA Draft, he was the second overall pick of the Seattle SuperSonics. After his rookie year, the Seattle SuperSonics team moved to Oklahoma and was renamed Oklahoma City Thunder. He was a four-time scoring champion with the Thunder, before moving on to win consecutive NBA titles with the Golden State Warriors between 2016 and 2018.
As for now, he is signed with the Brooklyn Nets and is expected to play for them at least till the end of 2019-2020 season.
Kevin Durant's Dating History: Girlfriends And Engagement
Kevin has had a few girlfriends and engagement in the past. There have been many women linked to the star NBA player.
One of the first women to be linked with Kevin in terms of romantic partnerships was WNBA player Monica Wright. However, contrary to the time when they were said to be dating by the media, the couple had known each other for a long time, from high school to be specific.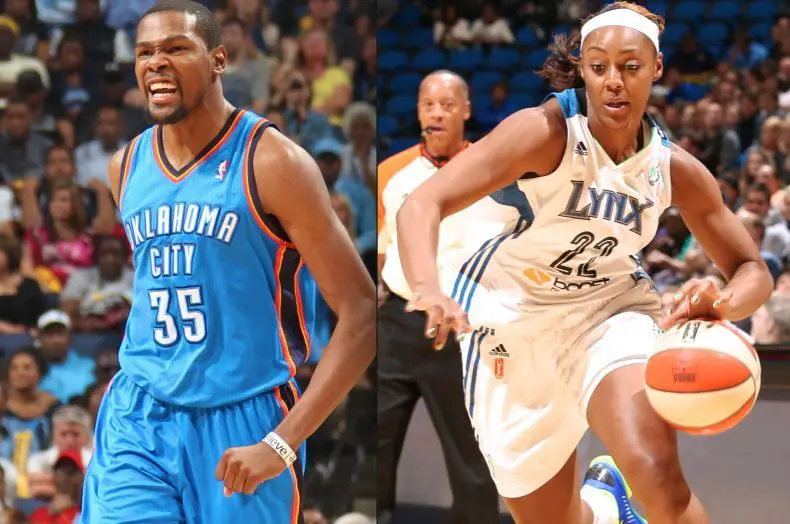 Kevin Durant and ex-fiancee Monica Wright playing for their respective teams (Photo: Bleacher Report)
Despite remaining friends for a long time, they only started to date in May of 2013, or maybe that's what they made it seem like, Either way, their relationship progressed at a rapid pace. Soon enough, the couple got engaged on 7th July 2013, just around two months after they allegedly started dating.
Kevin was even thinking about making Monica his wife. But the marriage wasn't meant to happen as they couldn't continue their relationship past a couple of months.
Kevin and Monica both are quite religious. However, it turned out that Monica was a bit more religious than Kevin. And, this ended up being the reason their engagement came to an end.
The couple started going their separate ways after the engagement. Therefore, due to incompatibility issues, the pair broke off their engagement in early 2014.
Kevin said during an interview with GQ in 2015 that he didn't know how to love Monica, and that's why the relationship ended. However, Monica had her reasons for the split.
Another Interesting Read:- Who Is NBA Reggie Miller's Wife? His Relationship Status, Kids & Net Worth
During an interview with Risen magazine, Monica said that she broke off the relationship as Kevin wasn't willing to make personal changes to accommodate her faith.
The basketball players went their separate ways after the split. While Kevin is still searching for the right woman for himself, Monica has already married another basketball personality - Michael Rogers.
Dating LIfe Post-Engagement
As mentioned above, Kevin is still searching for the perfect woman for himself. In the process, he has been connected to a few women; all post his engagement.
The first woman on this list is Rosalyn Gold-Onwude. The alleged couple was said to be dating each other during the 2016-2017 NBA season.
However, Kevin and Rosalyn never went out, and Rosalyn denied the dating speculations during an interview with Bauce magazine in June 2017.
Moving on from Rosalyn, Kevin dated a real estate agent, Cassandra Anderson. The reports of their relationship first surfaced during the 2017-2018 NBA season. And, she was also spotted sitting in the special section at Kevin's games for Golden State Warriors.
Furthermore, some pictures were released by Sports Gossip that showcased Kevin hugging Cassandra from the back. The photos were said to be from Stephen Curry's 30th birthday party.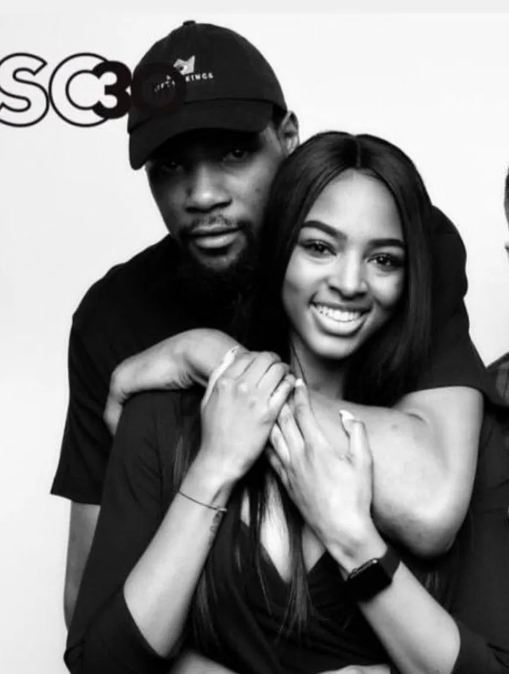 Kevin Durant with Cassandra Anderson in March 2018 at Stephen Curry's birthday party (Photo: Sports Gossip)
But, this companionship, too, was meant to have the same fate as his previous relationship with Monica. The pair broke up in around late 2018 to early 2019 for no apparent reason. After the split, Cassandra deleted all the posts on her Instagram, which included Kevin, and has also made her account private.
During the same time that his rumors of break up with Cassandra surfaced, Kevin was linked with another woman. Instagram model and entrepreneur Amy Shebab was reportedly going out with Kevin, but it has been almost a year, and neither of them has confirmed or denied the rumors.
Related to Stephen Curry:- Ayesha Curry Net Worth, Ethnicity, Family, Husband
As of now, Kevin Durant is single and still searching for a girlfriend. Nobody knows when the news about his next fling might surface, but till then, all anyone can do is speculate.
Facts About Kevin Durant: Age, Height, Family
Kevin was born on 29th September 1988 in the outskirts of Washington, DC, US.
He stands 6 feet 10 inches (2.08 meters) tall and weighs around 240 lbs.
His mother's name is Wanda Pratt, and she had four kids, including Kevin - Rayconne, Tony, and Brianna.