Entertainment
Dan Abrams Covered His Health Issues For Long! But His Revelation Of Battling Cancer Is Help To Others
Not everyone likes to open up about the struggles they have been facing in life. But, when they opt to address it, their story becomes motivation and inspiration to many people, who might be going through the same struggles.
Sharing the similar scenario is the ABC chief legal affairs anchor, Dan Abrams, as he too was very secretive about his cancer battle, but when he went public about his fatal illness; he inspired a lot of people.
Today, let us take a look at how he did that, while also shedding some light on the other aspect of his life!
Confidential Dan Abrams Inspired Many When He Opened Up About His Cancer Battle:
Dan Abrams was once a cancer patient; he was suffering from testicular cancer before it was vanquished back in 2004.
For most of the time, he was pretty confidential about his cancer battle. But, when he felt like it was about time, he opened up about the issue. He did it such that he could be of some help to other young men who might face the same issue in their lives.
Speaking about it through a memoir he wrote back in 2004, Dan said,
Today I spoke publicly, for the first time about what had been a very private matter... my bout with testicular cancer. Until now, it is a topic I had only discussed with a handful of friends and family. But for Sean Kimerling, I think I would have kept it that way.
He further added,
Like me, Sean was a 37-year-old New York based newscaster, treated for testicular cancer at the same time and at the same hospital. We were both single and were even both represented by the same talent agency. Sean was a rising star reporting on sports and anchoring for WPIX in New York. He died on September 9, 2003 just as I was returning to work after my surgery.

Ever since first reading about Sean's story, I have felt a strange bond with this man I never met. I remember reading an article that said Sean told his father that if he survived he wanted to "give something back" by educating young men about the disease. Well he can't, and so now, reluctantly, I will, by trying to help promote the foundation that his family has set up to educate young men about testicular cancer.
Dan then concluded saying that he wanted to make sure that other people can hear him and be aware of the possibility of them facing the same issue.
I am lucky. Not only did I survive, but now, it seems, I am cancer free and feeling as good as ever. Had Sean detected the disease earlier, he and I might have discussed our experiences in private. I hope that my willingness to go public can help other young men who, like Sean and me, never thought it could or would strike us.
Dan first noticed the issue back in 2003 when he was in Mexico, where he noticed that his right testicle was feeling swollen. Later he visited George Lombardi, an internist, who told him that it was a certainty that he might have faced testicular cancer, 60 to 70 percent.
Recalling the incident, Dan divulged,
"In June 2003 I was on vacation in Mexico, watching a silly comedy on television, Tomcats, in which a guy is diagnosed with testicular cancer. Three days before I'd noticed that my right testicle felt swollen. I'm not someone who visits the doctor a lot, but the movie's description sounded just like what I had. I wasn't really worried but thought I should have it checked out. On a friend's recommendation, I went to see Dr. George Lombardi, an internist, who asked me a series of questions and checked my testicles. In a very calm, authoritative voice, he told me that with 60 to 70 percent certainty, I had testicular cancer."
Thankfully he did get diagnosed on time, as delays in his diagnosis might have caused some severe damage to his health; something his son Everett and his girlfriend, Gucci America's PR director Florinka Pesenti might not have afforded to face!
More About Dan's Family Life:
Dan enjoys a blissful family life with his partner, Florinka and their son, Everett. If you were unaware of the facts about Dan's relationship with Florinka, the two met via common friends during a party back in 2009 and kickstarted their relationship soon after that.
Despite the fact that Dan and Florinka have not tied the knot yet, the pair expanded their family by welcoming their son Everett back in 2012.
Since then, they have been socially open about their family adoration.
Florinka does not always include her in the frames, but she posts pictures of the two most valued males in her life.
When we take a look at their connection, we can safely say that one does not necessarily be in a marital relationship to enjoys family life!
Dan Abrams' Weight Loss:
Being sick and battling cancer probably took a lot out of him health-wise, and that is why he does look a bit slim. Though Dan has not publicly spoken about undergoing any weight loss procedure, the fans and media noticed some changes in his body structure and that is what stemmed the weight loss rumor about him.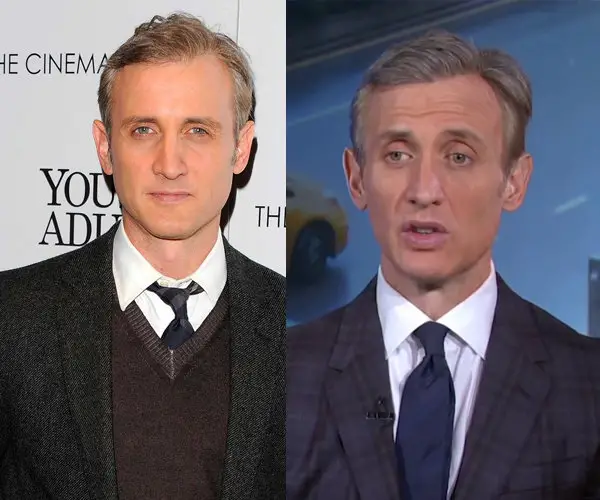 Caption: Dan Abrams is a bit different in his body structure there days.
Photo Credit: liverampup.com
Although he appears to be slimmer than before, he has an added attractiveness with his current look as well!
Quick Fact: Did you know, Dan has also been expressive about his thoughts related to some high profile legal cases, like the one where Harvey was accused of sexual harassment?
Well, you know it now!
Keep visiting to remain updated with the life of Dan Abrams!