Entertainment
J. D. Vance Adorable Family Photo; Who Is Wife Of 'Hillbilly Elegy' Author?
J.D. Vance, an American author, and venture capitalist is widely recognized for his book Hillbilly Elegy. Based on....his book has gone on to massively contribute in...After a difficult childhood, he seems o have finally restored balance in the form of his wife...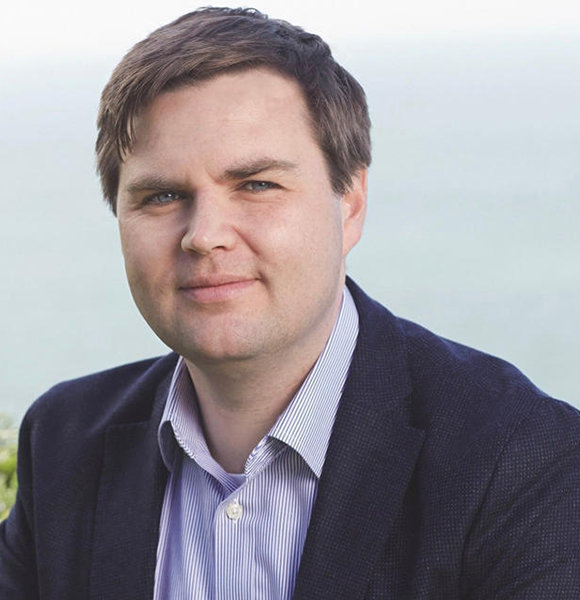 A tough childhood may not be everyone's cup of tea, but for J.D. Vance, it turned out to be a blessing in disguise!
Writing a book based on his childhood traumas, the author of 'Hillbilly Elegy' has finally made it big in life after undergoing some serious childhood issues.
Born as James Donald Bowman, J. D. Vance went through some tough times in his early days; divorced parents and his mother's drug abuse problems forced Vance to witness some of the darkest days of his life at a relatively younger age.
However, balance seems to have restored in the author/ venture capitalist's life with the incoming of the love of his life.
Happily married to his wife, Vance finally seems to have let go his past life behind him and currently focuses all his attention towards his family and career!
Rough Childhood: Divorced Parents, Mother's Drug Abuse Problems; Grandma To The Rescue
Born to parents Donald Bowman and Bev Vance and raised in Middletown, Ohio, in a neighborhood not known for rich and wealthy peoples, James suffered a childhood not many could come out of.
With his parents divorced whilst he was still a toddler, James had to witness the drug addiction problems of his mother whilst she got married five times in the duration.
You May Also Like: Pete Nelson From Treehouse Master Wiki: Age, Net Worth, Family, & Facts
James, in his book, however, recognizes the personal traumas that his mother went through at the time and does not completely blame her for her actions.
"Mom is no villain... .she listened too much to the wrong voice in her head.  But Mom deserves much of the blame."
In a childhood going downstream, James' grandparents were the one, who came up to his rescue.
Primarily raised by his grandparents after his parents struggled with their own lives, Vance's grandmother Bonnie Vance or Mamaw as he calls him adopted a no-nonsense attitude whilst raising her grandson.
James, in his book Hillbilly Elegy, reminisces the attitude his grandmother displayed while raising him in a tough neighborhood.
"Unless you have a Mamaw and Papaw to make sure you stay the course, you might never make it out. Mamaw would kill anyone who tried to keep me from her.  This worked for us because Mamaw was a lunatic and our entire family feared her."
With such a loving grandmother, it comes off as no surprise that James considers his photo with his grandmother as his only family photo.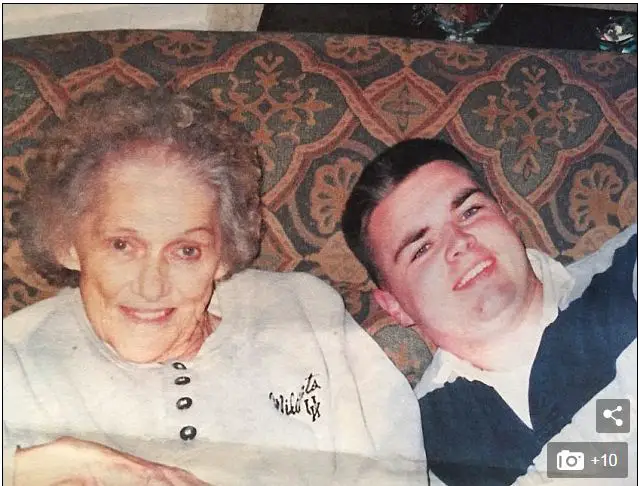 James Vince alongside his grandma. (Photo: dailymail.co.uk)
Don't Miss: Tana Ramsay Bio: Wife Of Gordon Ramsay, Her Age, Children, Height & Facts
Despite the early childhood struggles, James stands today as a globally recognized figure thanks to his best selling book Hillbilly Elegy, a book based on the incidents of his childhood days. Hence, he might now have a different perspective on his early days' struggle.
Wife Restores Balance, Building His Own Family
A former U.S marine, James found the missing piece of his life's puzzle during his time at the Yale Law School where he found the love of his life in the form of wife Usha Chilukuri Vance.
Though not much has been revealed by the duo regarding their personal life, their love for each other is easily displayed during the very few interviews that the couple agrees to do.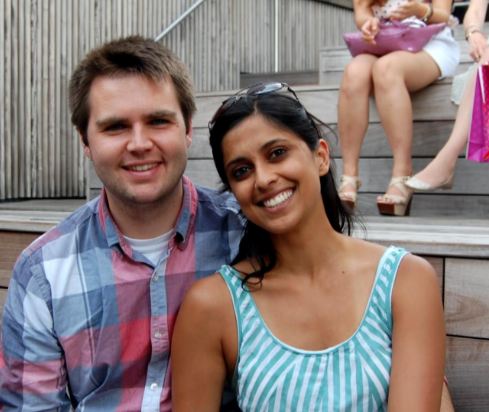 An unlikely pairing: James Vince alongside his wife Usha. (Photo: NBC News)
In an interview with NBC News in May 2017, James describes the qualities of his wife that led to a quite unlikely pairing.
"The thing that I remember the most about Usha is just how completely forward and comfortable with herself she was. She is extremely defensive about things she cares about."
The duo, who preferred to keep their marriage details to themselves, has however been quite open about the new addition to their family in the form of their son Ewan, born on 4 June 2017.
With their family now increasing, it seems both the parents are ready to make their own sacrifices for the sake of their significant other. Offered a clerkship at the Supreme Court of the United States, Usha resigned from the position after recognizing she was pregnant.
Similarly, James has also been ready to let go of his political dream for now and focuses all his attention towards his family.
Read Also: What Is Brett Kavanaugh Religion? Did Allegation Tremble Wife Relationship?
In an interview with Molly Ball, James mentions the reason behind his decision to not run for his dream job at the position of U.S. Senate in 2017.
"You can't sacrifice your family's happiness to run for political office, if you're willing to do that, you don't belong in elected office and you don't deserve your family."
Currently working as a venture capitalist and a philanthropist running the non-profit organization Our Ohio Renewal, post his return to Ohio, James, age 34, enjoys a massive net worth much thanks to his $27 cost book.
Though the exact figure if his net worth has not yet been revealed, it would be safe to assume that Vance earns much more than the average salary of an author ranging in and around $50k per annum.