Entertainment
Beautiful Dancer Witney Carson's Exotic Wedding With Her Longtime Boyfriend Turned Husband! Take A Sneak Peak!
Things just got real for Witney Carlson who recently got married to her boyfriend, whom she was dating from a long time. Today, for all of those who wished to know the details about her wedding with her boyfriend-turned-husband, this is a dream come true because we bring all the information right here on the table. Let's start then, shall we?
The Dancing with the Stars professional dancer Witney Carson walked down the aisle to swap vows and kiss her husband Carson McAllister in front of family and friends.
The couple who were dating since high school finally tied the knot and started their new life on the day of New Year on January 1, 2016. The couple held a small three-part wedding celebration in the Salt Lake City area followed by a large dinner and reception at NOAH's Event Centre in London, Utah.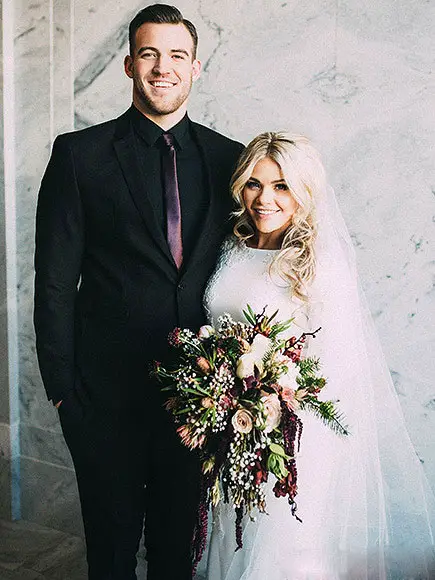 Caption: Witney Carlson with husband Carson McAllister at their wedding on January 1, 2016.
Source: wordpress.com (blog)
The bride donned a stunning Rivini gown whereas the groom looked spectacular with a black tux that went well with the navy blue shirt and the purplish tie. The wedding was also something to be vividly remembered as it was exclusively planned by Michael Russo who is a celebrity wedding planner. If the wedding pictures were just not enough to calm your mind, then we have a short video of their wedding right below.
Caption: Carson and Witney Wedding on January 1, 2016.
The couple, prior the wedding, got engaged in October of 2015. We will just let Carlson's word describe the moment which she did in an interview with People.
"My high school sweetheart popped the question last night in the most perfect, beautiful way. He was waiting for me on the beach surrounded by candles. Danced with me while the sun went down and then knelt down on one knee and asked me to marry him! Of course, I said yes."
The now married Witney Carlson took the news of her engagement on her Instagram the other morning.
Caption: Witney Carlson and Carson McAllister after their engagement
They have enjoyed their life as a couple since then and often posts pictures of them roaming to places. Witney Carson who can be seen in many dancing shows like Dancing With The Stars, So You Think You Can Dance and currently enjoys the net worth of $300 thousand dollars.
Additional Member in the Family:
In recent events, the couple both 23, brought home a puppy and referred to the fluffy package of joy as their baby. Who knows; they may just be preparing for having a real baby of their own. Until then, they might just take care of their baby puppy.
Caption: Witney Carson's husband Carson McAllister holding their new puppy.