Entertainment
Dating Or Already Married? June Sarpong Reveals Martial Status; Breaks Down While Talking About Brother
When a person is a celebrity one gets constantly judged and spoken about for various reasons. And when a celebrity is not married and single then the people are even more curious about their love life.
Similarly, MTV host June Sarpong has been judged for being single without a boyfriend and marriage, so does she have a love life to share or is single? Let's find out.
On Dating Spree or Married Already?
On July 2016, in an interview with The Loose Women, June Sarpong when asked about her view on the constant judgment, for not having children, she revealed that instead, she has faced the cruelty for being single. June Sarpong revealed that people judge her for being single and they think that she is bunny boiler and even mad and said,
"I don't think I'm judged for not having children I think I'm judged for being single."I think they think 'Oh, is she a bunny boiler? Is she mad mad?'
"And I say yeah, I'm a bunny boiler."
Further, when asked about experiencing genuine joy of being a mother she said,
"No, not yet"
However, June expressed her hopes of having children in future and said,
"I think it's one of those, I'm at a funny stage, and I hope I do have children, but I'm at a stage where that's not as big a thing yet.
"But I get it (social reaction) much more from 'ohhh, what's wrong with her?'"
Previously June was reportedly in a relationship with David Lammy after they met on 2001 and dated for two years before breaking up remaining amicable with each other. However, she has not been married previously to have a husband.
Shattered After The Death Of Her Brother!
On June 2016, MTV host June opened up about the death of her brother an actor, Sam Sarpong while talking with "Loose Woman" who had jumped off the bridge in LA in October 2015 despite the family and police tried their level best as they spent seven hours talk to him down.
Caption: June Sarpong pays tribute to her dead brother Sam Sarpong.
June was shattered when June's brother Sam Sarpong jumped off a bridge in LA and revisiting the painful memory again. She said,
'I have experienced emotions which I did not even know were humanely possible.'
Further, June revealed that Sam did not drink and was not on medication either. She mentioned,
'He wasn't on medication, he doesn't even drink. All we know that on the day it happened, something just took over his mind.
'So the Sammy that we knew was not that boy on the bridge, the person that jumped off the bridge was not the man that we had loved for over 40 years'
To those people who have suicidal thought, June urged them to think about their loved ones and said,
'For anybody even considering it, even having those thoughts, I beg you on behalf of the people you love, on behalf of your family, your family, the teacher whose favourite student you were, don't do it.
Further June, stressed on the sad truth that males are not allowed to express their feelings and said,
'We live in a society where men aren't allowed to express their feelings, so if you are an alpha male the way that my brother was or the one that everybody relies on, you don't feel confident enough to be weak.And the problem with suicidal thoughts is it's temporary. If you tell somebody there can be an intervention.'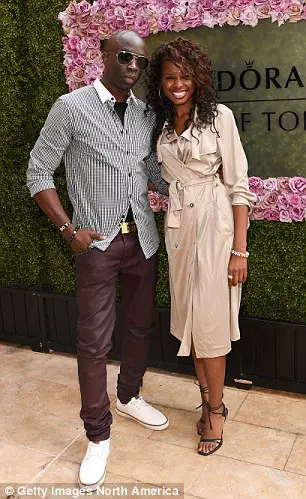 Caption: June Sarpong with her brother Sam Sarpong posing for the picture to be clicked.
Photo Credit: dailymail.co.uk
When a beloved commits suicide then their family has to suffer and bear the pain from the loss. So, June Sarpong advocates the people who have suicidal thoughts, to express their feeling and seek help rather than taking a drastic step. May her brother's soul rest in peace. Prayers go out to him!