Entertainment
Justine Musk After Divorce From Multi-Billionaire Husband, Where Is She Now?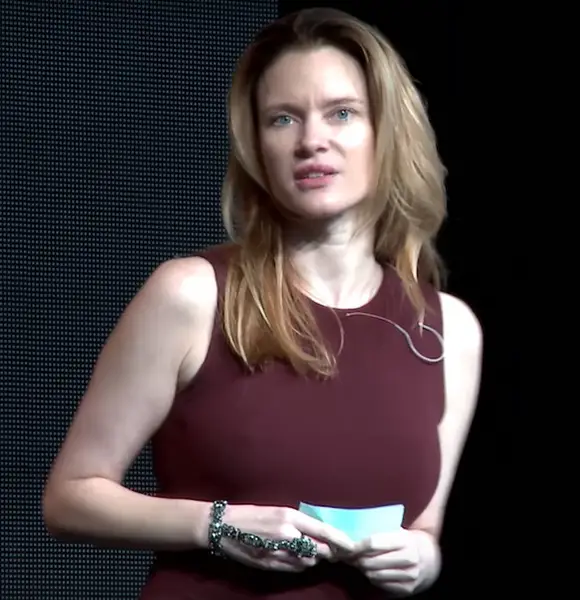 CEO of SpaceX and Tesla Motors, Elon Musk, age 47, needs no introduction. The same can be said about his first ex-wife, Justine Musk, who's a revered author.
Justine's marriage to her ex-husband, Elon may have ended in - what may seem like an - amicable divorce. But there's more to that story than the ex-pair have led us to believe. That said, this hasn't stopped the ex-flames from putting on a brave face in public for their children's sake. Justine, age 47, has even quoted as calling herself a "model ex-wife."
Despite the messy divorce settlement, both the BloodAngel author and her ex-husband have gone on do great things in their respective careers as well as romantic lives.
Messy Divorce Settlement; Shares Custody Of Children With Ex-Husband
The weight of her then husband's weighed too heavy on their marriage, as per Justine's 2010 Marie Claire essay aptly titled I Was A Starter Wife: Inside America's Messiest Divorce.
Read Also:- Who Are Lana Condor Real Parents? Wiki Reveals - Dating, Boyfriend & Personal Details
And what a mess it was! In the aforementioned article, Justine writes about her regretful decision to sign the postnuptial agreement. For she couldn't comprehend a life without her then-husband, Elon. She wrote:
"We were soul mates. We would never get divorced. A life without Elon was unthinkable."
By the time the divorce became the only viable option, their marriage was already falling apart. Mostly because, both her and Elon were coping with the newfound success. In the Marie Claire essay, she writes:
Elon was obsessed with his work: When he was home, his mind was elsewhere. I longed for deep and heartfelt conversations, for intimacy and empathy.
While their marriage was heading for a divorce, Justine's car accident in 2008 proved to be the final straw that drew their seven years of marriage to an end. Even the birth of their triplets, two years prior, couldn't save their relationship.
The word tragedy is synonymous with the Musk family. Back in 2002, they had lost their first child, Nevada to SIDS( Sudden Infant Death Syndrome).
You Don't Want To Miss:- Who Is FatBoy SSE? Wiki Reveals Girlfriend, Net Worth & Essential Facts
Back to the divorce, despite the judge's initial ruling against Justine, the ex-flames would eventually agree on a divorce settlement outside of course in 2008. As per the agreement, she and Elon would share the joint custody of five children: twin boys, Griffin & Xavier and triplets, Damian, Saxon, and Kai.
Justine and Elon attending a Tesla event (Photo:- jezebel.com)
After their divorce, Justine's ex-husband, Elon married Talulah Riley in 2010. However, Elon and Talulah parted ways six years later. Just like her divorce settlement with Elon, Talulah's divorce settlement with Elon too created quite a fuss. Apparently the latter cost Elon in the excess of $20 million in the divorce settlement.
Discover:- LeSean McCoy, Massive Salary & Net Worth Bagger & Girlfriend Engaged - In Lawsuit
Nonetheless, since his divorce with Justine, Elon - who has a net worth of $20.4 billion - has dated stars including actress Amber Heard and musician Grimes.
Justine Musk Now!
The BloodAngel author too has moved on from the divorce, it seems. Two years after her split from her Queen University sweetheart, she was already gushing over her new boyfriend on Twitter.
From the series of her 2010 tweets, here is what public knows of her new man in her life: Her new man's a father of a 7-year-old boy who's into writing and surprising her at her workplace.
Interesting:- Sean Federline Bio: Kevin Federline's Young Age Son & His Sibling Now
Recently, she let the cat out of the bag when she floated the idea of being married again but it came with a qualm.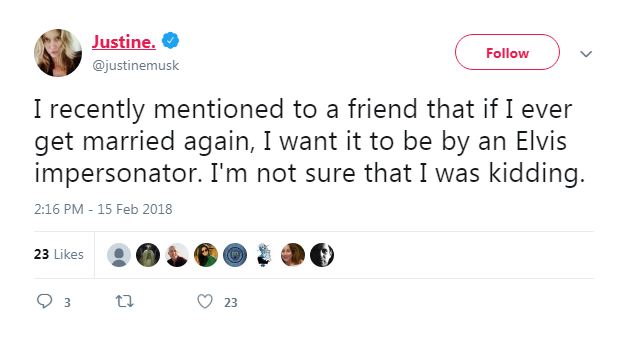 Justine with esoteric tweets about possibly being married again (Photo:- Justine Musk's Twitter)
It is still unclear if the above-mentioned tweet is a reference to her 2010 tweets where she has faintly disclosed the identity of the man she was dating.
For the time being, she seemed preoccupied with developing her next book and churning articles for her own site.