Entertainment
River Kelly Smith Bio, Cause Of Death, Granger Smith
On the 6th of June 2019, River Kelly Smith tragically passed away in Texas...was three years old at the time of his death...parents Granger and Amber Smith delivered the devastating news...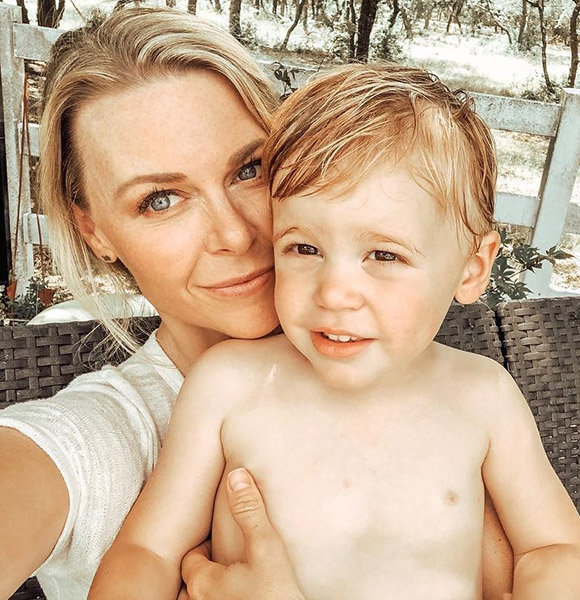 On the 6th of June 2019, River Kelly Smith tragically passed away in Texas. He was three years old at the time of his death.
Via Instagram, his parents Granger and Amber Smith delivered the devastating news.
Calling the death an unthinkable event, Granger revealed the mourning couple's decision to donate their deceased son's organs so that other children can receive a second chance at life. Per the Counrty singer's heartbreaking Insta post, he and Amber took solace in knowing that River was with his heavenly father.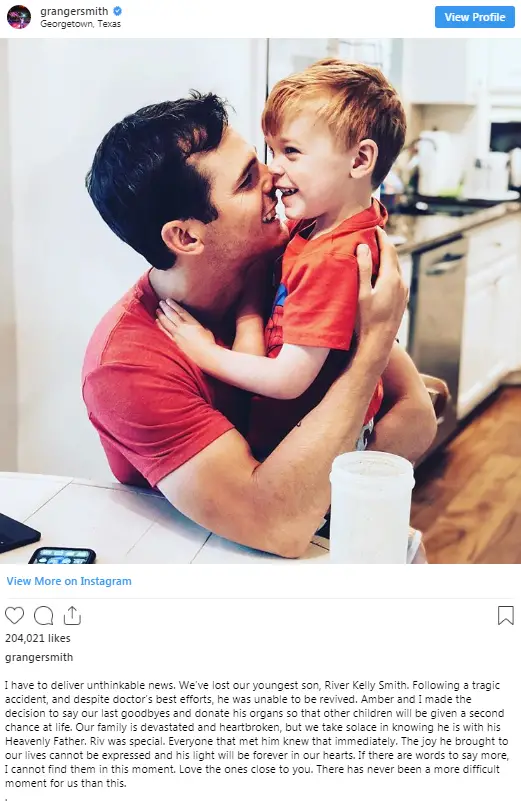 Father Granger Smith announces River Kelly Smith's untimely passing through Instagram on 6 June 2019 (Photo:- Granger Smith's Instagram)
On her Instagram message, Amber echoed similar sentiments. Additionally, she asked the fans and wellwishers to "donate to Dell Children's Medical Center in River's name," instead of sending flowers and gifts.
Cause Of Death
No sooner had the news of River's death hit the web, the entire Country music scene began sending messages of condolence to his grieving parents.
Gone Too Soon:- Kim Porter Dies At Age 47; Diddy Kids' Mother, What Is Cause Of Death?
Replying to Granger's post on Instagram, fellow celebrities Kane Brown, Jason Alden, Luke Bryan, Jake Owen, and Maren Morris offered words of support. The notable one being the professional beach volleyball ace Morgan Miller.
Like River's, Morgan's 19-year-old daughter Emmy's cause of death was due to accidental drowning at home. Emmy passed away in March 2019.
Regarding River's cause of death, The Williamson County Sheriff Department in Texas didn't offer a comment. Interestingly, neither Granger nor Amber divulged the reasoning for his death on their Instagram posts.
Per reports by top media outlets, it was the Country musician's representative, who confirmed the death by accidental drowning news.
Details Of Drowning Accident
Two weeks after River's death, distraught parents Granger and Amber reflected the tragedy through a YouTube video titled "Finding Light In Our Darkest Moments."
Recalling the fateful day, the Country musician claimed that the night of the accident was ordinary. He and his daughter London were doing gymnastics while River and Lincoln, his other son were playing a water gun fight. The next thing he knew, he and his wife Amber were doing CPR on River.
Within minutes, first responders arrived at their Texas home. Even after transporting him to Dell Children's Medical Center, the competent staffs were unable to resurrect River. His parents then decided to donate his organs.
Recounting their time together, Granger then said:-
"We believe that God gave us River for three years and that was his mission. I don't believe that God takes anyone too soon... I believe that he was put on this Earth for that exact amount of time."
 According to the Backroad Song hitmaker, River would always remain in the family's heart. Asking fans not to pity them, he further claimed that they were going to best lives going forward.
Bio - Parents, Family & Siblings
Dearly departed River was born on 16th of May 2016. Four days later, his biological parents shared the joyous news through Twitter.
After his arrival, fans couldn't help but, notice the undeniable happiness that he brought into his father and mother's lives. Adored by all, he was an ever-present figure in both of his parents' social media.
Baby Who Brought Joy:- Willow Sage Hart Bio, Age, Net Worth, Pink
The youngest in the family of five - before his untimely passing - River was siblings with big brother Lincoln and big sister London. The trio forged an unbreakable bond over time. Thus, one can only imagine the pain that Lincoln and London with their younger brother's death.
Facts About River Kelly Smith
Two months before River's birth in May 2016, his father Granger had put out an album called Remington.
Among a list of hit records, his dad gets best known for the Country anthem Backroad Song.
Now-deceased River's parents tied the wedding knots in February of 2010.
Four months before his tragic death, his parents celebrated their ten years together.
He was born four years after Lincoln and two years after London.