Entertainment
David Tutera's Wedding To His Longtime Partner Is Something To Be Seen! Only Got Daughter From A Past Divorce Battle
When sexuality is limited as a taboo in our society, coming out has always been hard thinking about the consequences of the confession. However, many such famous personalities are doing fine after coming out as a gay as well.
The talented celebrity wedding planner David Tutera is one of those celebrities including Gok Wan, Mark Gatiss, and Andrew Rannells, who is enjoying a very romantic love life with his partner-turned-husband. Today, let's have a look at David Tutera's romantic wedding and his past married life which ended very bitterly.
Following The Second Marriage!
After a failed marriage with ex-husband Ryan Jurica, David Tutera decided to tie the knot again with his partner of four years Joseph (Joey) Toth. He got married to Joey in an extortionate ceremony on first April this year at the Hollywood United Methodist Church in Los Angeles, California.
The pair exchanged the vows in front of 280 guests in a traditional wedding; as the first same-sex couple to be married in the historic Hollywood landmark. Tutera's four-year-old daughter Cielo Tutera also witnessed their wedding.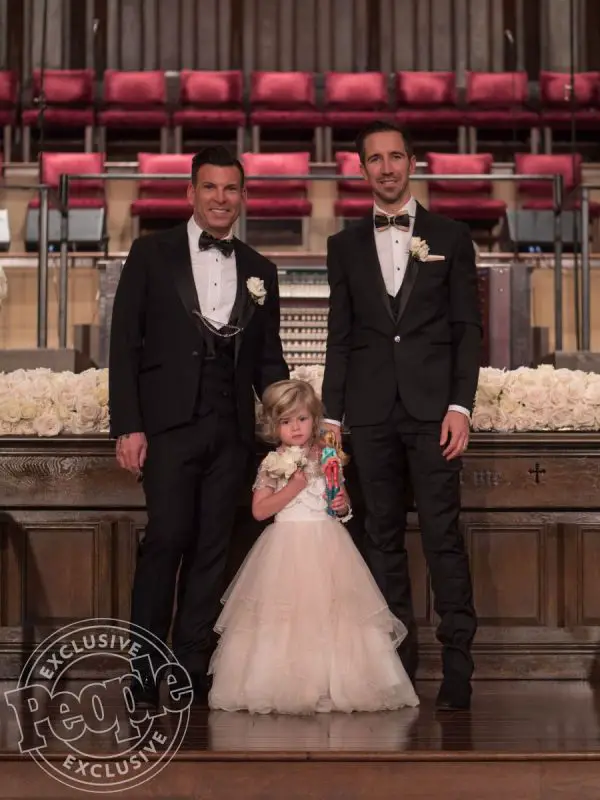 Caption: David Tutera married his partner of four years Joseph (Joey) Toth on April 1, 2017, in Los Angeles, California.
Photo Credit: People
Talking about the wedding to PEOPLE, Tutera said-
"My life has peace, support and purity with a partner that is always there every moment of our lives. We always say every day is an adventure. Today was an adventure and a journey, but we know tomorrow will be another one!"
He continued-
"Our whole service is a really dramatic and very important. It's based on equality, peace and love in this world. We're doing a lot of things slightly on the activism side and certainly on the importance of love and equality."
Do you know that Tutera planned his wedding? Tutera, who gained the experience by planning the wedding of the celebrities like Prince Charles, Jennifer Lopez, and Matthew McConaughey said that planning his wedding was somehow challenging.
Prior tying the knot, Tutera dated his partner for around four years. The pair had many wonderful memories and good times with Tutera's daughter. In April 2016, Tutera popped the question to Joey when his daughter was by their side during a vacation in Hawaii.
Here is an Instagram picture of Tutera, Joey, and Cielo shared by Tutera on his Instagram.
David Tutera's Failed And Cut Out Marriage!
This wasn't a first time that Tutera exchanged vows with his partner, as he was previously married to Ryan Jurica for more than a decade. They were not just life partners but were business partners as well. Tutera married Jurica in September 2003 in Vermont, where same-sex marriage was legal at that time.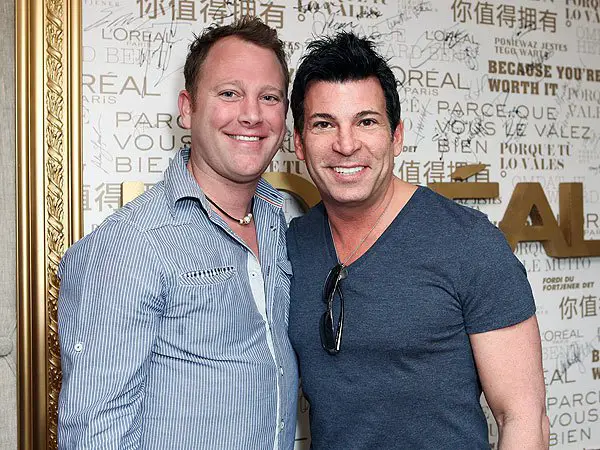 Caption: David Tutera and his ex-husband Ryan Jurica during an event.
Photo Credit: PEOPLE
The pair has surrogate fraternal twin son Cedric (biological father Jurica) and daughter Cielo (biological father Tutera) born on June 19, 2013. Tutera and Jurica separated on New Year's Day 2013 and fought for custody of twins that they shared via a surrogate.
After the divorce, each of them took sole custody of one of their surrogate fraternal twins.
David Tutera now enjoys a blissful life with his partner and daughter. He also enjoys a prolific career which helped him to accumulate the net worth of $6 million. Tutera, who is the author of seven books, currently appears on the 6th season of WE tv's show, My Fair Wedding with David Tutera.