Entertainment
Diandra Luker Bio: Net Worth Skyrocketed After Married Life With Michael Douglas Into Ashes
Diandra Luker, the famous ex-wife of Academy Award winner Michael Douglas, have had issues relating both money and family life. Diandra, whose net worth took the heights soon after the divorce with ex-husband Michael, enjoys her life with her big bucks.
But what she lacks is a happy family life. Even though Diandra is blessed with a son from her ex-husband and has twins from surrogacy as well as an adopted daughter, she has been living with issues from the court.
Let us take a look at her wiki-like bio!
Married Life Comes To An End
Glamorous globetrotter Diandra Douglas was married to Michael Douglas, the Ant-Man star. The couple shared almost 23 years of relationship.
Even how the couple met and fell in love is still a mystery, they sure seemed like a happy couple. The pair exchanged their wedding vows in March 1977 in a wedding ceremony in front of their designated guests, family and close friends. During that time Diandra was just at the age of 19.
See Also: All You Need to Know About Egypt Sherrod: Her Parents, Husband, Ethnicity and Weight Loss Info
A year later, they were blessed with a baby. Diandra gave birth to her first child Cameron Douglas in December 1978.
They both were parenting their first born but as the time passed, they missed something out while raising a child as years later Cameron was sentenced to five years in jail.
However, while they were trying their best to raise their firstborn, the relationship between them started getting sour. About 18 years later, Diandra and Michael separated. They finally divorced in 2000.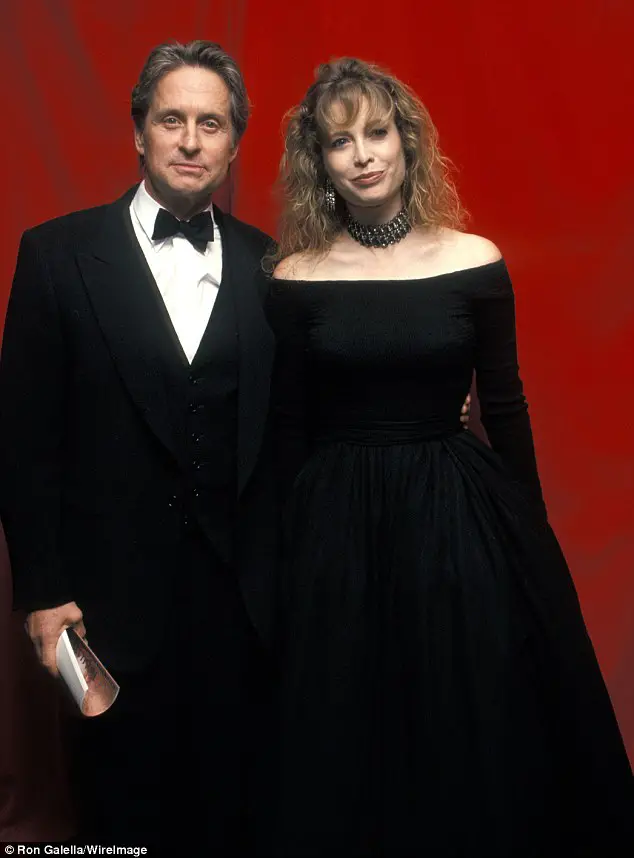 Diandra Luker with ex-husband Michael Douglas (Photo: dailymail.co.uk)
After the end of her relationship with Michael, Diandra started seeing Zack Hampton Bacon III who is an executive at a multibillion-dollar Wall Street hedge fund. The couple was together since 2000.
A year later, Zack asked Diandra to marry him 2001 but Diandra refused to tie the nuptial knot unless Zack paid her hundreds of thousands of dollars a year in alimony she would lose.
Instead of sharing the wedding vows they remained engaged. But despite being unmarried, the couple was looking forward to having their own family for which they started the path to surrogacy.
While doing so the couple had series of unsuccessful in-vitro fertilization procedures. Their first effort to surrogate mother also failed.
Don't Miss: Gina Carano Left "Man Of Steel" Boyfriend, For Whom? Husband Not Or Casually Dating?
However, in December 2003, the pair learned that the surrogate was pregnant with twin boys and soon they would be blessed with the babies. But as for Diandra she was not satisfied having two boys and wanted to adopt a girl.
As for Zack, he wanted both of parent's attention towards his two boys and asked Diandra to not go forward with the adoption. Despite it all, Diandra announced she was planning to adopt a baby girl from Kazakstan in February.
After that, things went downfall and Diandra sued for custody in Los Angeles in March. Both the parents fought hard for the custody of their children.
Expensive Divorce Led To Skyrocketed Net Worth
Well, after her divorce from Michale Douglas, Diandra had a massive increase in her net worth.
After the divorce, Diandra received $45 million settlement which is half of the actor's net worth. Moreover, she even had a share of projects related to work Michael did when they were together.
Adding to it, Diandra even made a claim for half of Michael's earning from Wall Street: Money Never Sleeps. During that time, Michael had a stage IV throat cancer and the public was making comments on Diandra for asking money from a sick guy.
However, in the end, the case was dismissed.
Son Battles With Drug Addiction; Moving To New Path
Diandra Luker, who shares a son Cameron with her ex-husband, now sees her firstborn moving to a new path after the nightmare battle with drug addiction and years in jail.
Diandra's first son was sentenced to five-year prison back in 2010 for the possession of heroin and selling methamphetamine. He was serving his sentence but his sentence was extended after he admitted smuggling drugs into prison.
Read Also: DeAndre Hopkins Is Dating! 'Fancy' Singer Iggy Azalea Revealed As Girlfriend
A year and a half earlier, Cameron was released from his sentence and now moves onto his new path. As Diandra's ex-husband, Michael recently opened up in an interview with Radio Times revealing that his son is in a wonderful shape now and recently welcomed his first child with his girlfriend Viviane Thibes.
Well, it seems that Diandra is finally relieved seeing her son walk into the right path.