A controversial figure in the music industry, DJ Akademiks has been surrounded by rumors of adultery, assault, and even a jail sentence.
The YouTuber, who is infamous for his devil-may-care attitude and degrading perspective towards women, was reportedly sentenced a prison time; however, when he went free the very next day, questions were raised whether his jail term was real in the first place.
Amid all the accusations against the uprising DJ especially from his ex-girlfriends, let's discuss his personal and professional life including real name, age, net worth, relationships, and more!
Biography: How Old Is DJ Akademiks?
With a birthday on 17th May 1991, DJ Akademiks is 27-year-old.
But, he has garnered substantial fame from his career as a YouTuber despite his young age. He runs several channels on the video sharing with his popular channel, DJ Akademiks, accumulating over 2.1 million subscribers.
YouTuber's Bio:- Twitch Starr Troydan Age 31 Banned React Channel | Bio Unveils Girlfriend
Further, he owns various accounts on YouTube with millions of followers including LateNightCreepVids, The Negrotiator aka DJ Akademiks, King Akademiks, The War In Chiraq, and Crime Fails.
The Jamaican native, who lives in his residence in LA, rarely uses his real name, Livingston Allen. Famously known as "AK," the first two credentials of his stage name, the social media personality often performed at the radio station of Rutgers University before his career took off.
Considered a little fellow with a height shorter in comparison to his black counterpart, Michael Blackson, AK boasts a whopping net worth. He earns an estimated salary ranging from $36,300 to $580,000 per year; however, he has not disclosed the amount of his net worth.
Ex-Girlfriend Accuses Of Assault; Completes 5-10 Years Jail Sentence In One day?
DJ Akademiks, who was in a relationship, got dumped by his girlfriend, Angelica Ggx. AK initially accused his ex-girlfriend of being a gold-digger and trying to kill him with a knife; however, the claims were far from the truth.
When Angelica came out to defend herself, the reality about DJ Akademiks was revealed. Angelica accused her ex-boyfriend of torturing her both physically and mentally.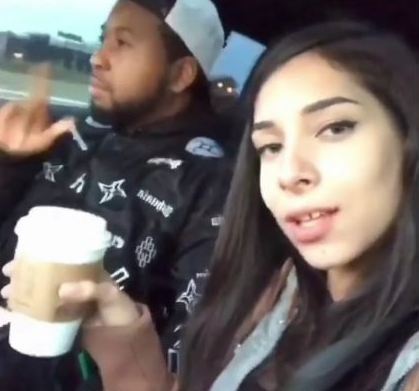 DJ Akademiks and ex-girlfriend Angelica Ggx back while they dated in 2018 (Photo: HipHopOverLoad.com)
She disclosed that AK was a pervert and would often get women drunk to have sex with them. The DJ's former girlfriend even mentioned that he didn't come to visit her when she was in a hospital and also didn't pick her up after recovery, instead stayed home and played Fortnite.
Angelica eventually broke up with her boyfriend and is currently dating American rapper, Lil Tracy.
One of the DJ's former girlfriends, Celina Powell also accused AK of getting Angelica pregnant and abusing her during the pregnancy.
Abusive Relationship:- Arianny Celeste Dating Status Now; UFC Diva Well Over Abusive Boyfriend?
Apart from his abusive history with ex-girlfriends, AK also has a criminal history. A Twitterati of the name, Prince Marcus shared a tweet on the social media site revealing AK previously stole computers from Rutgers University and was even wanted by the campus police.
Similarly, AK claimed earlier in January 2019 that he could be facing a jail sentence of five to 10 years on gun charges and was supposedly in prison for his crime. Surprisingly, he was out of the jail the very next day and even shared a tweet captioning, "First Day Out." While many believe that the YouTuber was looking for attention with his jail sentencing claims, an official decree is yet to be published.