Entertainment
Donald Glover Experiences Perks Of Having Baby With Anonymous Girlfriend; Prosperous Dating Affair?
Keeping a personal life private is one of the things that celebs are good at apart from their area of expertise, but in the case of Donald Glover, keeping things private is another level. However, like it's said 'the eye sees all' nothing is hidden from the media and the media says that Donald is all about happiness at the moment.
In around mid-2016, a happy news broke out that Donald Glover from the show Atlanta became a father for the first time. In May of 2016, Donald was seen roaming out and about in New York City with a girlfriend by his leading a baby stroller ahead of her. This picture alone was enough to exactly speculate that the couple welcomed their first child after revealing pregnancy in January 2016.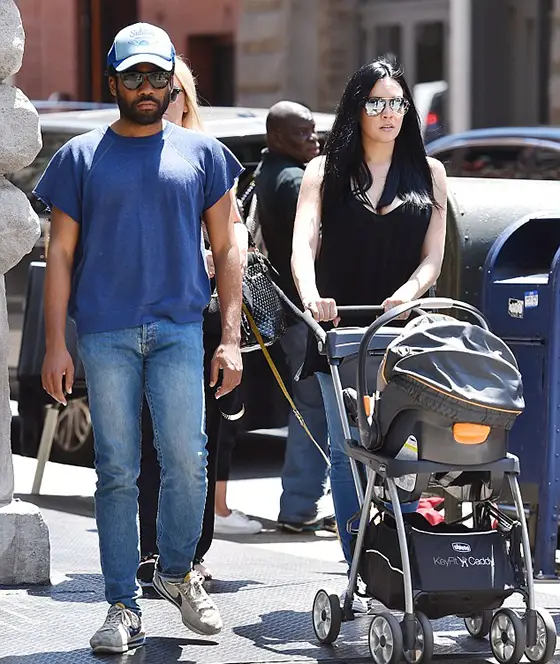 Caption: Donald Glover strolling down the streets of NYC with his girlfriend and the newborn baby (May 2016).
Photo Credit: Dailymail.co.uk
Despite the fact that the couple is incredibly secretive regarding their personal affairs, Donald and his girlfriend managed to keep the birth of their baby hidden till October. Donald was pictured with his girlfriend in Hawaii in January, and that is when the outside world got wind of a new arrival in their life as the baby bump was clearly visible on his girlfriend's curves.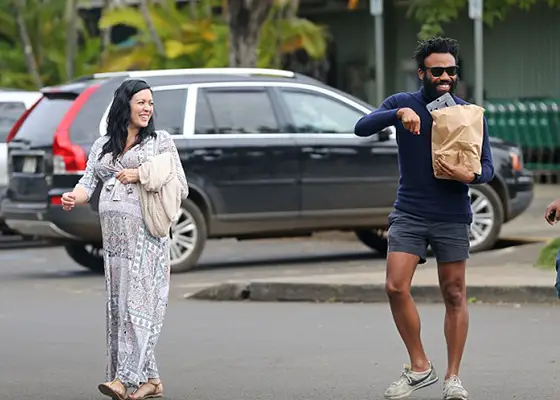 Caption: Donald Glover pleasantly laughing with the pregnant girlfriend in Hawaii (January 2016).
Photo Credit: dailymail.co.uk
A Mysterious Girlfriend:
As we have been continuously saying that Donald takes his privacy pretty seriously, nobody thought that he would make it to this extent. The 33 years old actor has successfully kept his girlfriend out of the limelight as the black haired beautiful lady is yet to identify by name. However, even after every attempt of keeping the arrival of their baby a secret, Bossip managed to get a glimpse of how baby Glover looks like.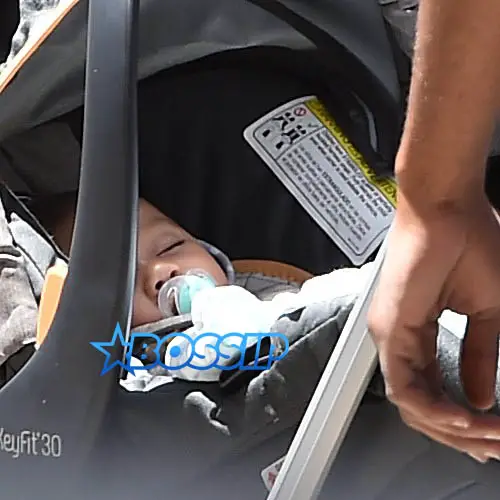 Caption: Baby Glover sleeping soundly in the stroller (2016).
Source: Bossip.com
Furthermore, the actor cum Music artist thanked his 'son' and girlfriend during Golden Globes' speech after receiving the award for Best Actor in a Comedy Series for role in Atlanta stating,
"I really want to say thank you to my son and the mother of my son for making me believe in people again and things being possible, so thank you."
All the information whether it be his new family of three or his dating affair with a girlfriend that has turned into cohabitating relationship points towards the fact that Donald Glover is not a gay man and certainly does not has any gay dating affairs in the past.
Donald Glover AKA Childish Gambino:
While Donald is widely renowned as an Actor, he's equally revered as a music artist and producer. Initially, an Indie artist, Donald Glover, or widely known by his music tag 'Childish Gambino' released his first Independent album Poindexter and later on signed on with Glassnote Records for a contract. His first album was named 'Camp' and his second, 'Because the Internet.'
Many have commented about his music which contrasts a lot; some are hilarious, some confusing and some serious and thought provoking. But many of songs correlate with personal issues and issues within society, from Alcoholism to Troubled Romantic Relationships to even Suicide. His music which is filled with Great R&B Vibes, Rap, great beats and Hilarious demeanor is quite celebrated in the Music industry.
The actor recently announced his third album Awaken, My Love! and also announced that he was retiring his title of 'Childish Gambino' and that his next album would be his last and explained his reasoning stating,
"There's nothing worst than like a third sequel, like a third movie and we're like, 'again? You know, I like it when something's good and when it comes back there's a reason to come back, there's a reason to do that."
and further justified his decision saying,
"Like I feel like there's gotta be a reason to do things and I always had a reason to be punk. Being punk just always felt really good to me and we always looked at 'Atlanta' as a punk show and I feel like the direction I would go with Childish Gambino wouldn't be punk anymore. As much as 'Redbone' is a punk song because it's a gospel song that's on the radio, I'm like there's only so far you can go before you just are the radio."
Caption: Donald Glover/Childish Gambino's hit song Redbone from his album: Awaken, My love
A Little Background Of Donald:
Donald Glover Childish Gambino, born on September 25, 1983, at Edwards Air Force Base, USA. Being born in the USA, Donald shares a mixed ethnicity of an African-American. Apart from helping NASA bring back Astronaut Watney from Mars in The Martian (2015), Donald is famous for appearing in Community(2009-2015), Adventure Time (2013-2016) and is currently working on Spider-man: Homecoming (2017) and is planned to lead the Han Solo Star Wars movie starring as Han Solo himself.