Trending
Mike Caussin & Wife Welcomes Second Baby Keeping Married Life Strong
New Baby Alert! Former NFL tight end Mike Caussin is now a father of two! Mike, age 31, and country singer wife Jana Kramer welcome their second baby, a boy named Jace Joseph Caussin on 29th November 2018.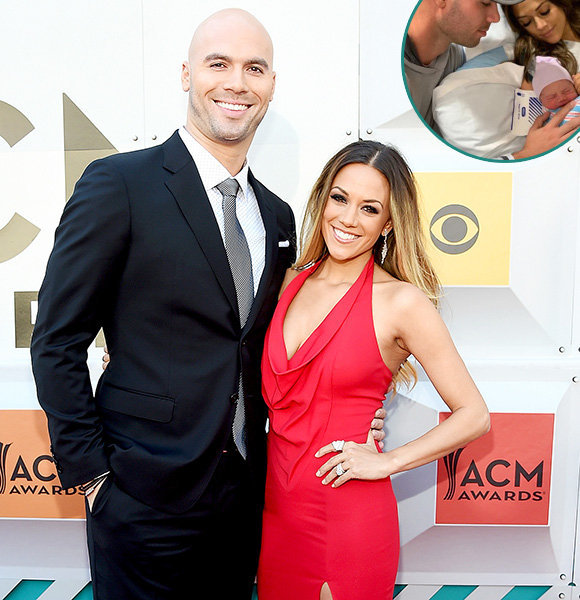 New Baby Alert! Former NFL tight end, Mike Caussin's family is a "mini football team" now, with the arrival of his second baby!
Mike, age 31, and his country singer wife, Jana Kramer welcomed their second baby, a boy named Jace Joseph Caussin on 29th November 2018. The married duo shared the joyous news by providing US Weekly with exclusive photos of the childbirth.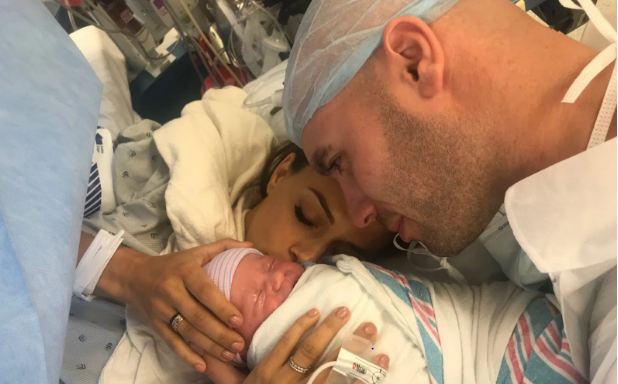 Mike and his wife, Jana embrace their newborn baby after the delivery (Photo:- Jana Kramer's Instagram)
Similar:- Lina Valentina Expecting First Baby With Boyfriend Of Age 30 | Dating Status
Moments after US Weekly had released the photos, Jana shared the same picture as above via Instagram and revealed the name of their baby boy.
"Welcome to the world, Jace Joseph Caussin. Our hearts are so full."
Talking exclusively to the same publication, Jana, age 34, expressed profound happiness as she quipped,
"Our hearts are so full. And we are so thankful for our sweet rainbow baby boy. We have been through quite the journey and we can't wait to continue it as a family of 4!" 
Mike and his wife, who share a 2-year-old daughter named Jolie, had first announced their second pregnancy back on 25 June 2018 via Instagram. In a post that doubled as an advertisement for AVA Women, she revealed,
"Surprise! We have a rainbow baby on the way & couldn't be more excited! Jolie is going to be a big sister & we're becoming a family of 4!"
However, it wasn't until August of 2018 that the couple revealed the gender of their second baby. The Virginia native's wife shared how she had wished for another baby girl but still showcased her excitement by saying,
"I never had a sister and I've always been envious of people that have had sister relationships and so I kind of wanted that for her. But now I'm like, 'Tough luck girly, we're having a boy' and I'm excited."
Following her pregnancy reveal, Jana opened about the miscarriages she had suffered before conceiving their second baby in an episode of her podcast, Whine Down With Jana Kramer. The former One Tree Hill star mentioned,
"It's all just in God's hands. It's just such a scary process because it's a true miracle … I mean It seems so easy when you look at some people, but other times it's like, it's a miracle. It's been a tough journey. We have lost our last two pregnancies, so it's been really rough."
Back in December of 2017, the "I've Done Love" songstress penned a heartwrenching Instagram post about her battle with miscarriages. The snap of her holding a sonogram accompanied a caption, which read,
"This, unfortunately, isn't my first loss. When I first found out I was pregnant I wanted to shout it from the rooftop but I know for reasons like this we have to wait. So because we don't tell many, we have to suffer silently...and suffering silently was my thing in the past, but it's not now."
A month after first opening about miscarriages, Jana again took to Instagram to announce that she and Mike had renewed their wedding vows. According to the stated post, the parents of two had traveled to Hawaii in December 2017 for the occasion.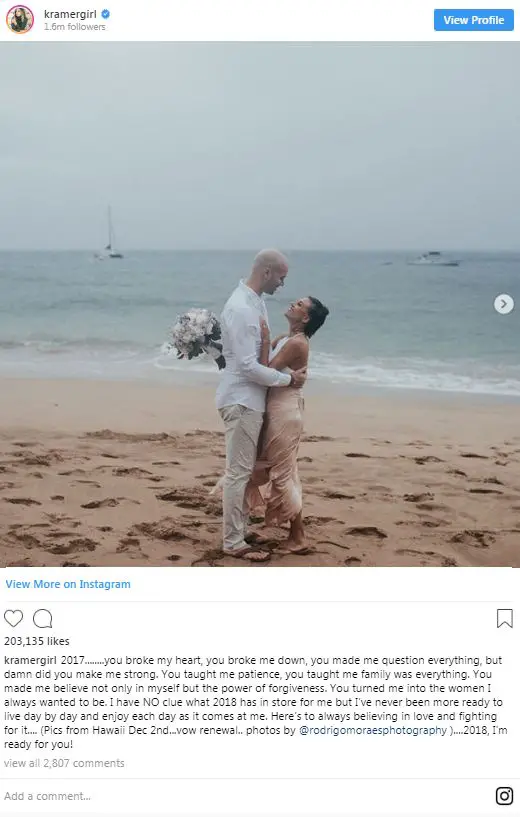 Kramer and Jana renewing their wedding vows (Photo:- Jana Kramer's Instagram)
The renewal of vows also doubled as a reconciliation of sorts for the married couple. The former NFL player and his wife of three years had parted ways in 2016 after Mike's infidelity rocked their relationship. The couple had initially tied the knot in 2015.
Read Also:- NFL Star Cris Collinsworth Torn Between Career & Family With Wife?
Hopefully, the birth of their second baby will bring more stability to Mike and his wife's married life.
Anyways, congratulations to both on their wedding vow renewal as well as the new baby!