Entertainment
Doug Hehner Wiki: From Age & New Baby To Married Life With Jamie Otis
The reality television star, Doug Hehner rose to stardom with his appearance in FYI's Married at First Sight, but he has much more thanks to bestow!
The show not only presented him with fame and fortune but also a loving partner, whom he fell for since the first day.
While getting married within minutes of the meeting would not work out for most, but as for Doug and his wife, those were the most cherished moments. Even though they regretted it in the beginning, it just happened to be their most loveable regret and felt blessed for being married to each other.
Discover all the insights on Doug's wiki-like-bio that reveals about his relationship with his wife!
Married At First Sight; Second Wedding More Intimate One
While most of us would think a thousand times before deciding to commit to a marriage, Doug and his wife Jamie Otis did the complete opposite. The adorable couple took not more than a minute to exchange the wedding vows without giving it a second thought.
They both had appeared on the season 1 of FYI's Married at First Sight which tied them to a martial bond for a lifetime. Jamie, who had previously appeared on season 16 of The Bachelor, almost did not make it to Married at First Sight.
You May Also Like: Noah Cappe & Wife Keeping Married Life Alive! Bio Reveals The Secret Recipe
But as Doug and Jamie's stars had entwined they ended up being married back in 2014.
In the beginning, the couple had regretted being involved in the show and marrying a complete stranger but they hardly knew that their love would last a lifetime.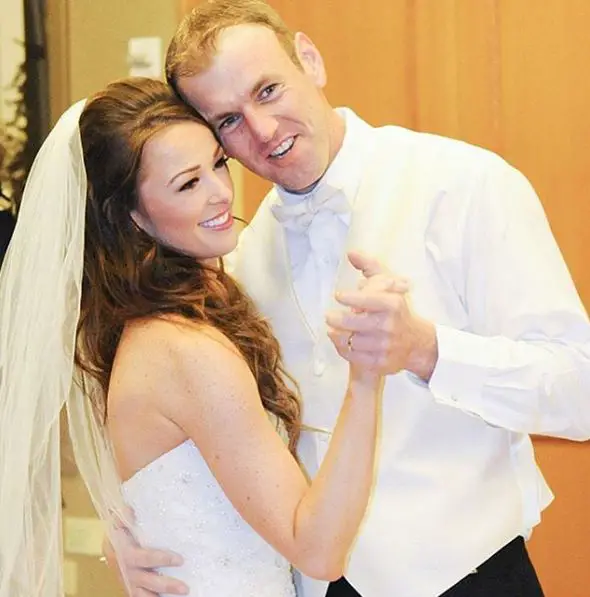 Doug Hehner with his wife Jamie Otis on their wedding day. (Photo: Doug Hehner's Instagram)
During the airing of their wedding scene, Jamie found herself not attracted to the guy whom she was supposed to exchange the wedding vows with. Back then she said,
"Obviously I wasn't like 'What a knockout!' … I just happened to be not attracted to the guy"
But the situations soon changed for the married couple.
Months after exchanging the wedding vows, Doug and Jamie were madly in love with each other. Almost a year after their television wedding, Doug and Jamie recited their wedding vows to renew their marriage only this time they had a much more intimated ceremony.
The pair even starred in their own spin-off titled The First Year along with a subsequent YouTube channel.
Blessed With Family Of Three: Troubles Includes Lost Son & Finances
The couple was soon determined to have a family of their own but welcoming parenthood was not easy for this exceptional couple. They had suffered the loss of their unborn son.
Read Also: ESPN's Mina Kimes And Husband Are Relationship Goals! Their Wedding Glimpses Prove It
Back in July 2016, the pair revealed that they had experienced the loss after confirming the pregnancy just a few months earlier. But months later they announced that they were expecting a baby girl soon.
The news of Jamie's pregnancy came on the due date of their son's birth, which filled the proud parents with happiness and fear. The couple was blessed with prayers as they welcomed their first baby daughter back on 22 August.
Doug and Jamie welcomed their first baby girl Henley who was weighed in at 8lbs 2 oz and measured 20.2 inches long, at 5:45 am. Well, they were finally blessed with a child and welcoming parenthood with open arms.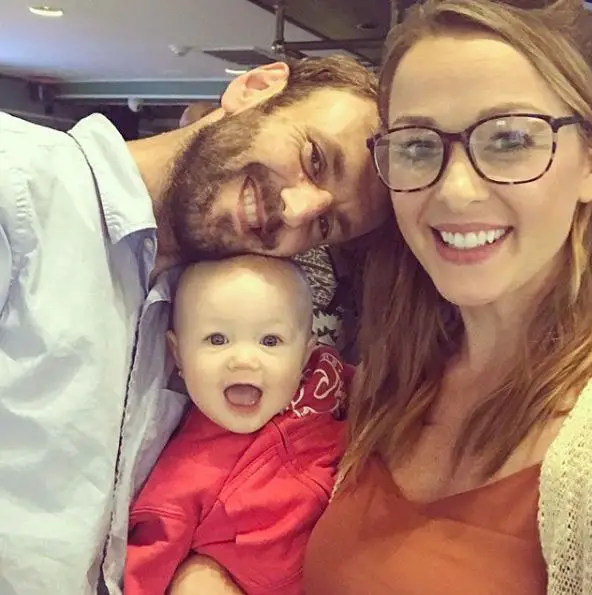 Doug Hehner with his wife Jamie Otis and a year old daughter Henley. (Photo: Doug Hehner's Instagram)
But with the addition of a new member in the family, the couple was also facing financial problems. Doug, who is at the age of 34, had lost his job when Jamie was six months pregnant and having a baby in along the financial problems was too much of stress.
But just when Henly was born, Doug had a new job in his hands but as much as Jamie would love to be home with her daughter she had to secure their future financially.
It was hard for the pair as there would not be anyone to look after their kid and Doug had just joined the new job as a business development manager at Dodge Data and Analytics.
However, the couple is now passed the stage. As of recent, Jamie even opened up in her Instagram account that she had gone through a chemical pregnancy which is a pregnancy loss that occurs shortly after implantation of a fertilized egg.
Don't Miss: WWE Host Peter Rosenberg, Beautiful Wife & Massive Net Worth Suits Best​​​​​​​
While the proud parents were expecting the addition of a new member into their family, their pain from the past re-lived. However, despite the couple is determined to make their little one a big sister now.