Entertainment
'Barbie Girl' Dytto Dating Status At Age 20! Has A Boyfriend To Tut With?
Courtney Nicole Kelly, popular as Dytto, became viral on the internet due to her robotic dance in the famous 90's song Barbie Girl. The teen quickly rose to stardom with the updates of her dance moves in her social media accounts and garnered massive attention.
In the midst of her fame, Dytto even got tangled in a dating relationship. If you are curious to get familiar with the lucky guy and know the present relationship status of the artist, then you've hit the right place!
Rumors Of Dytto's Love-Life!
Dytto, who currently ages 20, has grown up to be a star, and it's common for a celebrity to get accused of having a relationship with people they are close to. Dytto underwent the same scenario as most of her fans shipped her and her fellow pal, Fik-Shun's bond as a couple.
The duo collaborated in many of their dance videos and uploaded them into their YouTube accounts. They also did hilarious commentary videos and flirted with each other while shooting their videos.
Their jolly behavior towards each other brought many speculations that they were dating, but Dytto herself denied the allegation via a YouTube video on 1st August 2017.
Dytto initially went through her google searches, and when she found out that people wondered if she and Fik-Shun were dating, Dytto simply clarified to her fans that they were not dating.
Dating In Real; Still Going On?
Dytto, who stands at the height of 1.6 m (5 feet 4 inches), was in a dating relationship with American TV actor Roshon Fegan.
Roshon and Dytto attended as a pair at the 7th Annual World of Dance Industry Awards on 8th February 2017 and were spotted quite smitten to be with each other. When the couple got interviewed by the Red Carpet, Dytto revealed that she was there as a nominee for the category of the best YouTube video of the year.
Roshon joked that he would let go of the chance of quoting out the winner for the category in case Dytto didn't win. He also said that he wanted to be the guy who hugs Dyttyo when she wins the title.
Interestingly, Roshon, when asked about his career plans, replied that he will be acting as always and also keep up with the relationship he has with Dytto.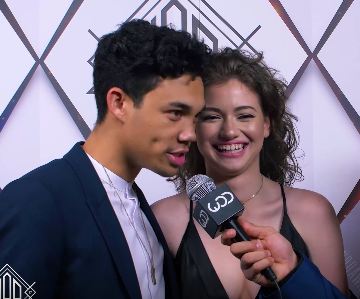 Dytto with boyfriend Roshon Fegan at the 7th Annual World of Dance Industry Awards on 8th February 2017 (Photo: YouTube)
But in September 2017, Dytto uplaoded a picture with the famous dog, Jiffpom and via the caption quoted it as her boyfriend while hinting that she might have bumps with Roshon.
Proving the speculations wrong, the lovebirds later attended the Childhelp Hollywood Heroes program together at Beverly Hills, California on 18 October 2017.
However, later from the date, the couple have not been seen together. Both the social personality, Dytto, and Roshon, has not even updated their relationship status on their accounts hinting that they have indeed broken up without publicizing the reasons for their split.
Keep Visiting to stay updated on the love life of Dytto!