Entertainment
How Much Is Efraim Diveroli Net Worth & Where Are War Dog's Now? | Bio
Landing a multi-million dollar contract by working from the couch of a room with just a single laptop to operate, Efraim Diveroli's success story is nothing less than extraordinary.
A former American arms dealer, Efraim Diveroli, with his company AEY Inc. was an ammunition contractor for the U.S Department of Defence. Throughout the tenure of the contract, Efraim with his partner was able to land a whopping contract with the state, which inclined his net worth to an unprecedented height.
With an abrupt end to their success story after some unfortunate proceedings in their contract, Efraim Diveroli along with his former partner David Packouz are now heading towards separate directions in life. But, do the former partners still get along well? Or has time brought an end to their friendship?
Bio Reveals Massive Net Worth After Landing Staggering Contract
Efraim Diveroli, at age 32, is currently living a life far away from the spotlight, which he used to face on regular occasions. The former arms dealer, who went through massive ups and downs in his short career tenure, however, should have no complaints regarding his wealth whatsoever.
You May Also Like: Phaedra Parks, Soon-to-be-Divorced With Husband, Talks About Kids Going to Prison, Boyfriend?
Diveroli, with a goal of running a business to supply arms and ammunition to the U.S government, convinced his father to sell him a shell company in the form of AEY Inc. in 2001. He soon became a self-made millionaire after working his talents up the business hierarchy by bidding on small contracts to bid out several big corporations in the game.
With high school friend and partner David Packouz and financer Ralph Marill, Efraim soon became one of the wealthiest arms dealers after landing a staggering contract worth $298 million by the Pentagon to supply arms and ammunition to the allied forces in Afghanistan.
Efraim Diveroli (right) poses with his former partner David Packouz. (Photo: rollingstone.com)
With a massive net worth to boast about, Diveroli and his partner David Packouzm adapted a glamorous lifestyle partying all around the globe.
However, their inclining career soon hit rock-bottom after AEY Inc. was suspended by the U.S government for contract violation after they were accused of providing substandard and unserviceable ammunition.
Don't Miss: Thom Beers Built His Net Worth With Wife! Aging as Millionaires
Diveroli's career soon saw some disheartening days as he was then sentenced to four years federal prison on January 2011.
Real War Dogs; Where Are They Now?
The dramatic rise and fall of Efraim and David were also dramatized into a movie War Dogs, highlighting the ups and downs of the former arms dealers career. However, with the breach in contract, Efraim was sentenced to a four-year federal prison sentence, but David's sentence limited to a mere seven-month house arrest.
The difference in sentences has since then caused major differences among the former high-school friends and partners in crime. Diveroli's worsening relationship with his former partner David has gone to an extent where Efraim fights accusations from David and Ralph for owing them money.
In an interview with Miami New Times in 2016, David Packouz clarified his bad terms with Efraim,
"He cheated me out of millions of dollars. He cheated Ralph out of his life savings. I just believe he should pay me the money he owes me and pay Ralph what he owes him."
Since his end of a prison sentence, the former partner turned foes have gone separate directions in life. Packouz currently works as a musician selling electronic drum machine through his company Beatbuddy. He also provided some advice to the actors in the film War Dogs regarding his role.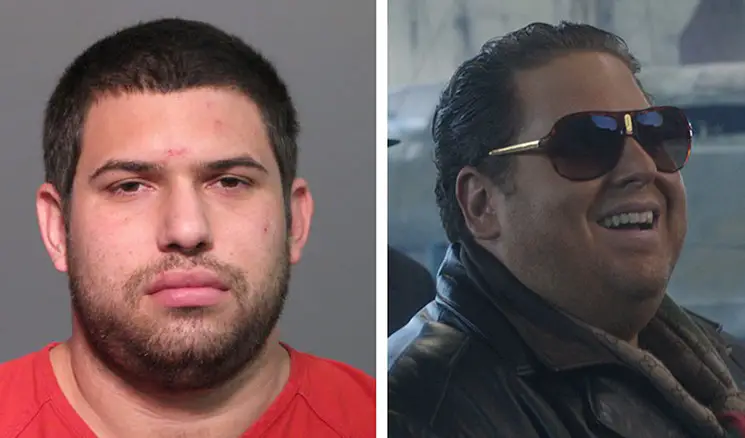 Efraim Diveroli in his booking photo (right) and Jonah Hill (left) portraying him in the movie War Dogs. (Photo: miaminewtimes.com)
Diveroli, on the other hand, has had nothing to do with the film. He has published a memoir named 'Once a Gun Runner' focusing back on his arm dealing days.
Currently an owner of a media company named Incarcerated Entertainment, Efraim hasn't been far away from the limelight. He has constantly been on the spotlight after filing an unsuccessful lawsuit against the makers of the movie War Dogs and recently filing another one against his memoirs co-author Matthew Cox in January 2018.
See Also: Lindsey Buckingham Talks Being Fired From Band | Net Worth & Tour Details
With a career that has peaked and faded away in a very short span of time, Diveroli currently is in an effort to get his life back together through support from his family and friends.