News
Lindsey Buckingham Talks Being Fired From Band | Net Worth & Tour Details
Former Fleetwood Mac lead guitarist and singer Lindsey Buckingham is back with "bad blood" for his bandmates, suing every one of them!
Lindsey Buckingham filed a lawsuit against his bandmates--Stevie, Nicks, Christine McVie, John McVie, and Mick Fleetwood-- in Los Angeles Superior Court on 9 October 2018 after he was fired from their tour.
The 69 aged Lindsey claims in his court documents that the band came with the decision to continue the tour without him.
"Last January, Fleetwood Mac made the decision to continue to tour without me. I remain deeply surprised and saddened, as this decision ends the beautiful 43-year legacy we built together."
He further alleged that "not a single member of the band had called him to share their decision."
See Also:- Mark Labbett Has Children With 'First Cousin' Wife? The Chase Star's Married Life Insight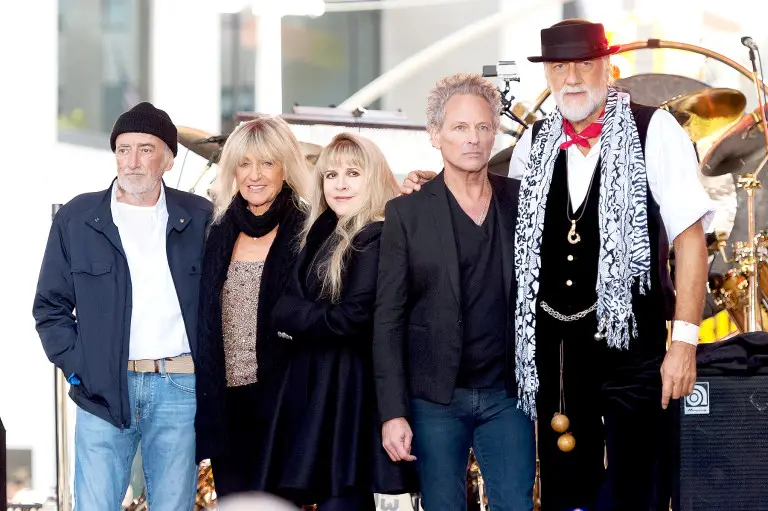 The Fleetwood Mac band during the 'Today' show at Rockefeller Plaza in New York City on October 2014 (Photo: usmagazine.com)
The band was preparing for the tour at the utmost time when he was about to release his solo album, so he had asked his teammates to postpone the tour to three months later and allow him time to release and promote his solo album.
But his friends of 43 years refused his request, so he prioritizes the tour delaying his solo project to tour with them. And, the band was foreseeing to have approximately 60 concerts in North America.
Don't Miss:- Shirleen Allicot Keeping Wedding Vows; Husband & Baby Moments Reflect
After the band had planned everything for their upcoming concert on 28 January 2018, band's manager told him that Stevie denies appearing on stage with him where Lindsey's ex-girlfriend and then-bandmate, Nicks also argued with the band that either she stays or him.
Lindsey, who dated Nicks for the brief time in 70's, tried to solve the conflict, he got rejected by both of them. When the guitarist reached to the band for further explanation, he explains in the document that after three days, he found out that they planned to tour without him and had fired him from the tour.
So, he sued Nicks, 70, Fleetwood, 71, Christine, 75, and John, 72, for breach of fiduciary duty, breach of oral contract and intentional interference with prospective economic advantage.
You May Also like:- Charlotte Hawkins & Husband Keeping Wedding Vows Strong At Age 43, How?
The news about the suing comes a day after Lindsay detailed the first time about him being fired to Rolling Stone.
The singer-guitarist first joined the band in 1975 and left in 1987. A decades later, he returned to the band and had been appearing on stage with the bandmates Stevie Nicks, John McVie, Christine McVie, and Mick Fleetwood until their final appearance in 2018's MusiCares Person of the Year ceremony in January.
Lindsey, who has not revealed his net worth, is also on the solo tour with his greatest hit songs collection, "Solo Anthology: The Best of Lindsey Buckingham," while the band is on tour with his replacements Heartbreakers guitarist Mike Campbell and Crowded House's Neil Finn.