Entertainment
Eka Darville, Gay in 'Spartacus', is Actually Father of a Son: Black Ethnicity Star, Dating? Or Married?
Did you ever wonder where the cast of your favorite characters from your childhood shows is now? Like the 'Power Rangers' who have been the heroes to children for generations. You must remember the Red Ranger played by Eka Darville.
Well, he has come a long way in his career since then. His performance as a gay slave in 'Spartacus.' was outstanding and loved by many.
But his life off-screen is entirely different. It turns out that he is a dad.Learn about his adorable son. Also, who is the mother of his child?
His Personal Life: Girlfriend and Dating or Gay?
In real life, Darville is far from being gay. How do we know this? Because he has a toddler son. It's kind of big surprise that many people didn't know this because he has not mentioned that fact openly and rather wants his personal life private.
But if you scroll through his Instagram account you will find many pictures of him with his son. He looks very proud in those pictures with his son like this one right here.
Who is his Mother:
The mother of the child also is seen in the photograph, but like we said, he, Eka seldom talks about his personal life and has not mentioned her. We do not have much information about her, but she goes by the username of loving lilac on Instagram.
We do not know if Darville is married to her or she is just her girlfriend, but if they are just dating then, it must be for a long time as they look splendid together. Plus, she sounds like she is a good mother by just how she holds the baby. The picture will give you a better idea of what I mean.
You can only know they have a strong bond from their pictures with their son like this one.
Gay Role in Spartacus:
One of his first roles after he portrayed as the Red Ranger in the children's favorite saviors of the world, 'Power Rangers RPM' was in, 'Spartacus: Blood and Sand.'
Even though he only had a short part of 6 episodes in the series, he got the opportunity he needed to boost up his career. He portrays a slave boy, Pietro. He is owned by Barca played by Antonio Te Maioho who is also his lover.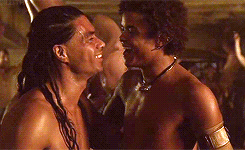 Caption: Eka Darville in Spartacus with Antonio Te Maioho (2010)
Source: Bustle.com
Unfortunately, his time in the series was shortly lived in 6 episodes that ends with his death. Antonio shared his experience in his statement given to windycitymediagroup.com on 2010 working with Darville to 'Wind City Times as he said;
"We were on the same wavelength. We have grown up around the same types of people. We were quite open-minded and had a lot of things in common, such as music and hobbies outside of acting. We also discovered that we had mutual friends in common. We had never met before the show. I could not have asked for a better person to play opposite."
Eka Darville's Short Bio:
Eka Darville was born on 11th April 1989 in Cairns, Queensland, Australia with an African-American ethnicity from his parents as his mother is Canadian and his father is Jamaican. He attended Byron Bay High School. He resides in Byron Bay, New South Wales, and Sydney and loves to skate and surf.
He has also played in the 2012 movie, Mr. Pip. His most recent projects include 'Jessica Jones and 'Empire.' He will be a guest in the upcoming TV series, 'The Defenders' in 2016.