Entertainment
Faye Resnick: Married Four Times,Divorced thrice,Get to know her Husband and Much More
Not every marriage will have a happy ending. Not every decision you take are correct but still life goes on. No one can guarantee that all of the decisions yu take in your life will be accurate.
Your perfect partner may turn out to be your worse enemy. However, you will still keep on making decisions and live your life with a flow. Likewise, if your first marriage gets ruined, you go for the second one, and if your second marriage doesn't work, you take your chances for the third time.
Still, some folks will stop searching for their perfect partner after going through some setbacks while some will keep scanning for a perfect soulmate.
The American television personality Faye Resnick is among those who like to live life with a flow.Fifty-nine-year-old Faye has been married four times.
Married to fourth husband, Everett Jack Jr.
On October 2015, Faye Resnick got married for the fourth time.
In front of a small gathering at Kris Jenner's house, she exchanged vows with Everett Jack Jr, who is an attorney, Her longtime friends Kyle Richards, Rick Hilton, Mauricio Umansky and Kris Jenner attended the wedding. Rick and Mauricio walked Faye down the aisle whereas Kyle's daughter Portia was the flower girl. Likewise, Kyle was a bridesmaid.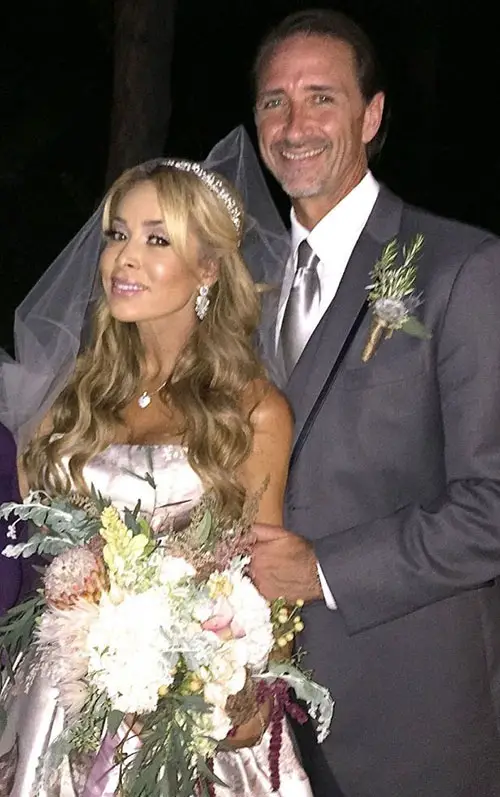 Caption: Faye Resnick as a bride and her husband, Everett Jack Jr. as a groom in 2015
Source: realitywives.net.com
Now, let's move onto her previous unsuccessful marriages.
Faye Resnick divorced thrice
1. Married to Rick Barnett
On September 4, 1978, gorgeous Faye got married for the first time to Rick Barnett. She kept her relationship with him very private. Their marital relationship ended with a divorce in 1979.
2. Married to Fadi Halabi
After the failure of the first marriage, she moved to London to pursue a career in modeling. She then married Fadi Halabi in the year 1984. They have a daughter named Francesca. After living two years together, they got separated in 1986.
Caption: Faye Resnick's daughter Francesca with Fadi Halabi.
3. Married to Paul Resnick
In the year 1987, Faye again got married for the third time. She tied the knot with Paul Resnick. Her relation with Paul lasted for almost four years. They had a divorce in 1991.
Faye Denise Resnick's Short Bio:
Born on July 3, 1957, Faye Denise Resnick is an American interior designer, author, and television personality. She was born with mixed ethnicity as one of four children to her parents. Her father abandoned her and her family when she was very young. She studied law at a community college.
Faye in her late fifties became popular for her involvement in the O. J. Simpson's ex-wife murder trial. She was a good friend to deceased Nicole Brown Simpson. Just after four months after Nicole's murder, Faye went on to publish the book named "Nicole Brown Simpson: The Private Diary of a Life Interrupted." She was actually living with Nicole at the Brentwood Condo after her divorce with O.J. Faye, who testified against O.J in the court hearing, had moved out of the condo four days prior to the horrific murder that occurred in the condo.
Faye has been to rehab for four times till now. She was a drug abuser like her friend Nicole.
Likewise, she is also known for her appearing on the reality television series "The Real Housewives of Beverly Hills"( since 2010). She has also been seen in another TV series Keeping Up with the Kardashians ( since 2015). In March 1997, Faye posed nude for Playboy.
Her net worth (estimated) is estimated to be around $3.5 million.