Entertainment
Finn Jones Questioned To Be A Gay After His Gay Role In Game Of Thrones But What About Girlfriend and Dating?
Finn Jones is better known for his role as Ser Loras Tyrell in the very famous show Game of Thrones. Also called as Knight of Flowers, he is portrayed as a gay in the show. It aroused the question if he is a gay in real life too. Let us find out the truth.
Finn Jones Strongly Feels For The Gay Community
Amidst many characters, Finn Jones falls under few characters to be portrayed as a gay in the Game of Thrones series. The series is based on the book written by George R.R Martin. Being a gay right advocate, he was not impressed with the fact that Australia doesn't allow gay marriage.He meant the same sex marriage law of 2013 which was overturned when the newly elected government of Mr. Abbott challenged the High Court of Australia. He also expresses his dissatisfaction to Australian Prime Minister Abbott as,
'It was legal, and then it wasn't, I mean, what is his problem? What is your problem?' Does he have women's issues? Men's issues? All people have a right to love, Tell him the Knight of Flowers is coming after him and I have some questions.'
He understands what it means to be a gay as he has played a role of a gay in the show. So, he has got high respect and supports them firmly too. He even said,
'Having a gay character in Game of Thrones was never a gimmick,'oras was written with such truth and conviction, it wasn't something that was crass. I never had a problem playing a gay character because it was authentic. Recently gay characters have been used as the comedy in a show or they have weak elements to them. The great thing about Loras is that he has a feminine side to him, but he's actually a very strong-minded character and he's a fighter. He's a warrior. It's nice to see that on television because it's true to modern gay people, who aren't just one thing or the other.'
Caption: An interview of Finn Jones aka Ser Loras Tyrell (2016)
In the interview above he also talked about him might have a chance to film an intimate scene with Cersei Lannister, who had an off-screen romance going on with her co-star Pedro Pascal from Game of Thrones itself.
More about Finn Jones:
He has played the gay lover to Renley Baratheon played by Gethin Anthony in The Game of Thrones. After this role and due to his support for gay people, many speculated him to be a gay. People wondered who his boyfriend might be. But the truth is he is totally straight. And currently, he is single and not dating anyone.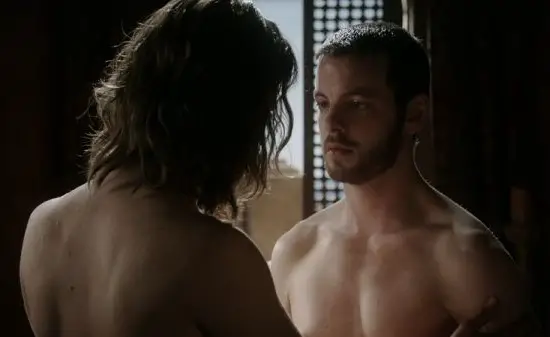 Caption: Finn Jones plays Ser Loras Tyrell as a gay character in "The Game of Thrones" (2016).
Photo Credit: nocookie.net
Apart from all the speculations of him being a gay, let's talk about his outstanding performance in the series as Ser Loras Tyrel. Being ranked as one of the most skilled Knights in Westeros, he was popular as a tourney Knight. But despite him being a valuable asset for Westeros the maker of the show didn't show any mercy to his character and was killed along with his sister, father and many other people by destroying the Great Sept of Baelor.
Caption: Cersei destroying the Great Sept of Baelor, Published on Jun 27, 2016.
Finn is a British actor who is renowned for his role as Ser Loras Tyrell in the HBO series Game Of Thrones. He was born on 24 March 1988. His real birth name is Terrence "Terry" Jones, but he changed his name to avoid confusion with Monty Python actor Terry Jones. He has acted in the films like Wrong Turn 5: Bloodlines, The Last Showing, and Sleeping Beauty.
As a cast of The Game of Thrones, he received a good amount of salary accumulating the net worth of $3 million till date. Since his character died at the end of the season six of the series, we will no longer be seeing him act in the series. But the actor's appearance in the Marvel's Iron fist with such a bad ass character made him the worlds most hated superhero. You can have a glance at the official trailer of the show down here,
Caption: Marvel's Iron fist, official Trailer, Published on Feb 7, 2017.
With the kind of commitment and dedication that he has for his work, this lad will for sure be garnering huge success in the days to come.
Stay with us for emerging updates on Finn Jones.