British Soul-singer Sam Smith is one of the most prominent gay figures - if not, the most notable - in all of pop culture. Or perhaps, the entire human history.
An immensely talented musician with multiple Grammys including the coveted Best New Artist, the Stay With Me hitmaker is as open about his romantic escapade as the next person.
His relationships, for the most part, are a public affair and never as fruitful as he would like. All this to say that Sam has had a fair share of heartbreaks in his pursuit of finding the elusive one.
Here, a complete rundown of his boyfriends shall shed some insightful light into the pop sensation's dating life!
Entire Dating History - About Sam's Boyfriend
Two years after coming out, in March 2016, the Lay Me Down singer - now age 26 - commenced dating model Jay Camilleri. It was a big deal for then-23 years old Sam as Jay was his first-ever serious boyfriend.
Before Jay, he shared romantic ties with another model Jonathan Zeizel, an extra on his Like I Can music video. The public got wind of the relationship in December 2015 when the duo stepped out hand in hand at Taylor Swift's 25th birthday.
Related To Taylor:- Taylor Swift is the Highest Earning Celebrity, Proclaims Parade Magazine. Find Out Who Else Made it to The Top 5 List!
Going a few months back, in August 2015, Sam got pictured enjoying the Sun with Towie star Charlie King. While the buzz surrounding the romance with his alleged boyfriend recieved traction, it surely wasn't a long-lasting affair.
Following with his breakup with Jay though, the Leave Your Love crooner found comfort in 13 Reasons Why star Brandon Flynn's arms. The duo first sparked dating rumors in October 2017, when they walked arm-in-arm through West Village in New York.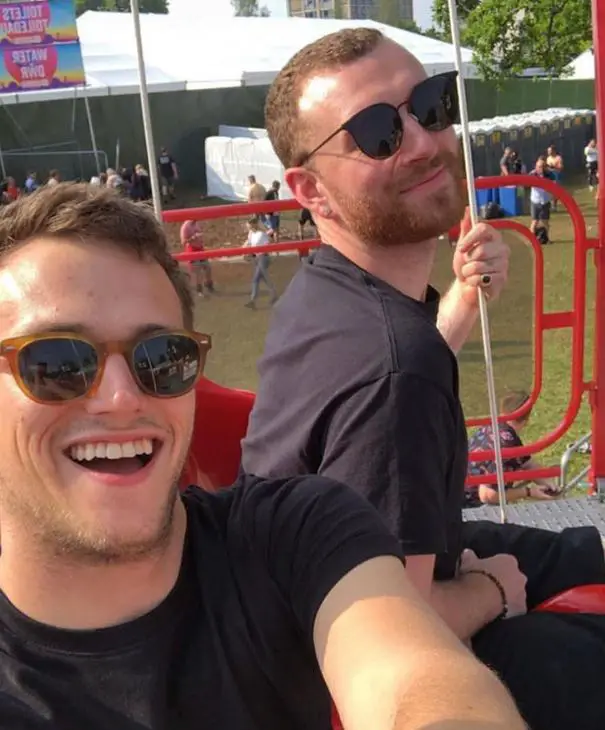 Sam Smith and his boyfriend Brandon Flynn smile for a selfie in a photo dated before July 2018 (Photo:- mtv.co.uk)
Later that month, Sam confirmed the romance in a chat with day-time TV show host Ellen DeGeneres. In the following months, he continued to rave about his relationship with Brandon and even hinted that they might start a family very soon.
By April 2018, the openly gay couple had attended the Grammys together as well as become very compatible with each other's family.
No longer had the fans begun to suspect the wedding rumors, Sam and his former boyfriend dropped the bomb by announcing their split in June 2018. A close source cited a hectic schedule as the reason.
After The Split:- 13 Reasons Why Star Brandon Flynn Gay Love Revisited By Hurt Boyfriend
Other men to fall for the Latch singer's charms include dancer Khasan Brailsford, fellow Brit singer Calum Scott and former American Idol contestant Adam Lambert.
On His Miraculous Weight Loss
For as long as he has hogged the limelight, Sam has always dealt with body image issues.
Speaking about his struggles in 2015 interview, the London England-native explained how eating food was his coping mechanism for depression. But, all thanks to UK-based nutritional therapist Amelia Freer, he achieved an astounding weight loss by shredding 50 pounds.
His weight loss regiment included working out three to four times a week and consuming gluten and sugar-free meals. Despite the milestone, Sam's past struggles continue to haunt him. In his own words:-
"My body image is always going to be an issue."
Per his 2019 LV interview with Sarah Jessica Parker, the openly gay crooner's battle with body image issue is something that "I'm fighting every day."
On Being Gay - Neither Male Nor Female
There's no denying that Sam is a proud gay man as he has identified as one since 2014.
Another Non-Binary Celeb:- Janelle Monáe, 32, Confirms Sexuality, Frees Herself 'Pansexual'!
Veering not that far away from his identity, the Money On My Mind hitmaker then came out as gender nonbinary in March 2019 during a sit-down with actor Jameela Jamil. In the poignant interview, he claimed:-
"I'm not male or female. I think I float somewhere in between... "
While gender non-conforming people prefer the pronouns - "they" and "them" - the Capitol Records artist opts male pronouns.
Per the interview, Sam came out to his friends and family as gay at the age of 10. By age 16, he was embracing his sexuality to the fullest, donning fur and makeup to the school.