Entertainment
Fox News' Controversial Anchor Brian Kilmeade: Meet his Wife, Dawn Kilmeade and their 3 Children
Brian Kilmeade, the host of Fox News talk show 'Kilmeade and Friends', has lived a wonderful married life. Blessed with three children, the author/Television personality is considered a great father and wonderful husband by his family. He hasn't disclosed a lot of information about his private life but lets list out all we know about him and his family one by one.
Married life of the Fox News anchor
The New York City native has worked in media for quite some time and his recognized quite well by most News politics and news enthusiasts. He is renowned for his work as the anchor of the show named after him 'Kilmeade and Friends' as well as the co-host of Fox's morning show 'Fox and Friends' alongside Steve Doocy and Ainsley Earhardt.
But Brian has made it clear that he keeps his career and his family life separated with a strict boundary, always making time for his loved ones.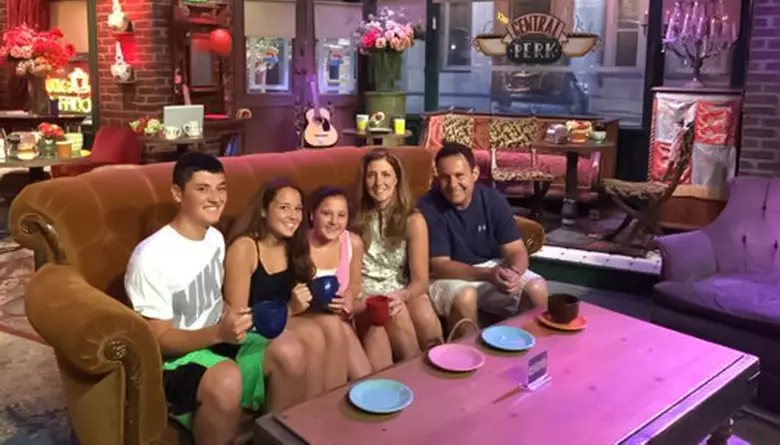 Caption: Brian and his treasured family
Source: foxnews.com
There is no proper citation on when Brian married his wife Dawn Kilmeade, but sources suggest that they were married in 1993 and all indications suggest that Dawn is Brian's 'only one.''
Brian has three children, one son named Bryan(aged 20) and two daughters named Kirstyn(aged 14) and Kaitlyn (aged 12.) His family seems to love him as much as he loves them.
In an interview with Insider Fox news, they revealed what they considered his 'Pet Peeves' which included his self-proclaimed movie critic nature, his obsession with collecting newspaper headlines, his dislike of chewing gum and his rather messy handling of household products.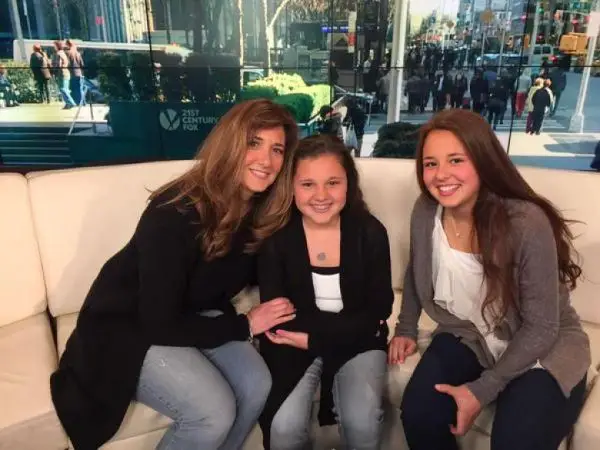 Caption: Dawn Kilmeade and her two daughters
Source: foxnews.com
What stood out the most was how he came off as the same kind of person he appears to be on television; an active, humorous man that loves his sports(especially Soccer which he played during his college years) and lives life to its fullest.
The Roman Catholic author is dedicated to his wife, and not a single rumor about an affair or a divorce has surfaced all these years.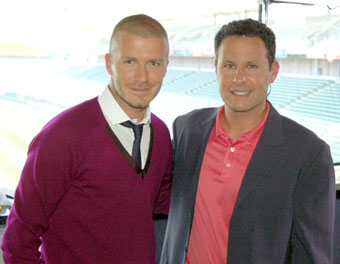 Caption: David Kilmeade with Soccer icon David Beckham
Source: briankilmeade.com
Brian Kilmeade and his controversial 'humorous' comments
Although he has quite a comical demeanor, Kilmeade has had a history of inappropriate jokes and comments.
Some of them include "You grew up on tacos, correct?"(a racist joke towards a Nicaraguan meteorologist), "Not all Muslims are terrorists, but all terrorists are Muslim" (a self-explanatory jab at Muslims during a 9/11 discussion), "We keep marrying other species and other ethnics" ( a comment he made relating Inter-race marriages and increased tendencies of having Alzheimer's) and a few other comments.
Although not insulting, there is this video of that one time Brian accidentally hit a two-year-old kid in the face with a basketball.
Short Bio of Brian Kilmeade:
Brian Kilmeade was born on may 7,1964 and is a Long Island, New York native, where he still resides. He graduated from C.W. Post Campus of Long Island University in 1986 with a bachelor's degree in Arts.He started his journalism career as a correspondent on Channel News and eventually grabbed a job of Anchor for KHSC-TV in California.
Kilmeade formerly worked as a UFC as an announcer, a feature reporter/anchor for Newport TV, and a sideline reporter for the MSG network, therefore, solidifying his foundation as a Sports journalist. He eventually started working at Fox News around 2006 and years later, was gifted his own show 'Kilmeade and Friends.'
His biography suggests that he has ten years of experience as a stand-up comedian which stands as a basis for his humorous antics and comments on his shows.
Brian is also a New York's best seller author and has written four books, 2 of which (The Games Do Count: America's Best and Brightest on the Power of Sports) rewarded him with the award.