Entertainment
Fox News' Kristin Fisher And Her Director Husband; A Look Back At their Washington Wedding
What would be more beautiful than getting married to the person whom you think is perfect for you? However, many people couldn't exchange the vows with their beloved ones, but Fox New's correspondent Kristin Fisher is one of those lucky ones who tied the knot with love of her life.
Today let's look back at her Washington wedding and dig deeper into her blissful married life.
Reviving the wedding of Kristin Fisher!
Daughter of Dr. William F. Fisher and Dr. Anna L. Fisher, Kristin Anne Fisher got married to the son of Judge V. Thomas Forehand Jr. and Margaret Peters Stalnaker, Walker Harrison Forehand on April 2, 2011.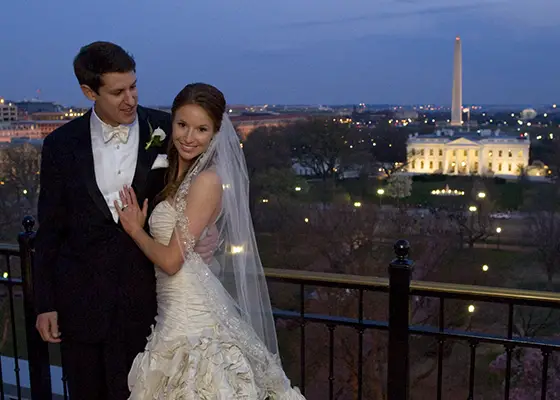 Caption: Kristin Fisher and Walker Forehand on their wedding reception on April 2, 2011.
Photo Credit: The Washington Post
The pair who dated for a long time exchanged the vows in front of their family, close friend and colleagues at the Church of the Holy City in Washington. They enjoyed their wedding reception on the top floor of the Hay-Adams Hotel. Regarding their wedding, Forehand on his statement to The Washington Post said;
"I really feel like I'm the luckiest guy in the world, and I don't say that lightly. It's better to overachieve in life than underachieve and I truly feel like I'm overachieving, which is a good thing — that's the way that you want to feel when you're getting married to someone."
The pair first met in summer of 2003 at a six-week study abroad program. Within days, Kristin and Walker started to fall for each other, but they had to separate after three intense weeks together.
They again met in 2009 though they had no any hope of their reunion. The day before Kristin's 27th birthday, Forehand proposed her in the U.S. Botanical Garden by taking her there with a fake news assignment.
Blissful married life!
Sensational gorgeous Kristin who has a sexy body with beautiful measurements is living a blissful married life with her husband Walker though they both have a busy schedule.
Despite having a busy routine, the pair seems to manage their time to spend with each other. Though the pair is in love with each other immensely, they may have no thoughts on having kid's anytime soon concerning their busy schedule.
Kristin also loves showcasing her love for her husband on different social networking sites like Twitter and Instagram.
Kristin is now working for Fox News Channel as a Washington D.C.-based correspondent whereas her husband works in a financial services consultancy in Washington named Promontory Financial Group.