Entertainment
Gaz Beadle Split With Pregnant Girlfriend Emma McVey? Just Dropped Relationship Bombshell On The Show
You never know when and how will find your partner in this unpredictable life, but until that, one usually gets involved in different relationships in search for the right partner.
The twenty-nine-year-old MTV reality series 'Geordie Shore' star Gary "Gaz" Beadle knows this very well, as he too moved on from his relationship, ending his affair with his girlfriend of nine months, Emma McVey.
Though they parted their ways in May after Gaz was alleged to be cheating Emma, they reconciled in June, and in August, they revealed the news about Emma's pregnancy.
However, Gaz recently dropped a relationship bombshell on the show Geordie Shore stating that he is single. Sounds confusing, right?
Let's take a peek at the matter for the clear insight on Gaz's statement!
Gaz Beadle And Emma McVey's Bemusing Relationship:
The handsome hunk Gaz started dating Emma since August 2016. The pair was spotted several times in public and were also pictured enjoying romantic dinner dates. Well, they weren't shy at all to flaunt their love life on social media.
The couple, who didn't miss to exhibit their love in the social networking sites, took their respective accounts to talk about their breakup.
Earlier this year in May, Emma took Twitter to reveal that Gaz was cheating on her and wasn't faithful throughout their relationship. She further unveiled that Gaz dumped her by text and asked her to move out her stuff from their house without any explanation.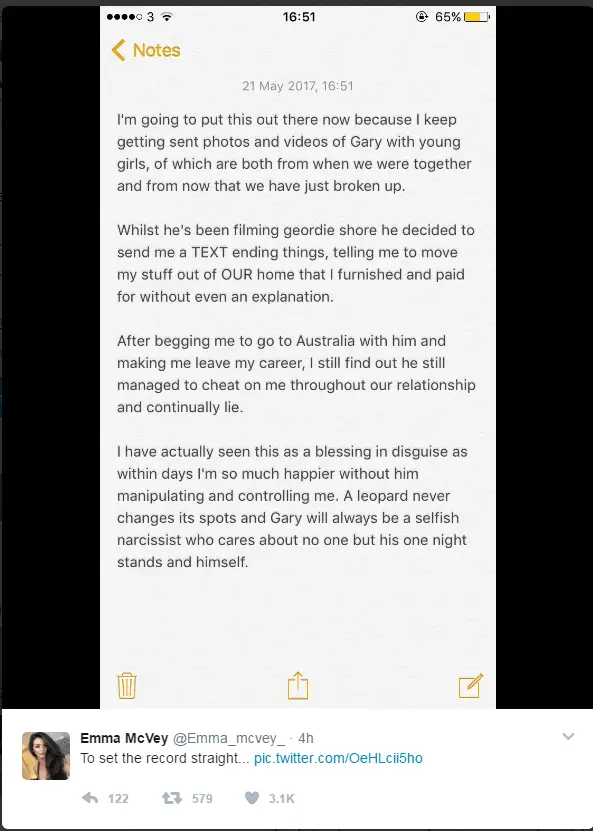 Caption: Emma McVey on Twitter revealing how Gaz dumped her after he was unfaithful throughout their relationship.
Photo Credit: The Sun
Conversely, Gaz denied the accusations of his ex-girlfriend Emma, claiming that he was not a love rat. A source close to Gaz defended him by saying,
"The only thing he did wrong was dump her by text message. He had been loyal throughout their time together – it just wasn't working out and he was away so was forced to end things on the phone. She isn't being truthful with herself by trying to tell the world that he cheated."
The pair again reconciled their relationship in June and just two months after that; they again took social medias to reveal that Emma is pregnant with their first baby.
Gaz shared a picture of a sonogram and cute little booties via Instagram which he captioned,
"I made this for you all to see the scan meet my little baby... it's crazy but I am soooooo excited ?????????????? #gazthedad"
Gaz also shared an adorable picture with Emma on Twitter and showed his excitement on becoming a dad soon as,
Earlier this week, Gaz's poured his thoughts on his wedding with Emma and expressed that he would marry Emma when their child is old enough to attend their wedding ceremony. In a conversation with KIIS FM's Kyle And Jackie O, Gaz said,
"I always said I wanted the baby one-and-a-half to two if you're going to get married, so it's old enough to be there."
The couple has not confirmed the sex of the baby yet but Gaz desires for a son and in the interview, he was also asked whether he wants his child to be a flower girl where he replied 'boy, boy, aye!'
He continued,
'If I have a girl she's not going on Ex on the Beach! It's not a happy place and you know that.'
A couple of days after Gaz talked about his wedding plans, the fans got to know the shocking news about Gaz's relationship with Emma in a spoiler clip in Geordie Shore.
Caption: Gaz Beadle revealing a shocking news about his relationship with Emma in a spoiler clip of Geordie Shore.
Video Credit: MTV
In the video above, Gaz can be spotted saying that he has a bit of news and it's been quite a hard decision. When all the squad member were curious and tensed thinking- 'what kind of news it is,' Gaz revealed that he is single.
Well, this announcement comes as a sort of surprising news, when all the fans of Gaz and Emma were excited thinking about their baby and their marriage. The series was shot after Gaz and Emma split, but it aired when they have reconciled and are expecting their baby.
Stay connected with us to find more about Gaz Beadle and Emma McVey!