Entertainment
Giannis Antetokounmpo Girlfriend, Parents, Family, Net Worth
Giannis "The Greek Freak" Antetokounmpo is at the peak of his abilities right now. The Milwaukee Bucks player has been grabbing attention both through his on-the-court heroics and off-the-court superstardom.
The NBA star had signed a massive $100 million-worth contract extension with the Bucks earlier in 2016, and the contract shot his net worth to new heights. Similarly, his personal life is also on an all-time-high as Giannis is a father-to-be as well.
Giannis' Girlfriend, Dating Life
Leaving the finances and the stardom aside for a while, let's now know about his dating life.
Giannis is in a relationship with Mariah Riddlesprigger, and they have been together for more than two years. Mariah is often seen cheering at her boyfriend's games.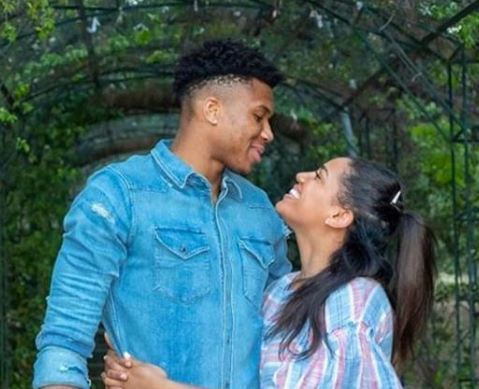 Giannis Antetokounmpo with girlfriend Mariah Riddlesprigger on 17th September 2019 (Photo: Giannis Antetokounmpo's Instagram)
Mariah is somewhat of an athlete herself, playing volleyball during her days at Rice University. She passed out from the university with a Bachelor's degree in Sports Management. Following her graduation, Mariah interned for the Philadelphia 76ers, where she worked as a part of the operations team.
Now moving on from her details, let's talk a bit about the couple's love life. Giannis and Mariah are very close to each other. They both love to travel and often take vacations together.
Another Milwaukee Bucks Player:- Khris Middleton NBA Stats, Contract, Salary, Trade
And, if the couple wasn't already happy enough, they also have a baby coming soon. Mariah took to her Instagram on 11th October 2019 to announce the news of the arrival of her first child.
Family: Parents, Siblings
Talking about his family, Giannis is the son of mother Veronica Antetokounmpo and father Charles Antetokounmpo.
Veronica was a high-jumper back in her young days, and Charles was a Nigerian soccer player. Giannis' parents moved to Greece from Nigeria in 1991, just three years before the basketball star was born.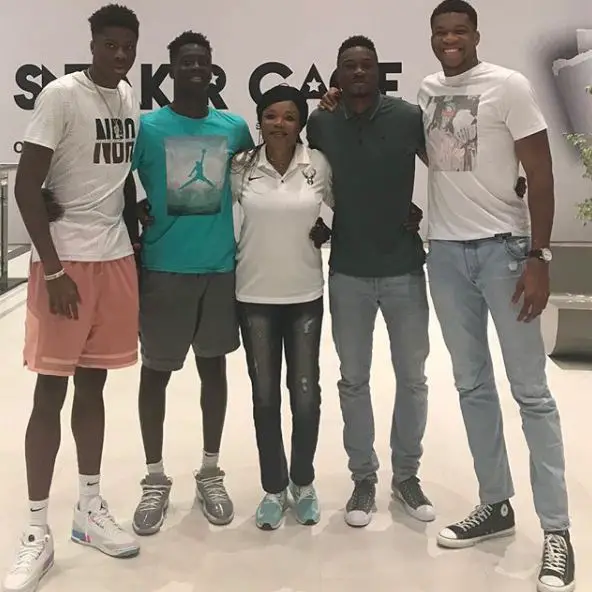 Giannis Antetokounmpo with his mother and brothers on 15th August 2018 (Photo: Veronica Antetokounmpo's Instagram)
Tragically, Giannis lost his father, 53, to a suspected heart attack on 29th September 2017 after remaining as a patient at a Greek hospital for ten days.
Giannis is one of the five children of his family. His brothers' names are Francis, Thanasis, Kostas, and Alexis, and all his siblings are athletes.
Nationality, Ethnicity, Measurements
Giannis Antetokounmpo was born to Nigerian parents on 6th December 1994 in Sepiola, Greece. As per his birth date, the athlete ages 24 as of November 2019.
However, Giannis is not just "The Greek Freak." Most people assume he is Greek because of his birth in Greece. But, the fact is that he is a Nigerian as much as he is Greek. His roots are in Lagos, Nigeria, but Giannis grew up learning the Greek culture and language.
Another interesting fact about the Greek nationality personality is that his actual birth name is Adetokunbo. But, his surname was misspelled on the passport as Antetokounmpo, and it stuck.
About his physical attributes, the NBA alum has a height of 6 feet 11 inches (2.11 m) and a weight of 109 kgs.
Net Worth And Salary
Giannis Antetokounmpo is one of the most highly-rated and rich players in the NBA at the moment. His net worth comes mainly from his contract with the Milwaukee Bucks. But, he earns some extra bucks from other sources such as brand endorsements and commercial appearances.
You May Also Like:- Eric Bledsoe Stats, Contract, Net Worth, Family
Yet to surpass the peak of his career, Giannis already has a massive net worth of around $43.2 million as of September 2019.
The main contributors to this humongous figure are his four-year, $100 million contract extension with the Milwaukee Bucks, and his contract extension with Nike, which jumped from $20,000 annual pay to $9 million.
He also has appeared in commercials for companies such as Aegean Airlines, Milko, JBL, Tissot, and more.