Sports
Khris Middleton NBA Stats, Contract, Salary, Trade
Creating a lot of buzz in the transfer market, Khris Middleton is backing his spot in the Milwaukee Bucks roster for the next five years.
Looking to re-consider his free-agent transfer, the power player signed an extended five-year contract worth $178 million and will be traded in his final year.
Bringing his A-game to the table in the past two seasons, Khris sealed his spot in the All-Star list and also raised eyebrows as he was set to be a free agent at the end of the 2019-20 season.
Scoring an average of 18.3 points and shooting with an accuracy of 37.8 percent, he was sure to get traded in the upcoming season. However, the NBA star had other plans.
NBA Stats, Age
At the age of 28, Khris Middleton is at the peak of his career. It seems as though every time he gets the basketball, it ends up in the back of the opponent's ring.
NBA Legend:- Shawn Kemp Kids, Wife, Net Worth, Now
Standing tall at a humongous height of 6 feet 8 inches (2.07m) and possessing a decent weight of 100kgs, the Bucks star is a tough customer to deal with. While he is an innocent, friendly guy outside the court, things can change pretty quickly inside the basketball court.
The same is also reflected in his career stats as well.

Khris Middleton's NBA stats as of 2019 (Photo: Espn.com)
In a total of 455 career game, he averages a whopping 45.1% field goals per game. Not only that, his conversion rate of 15.7 points per game during his career is an outstanding feat in itself.
Trade, New-Contract, Salary
Rocking the twenty-two number jersey, Milwaukee Bucks welcomed Khris Middleton yet again in the new season of the NBA.
Starting his rookie NBA career with the Detriot Pistons in 2012, the blooming youngster was soon traded to the Bucks in 2013.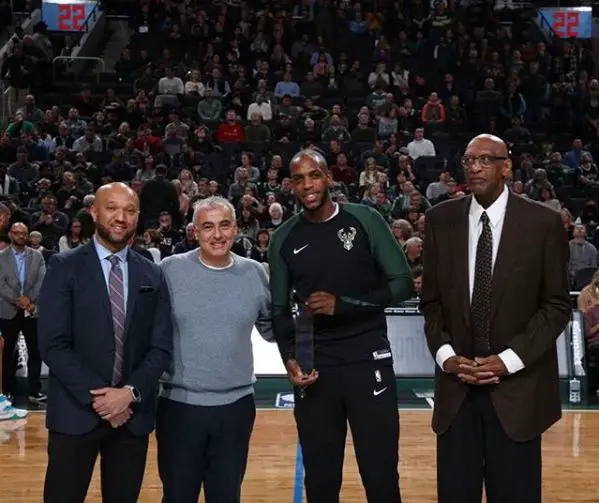 Khris Middleton receiving NBA December Community Assist Award in January 2019 (Photo: Khris Middleton's Instagram)
After warming the bench for the season, he signed a five-year contract with the Bucks worth $70 million, which will see him earn a salary of $13 million at the end of 2019-20 season.
Now, with an extension of his contract for five years, Khris's net worth is going through the roof.
High School & College
The uphill raise for Khris Middleton started from his high school days at Porter-Gaud School.
During that time, he had an average height and struggled to play. Soon, he triggered an unexpected growth and also found his rhythm in the game as well.
Explore:- Josh Hamilton Wife, Children, Net Worth
While Khris' gameplay made him a handy prospect but since he could not dunk at that time, nobody was ready to sign him.
However, the college head coach of Texas A&M University saw his gameplay's DVD and immediately offered him a scholarship in the college. Little did he know, Khris was going to become one of the greatest NBA players of his generation.