Entertainment
Gok Wan Finally Found His Partner-In-Crime Type Of Boyfriend? Shares How He Came Out As Gay With Parents
Coming out as a gay is not always easy for a person. When a person thinks of talking about his sexuality the only thing that strikes on his mind is the consequences of the confession.
Many famous personalities have been abandoned by their family and friends after they managed to come forth with their gay identity. But there are also some fortunate ones who get accepted by the closed ones and their society as they are.
How To Look Good Naked" actor Gok Wan is one of such figures who has demonstrated such courage and got rewarded with acceptance.
How did Gok Wan confess his sexuality?
With some impressive guts, Gok Wan came out as a gay to his family at the very young age in a family dinner. He revealed how he confessed him being a gay and how his father accepted his sexuality during an interview with GQ Magazine. He said-
"I was dating a guy, and I basically used him because I knew I'd have to take someone home eventually and thought I'd try it out with him.My sister and brother were there, we all sat down and it was just the most excruciating meal ever."
Gok then added-
"My family is normally Shameless meets The Royle Family. But this night it was so weird. I had left home and no longer had a bedroom, so my dad left the table early, which he never did, and went into the living room and made a bed for the two of us with an open fire.It was extraordinary, his quiet way of showing his acceptance. The reason I've never told that story is that my dad and I have never discussed it."
After Gok had admitted the truth and his father accepted his sexuality, he revealed he went to the bathroom and wept buckets.
Single or has a partner?
Wan, who has admitted that he had slept with "21 and a half" men and a woman in the past have been in some relationships. However, he is popular for dating Holby City actor David Ames.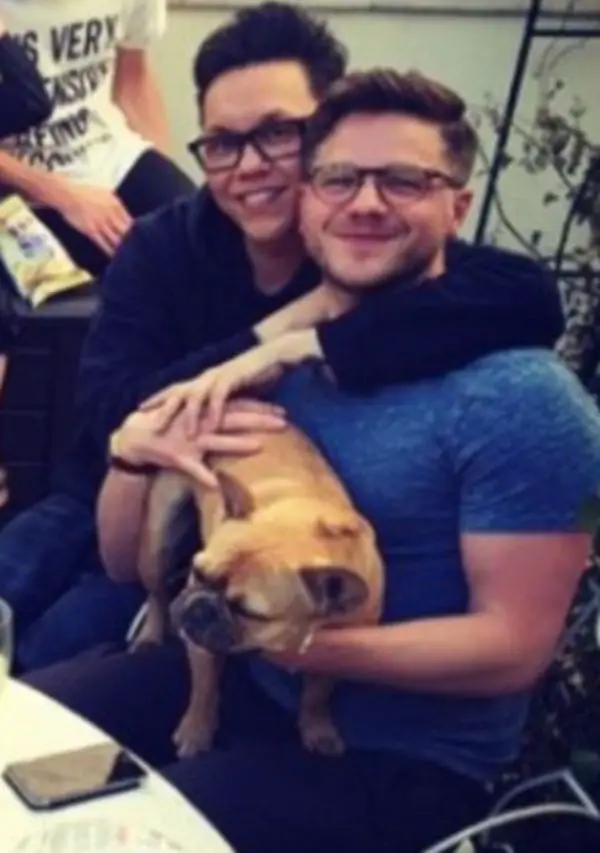 Caption: Gok Wan and his partner David at a party arranged by Diva magazine in August 2016
Photo Credit: Dailymail
It seems that he dated David after 2014, as in an interview with Mirror back in 2014; he stated himself to have no boyfriend, so bought a new car for a distraction. On June 2, 2016, Wan took his Twitter to reveal that he had a boyfriend, but did he mention David?
Meeting done. 7 interviews done. Boyfriend is on ????

— Gok Wan (@therealgokwan) June 2, 2016
Gok Wan and his partner David Ames were spotted on March 25, 2015, in London at the press night performance of 'Bad Jews.' According to Wan's good friend Daniel Hughes, Gok and David are together and are planning to settle down.
The fashion consultant revealed that he was suffering from gout after a weight gain in an interview with This Morning Today in September 2016. He revealed that he had gout when he was forced to wear a slipper due to a swollen foot.
He said-
"I've got gout. I can't believe it.As you can see here I am wearing on shoe and one slipper and before we went on air Phillip said to be me 'why don't you just wear two slippers' and it's because I've had a lot of co-codamol and I couldn't make that decision. I am in a lot of pain."
Forty-two years old Wan faced weight issues as a teen. During his teenage, he was called fat as he weighed 133 kg, 294 lb. Wan began his career in the year 1994, and since then he has received massive popularity as he has appeared in some television shows and magazines. No doubt, Wan receives an incredible salary from his profession, but his net worth is yet to be revealed. However, it is believed to be in millions.