Entertainment
Gay Conservative Guy Benson Getting Married To Boyfriend Starting What Parents Have
Fox News conservative political pundit Guy Benson passively retaliated against radical conservative philosophy when he came out in 2015. He made a crucial decision in his love life in 2018, partly inspired by the relationship of his parents.
Comes Out As Gay In 2015; His Sexual Orientation Just Footnote In His Life
Establishing himself as a person who would rather tackle affairs such as "nuclearized Iran" and "degrading Obamacare," Benson, in a 2015 Buzzfeed interview, exhibits his disinterest in knowing one's sexual orientation. He shows a similar indifferent attitude in a Fox News viral interview in 2018.
In the interview, he insists people to cease punishing 'wrong thinking' regarding sexuality while exhaling his rank of priorities as progressive given the context of a free country. He says,
"Let's debate issues and stop trying to punish 'wrong thinking'. I'm a Christian, a patriotic American and a free-market, shrink-the-government conservative who happens to be gay. That's how I choose to rank my priorities. You know what that's called? It's called progress."
Benson first came out as gay in the 2015 Buzzfeed interview just before his book release but implied he wouldn't portray himself as a typical gay rights activist - out of respect towards his conservative roots. He said:
"Gay rights is not something that dominates my attentions — or my passions — and that may seem incongruous, that may seem counterintuitive to a lot of people," "but the issues that I care about most undergird the reasons why I'm a conservative and have been forever and will be a conservative moving forward."
Benson later casually talked about his sexuality, writing "Guy here. So I'm gay...," in his 2015 book, End of Discussion: How the Left's Outrage Industry Shuts Down Debate, Manipulates Voters, and Makes America Less Free (and Fun). He co-authored the book with Mary Katharine Ham, one of his acquaintances from Fox News.
Mysterious Dating Life; Gets Engaged Out Of Nowhere
The radical right-wing political editor announced his engagement on 26 May 2018 through a picture he shared on Instagram.
He kept the identity of his boyfriend-turned-fiancee anonymous, only showing an unclear side view of his partner in the photo itself. He captioned the picture 'Quelle surprise #HeSaidYes.'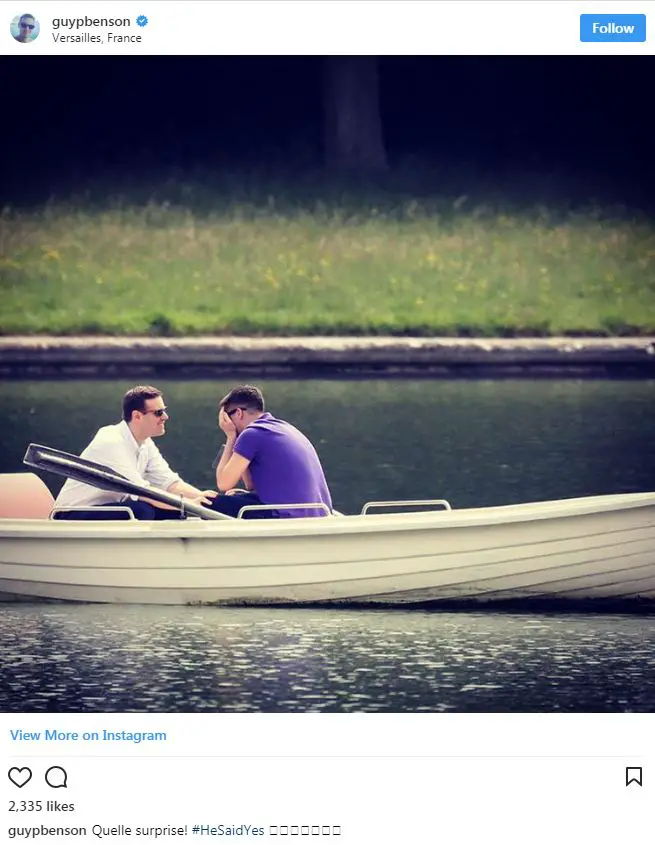 Guy Benson proposes his boyfriend Adam (Photo: Guy Benson's Instagram)
The engagement took place in an unidentified place after the pair went for a getaway via United Airlines.
Benson's Instagram is filled with his snaps with his fiancee, who goes by the Instagram handle, Adamswise. It seems like the pair has solid chemistry. They visit events together as a couple.
Supportive Conservative Parents; Guy In Their Footsteps
Benson's parents have been married for almost 38 years now. Their love life very much inspires him. His parents have been supportive of his sexual orientation despite being conservatives themselves.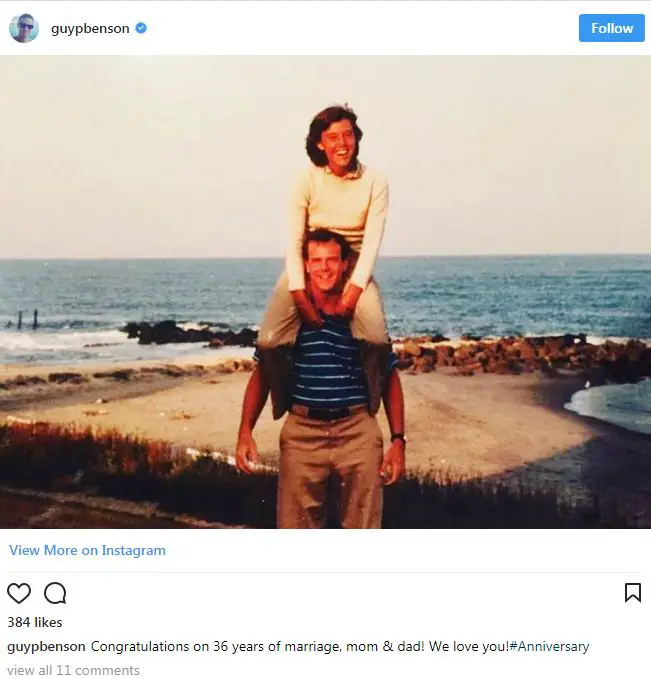 Guy Benson wishes his parents on their 36th anniversary (Photo: Guy Benson's Instagram)
Although raised as a Christian and a conservative in a household constituted of mostly conservatives, Guy has no shame in reflecting himself as a gay person. He has taken a step ahead to achieve a love life as bolstering as his parents, getting engaged to be married to lovely Adam.
Short Bio
Born and raised in Saudi Arabia, Benson lived most of his life abroad before coming to America. He is a contributor to Fox News, a political editor of Townhall.com, and a conservative radio personality. He has a brother, James, who is an actor, a writer, and a producer.