Entertainment
Gwendoline Christie Is Not Gay! Has The Adoring Boyfriend She Needs Everyday In Life
Who over is here is a fan of "Game of Thrones?" The medieval fantasy epic series has been a fan favorite since its inception back in 2011 and one of the key characters in the very series, Gwendoline Christie, who plays the warrior Brienne of Tarth is a name that everyone is aware of.
She, along with her co-stars Melaine Liburd, Will Tudor, the now deceased Neil Fingleton and others have made the show a successful one. But while she has been basking in the glory, she has often been called a gay. But she is not a gay and is rather dating her boyfriend and shares an adorable relationship with him.
Surprised? We'll help you take a look at the love affair of Christie and her boyfriend.
Game of Thrones' Gwendoline Christie Is Not A Gay And Has A Boyfriend!
People were always speculating Christie to be a gay, but she is not.
She has been dating her boyfriend, the famous designer Giles Deacon from 2012 and the two share an adorable relationship with one another. The two, who love to keep their relationship hidden behind the fog, began dating on New Year's Eve in 2012.
Giles has also designed Star Wars-themed dresses and outfits and did you know; Christie is a key character in Star Wars too?
The famous designer has dressed Angelina Jolie, Kate Moss, and his girlfriend Christie too.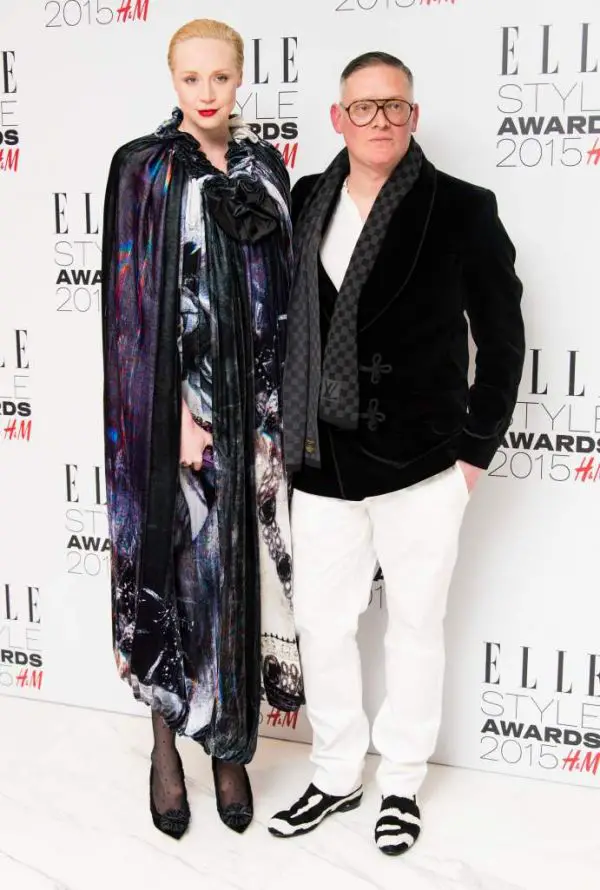 Caption: Gwendoline Christie and her boyfriend Giles Deacon attend the Elle Style Awards 2015.
Photo Credit: heavy.com
Christie has also been very open about how much she supports Giles and his work.
"He's one of my favorite designers, and he has an exquisite artistic vision with a brilliant and highly developed discipline. That kind of artist is rare, and I think it should be celebrated,"
Moreover, Giles once said that working with his partner was a great thing.
'It's a pleasure to work with your partner,'

'She's a fantastic muse. She's a character herself, and her trail of various characters is brilliant – she's pretty transformative, which is always an interesting thing from a designer's point of view.'
Good to know that the two beautiful people are in a beautiful relationship and we would like to wish them the very best for their relationship in the days to come.
More About Gwendoline Christie:
Gwendoline Christie, who celebrates her birthday on October 28, was born in 1978, in Worthing, West Sussex, England. Gwendoline Christie is an English actress and model who is best known for portraying the warrior Brienne of Tarth in "Game of Thrones" and Captain Phasma in "Star Wars: The Force Awakens" and its remake/sequel "Star Wars: The Last Jedi."
Caption: Game of Thrones (Season 7) Trailer (Published on May 24, 2017).
She plays the role of Commander Lyme in the last two Hunger Games movies: "The Hunger Games: Mockingjay - Part 1" and "The Hunger Games: Mockingjay - Part 2".
Her other successful credits include "Absolutely Fabulous: The Movie" and she also is the face of the "Vivienne Westwood A/W" 2015 campaign.
In short, this actress who is 84 kg or 185 pounds in weight and is 6ft 3 inches tall in height is a great actress who has been gracing her fans' TV sets for a long time now.
Stay with us for the emerging story on Gwendoline Christie!