Entertainment
'VICE' Isobel Yeung & The Guy She Might Get Married To; Oh! She's Not Gay
HBO's VICE correspondent, Isobel Yeung has been everywhere from the war-torn countries in Africa to the prosperous cities of Europe. 
In fact, her job gives her the chance to experience the adventures of the world. And, interestingly, she has a loving partner to whom she can return at the end of the day and share all her experiences. 
Isobel's partner has been a loving boyfriend to her. So, he might be the guy with whom she can get married and remain together for the rest of her life.
Isobel Yeung's Boyfriend Is Journalist
Isobel, who previously kept a low-key personal life, was assumed to be single and also gay due to the absence of a lover in her life.
But, the assumption got falsified in 2017 when she opened about her boyfriend and dating status. While speaking about working in war-torn Syria during an interview, Isobel mentioned that she was able to relinquish her miserable experiences while talking about it to her partner.
Take A Look At:- Alyssa Logan Bio: Age, Boyfriend, & Unknown Facts On Moussa's Fling
It was later revealed that Isobel's boyfriend was none other than award-winning British-Iranian journalist and documentary maker, Benjamin Zand.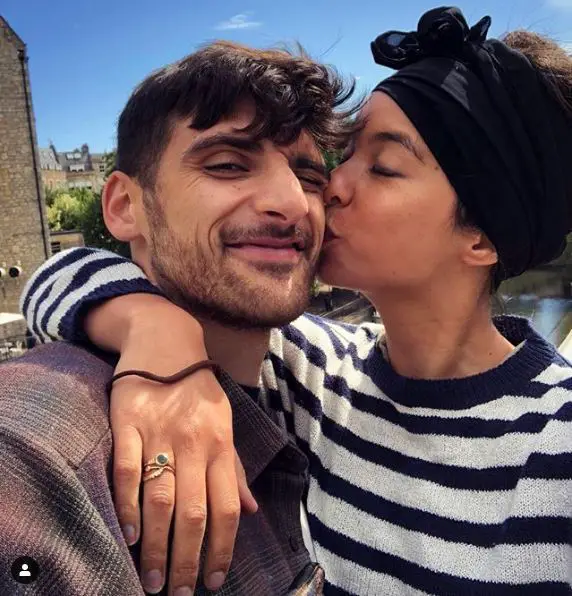 Isobel Yeung shares an intimate moment with boyfriend, Benjamin Zand in Castle Combe, England in July 2018 (Photo:- Isobel Yeung's Instagram)
Benjamin, belonging to the same field as his girlfriend, understands when Isobel has to travel for work and doesn't get to spend time with him. He supports her while taking professional decisions, and motivates her in every way possible. For instance, he congratulated Isobel when she was nominated for two Emmy awards for filmmaking.
The couple has not yet disclosed their plans on getting married; but judging their relationship, if someone's going to be called Isobel's husband, it will definitely be Benjamin.
VICE Correspondent's Age, Birthday, And Ethnicity
Isobel, age 32, proclaims her birthday to be on 2nd November. She was born in England was raised in a city named Salisbury from where she completed her primary education. Her father was a Chinese man, who initially moved to England from Hong Kong. Isobel inherits her mixed ethnicity from her Chinese dad and English mother. 
See Also:- A Look At Peter McMahon & Dana Perino Enduring Relationship | Bio
She serves as a correspondent for HBO's VICE News Tonight alongside Gianna Toboni. She has been working since 2014. She is the first foreign VICE reporter to report from the human smuggling center in Libya.
Further, she also covered several conflict regions in Syria, Sudan, Philippine, and Uganda. For her contributions to journalism, the Emmy-nominee has been awarded a Gracie and a Front Page award. Her report on the Anti-gay laws in Uganda received the worldwide audience. She is also praised for highlighting the women's rights issues in Africa, a piece of news which never made to the headlines.
Before joining VICE, she worked for various leading media publications including South China Morning Post, The Independent, The Guardian, and The Telegraph.