Entertainment
Hayley Erbert Wiki and Age: Also Get to Know Her Beautiful Yet Cozy Dating Affair With Boyfriend
Dancing is a crafty art, and competing in one of the biggest dance reality show is something, as that showcases how talented you are.
The same can be said about Hayley Erbert, who made a name for herself by competing in the 10th season of "So You Think You Can Dance," finishing sixth in the competition.
But what more does the public know about her?
Well, if you are unaware of some other key details of her life, here's a perfect treat on Hayley's dating life!
Hayley Erbert Wiki Unveils Age & Deceased Brother
Born on October 11, 1994, in Topeka, KS, Hayley Erbert is an American dancer, who is 24 in age. She grew up alongside her two siblings -- both brothers. Sadly, her big brother passed away in 2013.
24-Year-Old In Our Vault:- Tammy Hembrow 24, Two Times Pregnant & Nearly Had Husband; He Cheat?
She started dancing at the age of 3 and is a trained gymnast as well. She has also competed in pageants and one among those; she finished second in the Miss Teen USA pageant for Miss Kansas.
Hayley has been a part of the troupe of DWTS since Season 21. On May 8, Erbert joined David Ross and Lindsay Arnold for a Paso to "Gangsta's Paradise."
Fans seemed to love the gladiator-themed dance totally, but the judges didn't give David Ross the scores that he may have required to make it to the finals. The trio dance performed by Arnold, Ross, and Erbert scored a 29/40 with head judge Len Goodman proclaiming he didn't like the dance at all.
She is beautiful and very skilled personality, which lures a lot of men behind her; willing to have her in their lives in a romantic fashion.
Dating Dancer Boyfriend Since 2015
But, sorry people, she is not available, as she has already been dating her boyfriend for a good amount of time now. Hayley has been dating her dancer boyfriend, Derek Hough, since July 2015. And to date, the relation is emerging to be stronger than ever.
An example of that was seen when the two were spotted having quality time with one another on Derek's 32nd birthday. Hayley also took over to Twitter to wish her man on his birthday. Tweeting an image of him, she wrote:-
"Happy Birthday to this handsome man if mine. I love you."
Not only was Hayley the one to wish him on his birthday, but his sister Julianne also sent a touching message to him via her Instagram.
Similar Wiki:- Lydia McLaughlin Age 37 Wiki Reveals Parents & Hefty Net Worth In Detail
Moreover, a month back, the two were seen cozying up with one another lakeside.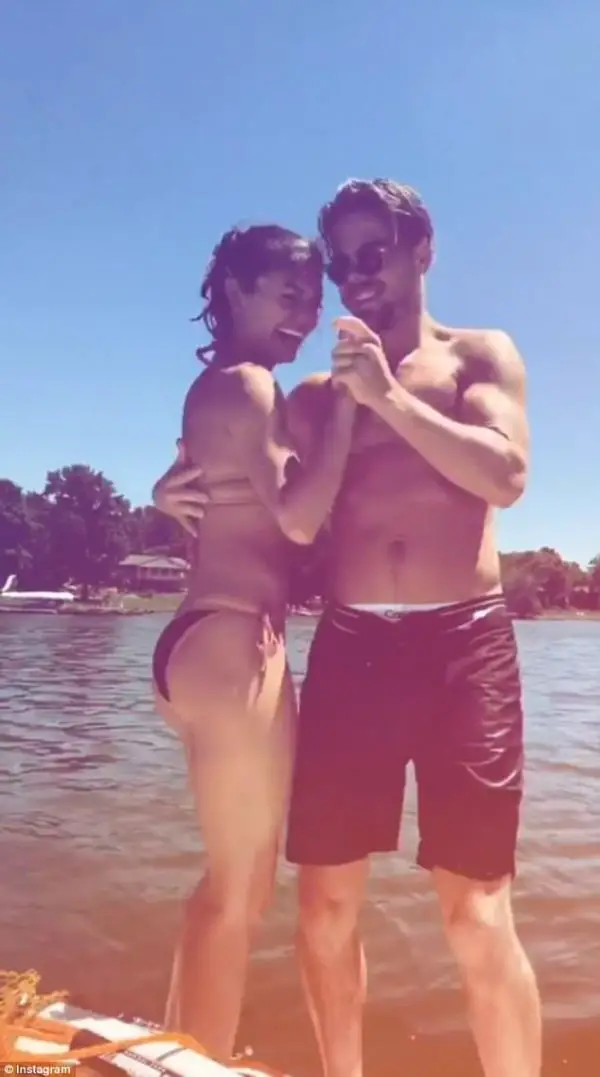 Derek and Hayley Elbert spend Memorial day together Lakeside, May 2017 (Photo Credit: dailymail.co.uk)
Now that we know that there is ample love between them, everyone often wonders; if the two have any plans to get engaged with one another.
Wedding Talks: Are Hayley & Her Boyfriend Engaged?
After three years of dating, Haley and her boyfriend Derek look all set to take their relationship to next level.
As per theknot.com, the smitten pair is engaged-to-be married. They will tie the knot on 6th August of 2019 at a California wedding.
But for the time being Hayley and Derek seem content with each other's company; so much so that they even take some time off their busy schedule to make their childhood dream come true. And that's just what happened when the former met singer Celine Dion at a concert in October of 2018.
More DWTS Content:- Bobby Bones Triumphs DWTS Title With Sharna Burgess! A Bio On Winner
Five months before "making her dream come true," Hayley alongside Derek gave their first-ever joint interview as a couple when they attended the Steve Irwin Gala in May 2018. Little less than two months after the interview, the lovebirds were seen vacationing in Hawaii.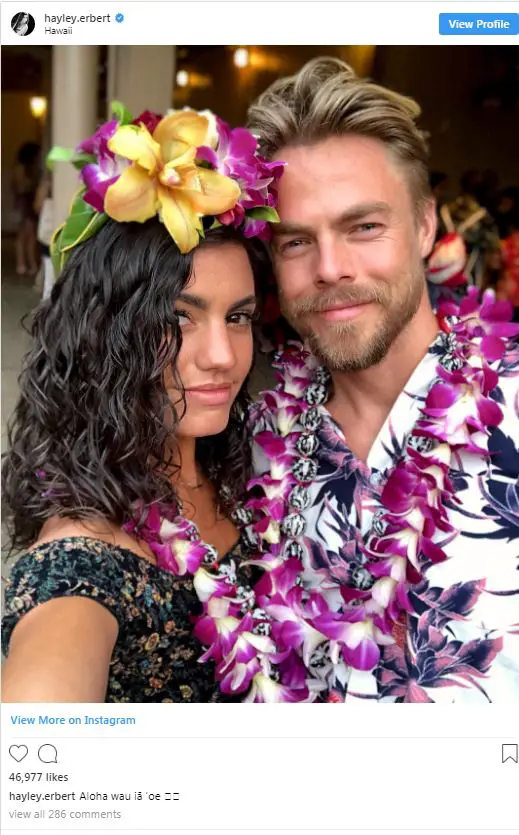 Hayley vacations with her boyfriend cum fiance in Hawaii (Photo:- Hayley Erbert's Instagram)
Earlier in 2018, Hayley had opened up about meeting her husband-to-be Derek had inspired to take up dancing again. In her lengthy Instagram post, she quipped:-
"But dance has brought me so much more than happiness, I met some of my friends that I will have for life (even more than those that are tagged, insta only let me tag 20 people) and it leads me to the most amazing man."
Ten months later, Derek fittingly responded to Hayley's post by uploading a video of him serenading the latter in their kitchen with a rendition of A Star Is Born record.