Entertainment
Pro Jockey Hayley Turner Is Married Or Casually Dating Boyfriend?
English pro jockey, Hayley Turner is known as one of the most successful female jockeys in the world. With a winning record of nearly 800 races, she is often cited as an influential figure in the sport.
While her professional life and records are easily accessible; Hayley's personal details, especially regarding her married life, has been kept out of focus. With fans curious to know about the romantic side of their favorite jockey, they may be disappointed that Hayley had no interest in getting married a few years back.
Ex-Boyfriend A Married Man; Settling Down Least Of Her Concern
Even though there have been gossips about the professional jockey sharing her life with a husband, Hayley had earlier mentioned in 2011 that she had never been married.
See Also:- Natasha Staniszewski Age 39 Married & Husband | Personal Life To Salary
While talking to Racing UK magazine, the Nottingham, United Kingdom native opened up saying that her family tried to persuade her that she was a married woman after she lost her memory for two weeks due to fall.
Disproving the rumors about her husband, Hayley said,
"They told me all this stuff which I believed, including that my husband was on his way over to see me. I've never been married!"
Moreover, although the 35-year-old jockey has no known history of a longterm boyfriend, she had a short fling with fellow jockey Jamie Spencer who was a married man during the time of the affair. The illegitimate romance between the two even triggered the divorce between Jamie and his former wife, Emma Spencer.
Soon after the affair between Hayley and her short-term boyfriend was made public, the couple too broke up. And, Hayley was even heard saying that getting married and raising children were least of her priorities.
Although never married, Hayley is known to make jokes about having lazy children if she happened to marry George Scott or securing a rich husband who could afford her expensive shopping habits.
Back in November 2012, she posted a picture along with her friend Louise who was about to get married and mentioned that she was serving as the bridesmaid.
You May Also Like:- Ashley Purdy, Married Man With Wife? Personal Life Through Key Hole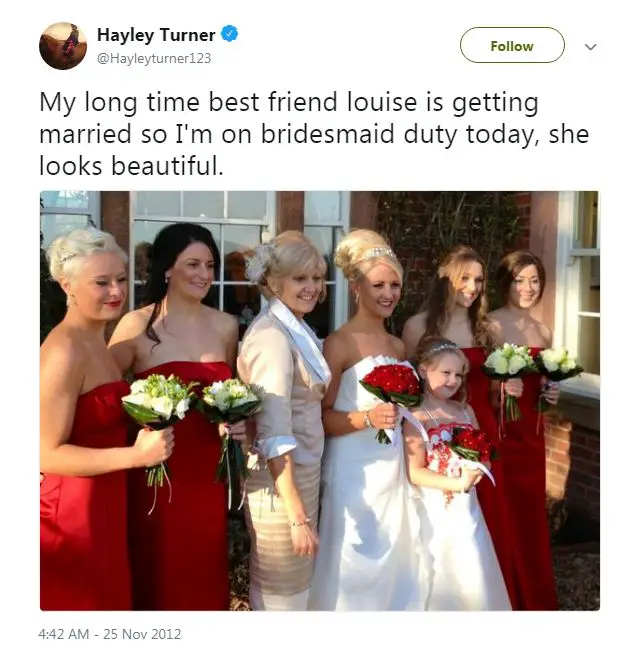 Hayley (left) along with other bridesmaids on the wedding of friend, Louise (Photo: Hayley Turner's Twitter)
In the meanwhile, Hayley once literally dreamt of getting married to British presenter/actor Bruce Forsyth. However, in real life, she is far from settling down and is entirely focussed on her professional career than getting tied up with a husband and children.
Career As A Jockey; Suspension And Return
Often considered as one of the most successful female jockeys in the world, Hayley was always supported by her family to pursue her career as a jockey. The first public race she participated was on 27 March 2000 at Southwell; however, she was unable to finish the race as her horse broke its leg and suffered a fatal injury. Hayley won her first race riding Generate at Pontefract on 4 June 2000.
Later, Hayley won the 2005 Champion Apprentice Title which she shared with Saleem Golam and even became the first woman jockey in Britain to win over a 100 races in a year.
More From LiveRamp Up:- Parker McKenna Posey Age 22 Cutest Affair & Boyfriend Amid Career Height
After nearly 800 wins and establishing herself as the most successful female jockey in Britain, Hayley retired from her career as a professional jockey in 2015 and started working as a pundit on ITV.
In 2017, Hayley was suspended for three months after it was disclosed that she had gambled on the games while she still held a jockey license. It was revealed that Hayley had opened a betting account with Paddy Power one month after her retirement, in December 2015.
But, she later reapplied for a license while still betting, which became the grounds for her suspension. Further, it was mentioned that she had made a net profit of nearly £160 from the 164 bets she had placed.
Now, the suspension period has been over, and Hayley has decided to come out of her retirement. Hope, she doesn't screw up this time jeopardizing her career for a mere £160..