Entertainment
Here Is Big Chief's Wiki-Like Bio Including Exotic Cars And Married Life With Wife
Street Outlaws' daredevil Big Chief is a successful man in his professional life, and he is loved by many for his daredevil riding skills. But the fans would like to know about this man and today we would like to discuss some of his cars which are his prize possessions and also shed some light on his marital life.
Chief's Life: His cars:
For street racers, cars are something that they consider as their life. The same can be said about Big Chief as he is always addicted to his cars and that is understandable given the fact that it is his street racing that made him super famous. His fantasy car, a modified 1972 Pontiac LeMans, was nicknamed "The Crow" by him and also back in 2015, the daredevil rider unleashed a new beast which is entirely a monster.
Here is a video that shall help you get to know more about the new car he unveiled back then.
Caption: Big Chief Unveils His New Car Crow 2.0 at PRI 2015. (Published on Dec 10, 2015)
The new car was Crowmod, and the car was unveiled to replace "The Crow." In the very event, Daddy Dave also revealed Goliath 2.0. Dave had also shared a time-lapse video of the build progress of his Goliath 2.0.
Caption: Goliath 2.0 Build Progress.
Published on Dec 8, 2015.
Chief's "The Crow" was decimated in a car crash in a race involving Brian 'Chucky' Davis.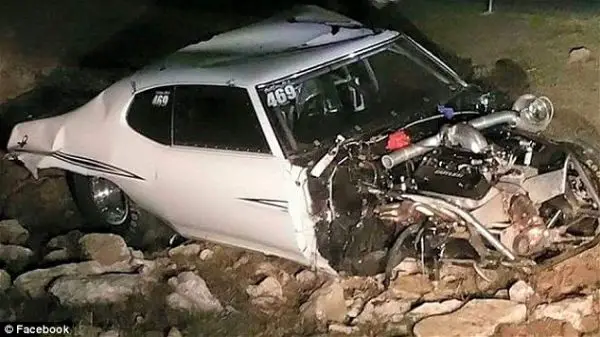 Caption: The decimated "Crow."
Photo Credit: The Daily Mail
The crash led to Chief suffering pulmonary contusions, breaking his collarbone, and injuring his spinal cord. But all's well that ends well and thus, he survived the crash.
Chief elaborated his injury as,
'THANK YOU EVERYONE…. I'm pretty beat up right now. Just woke me up for some breathing treatments. Pulmonary contusions (bruised lungs). Crushed my L2 and L3 in my back, broken collarbone, and pretty beat up, but so thankful to be alive right now.
He also added,
'They got me on nonstop oxygen and another round of cat scans, and X-rays coming up. The surgeon doesn't believe I will need back operation anymore, but they are going to keep me in the hospital again tonight to keep an eye on the lungs, YES I WILL BE BACK!,'
The crash was horrific but did not stop him from doing what he does best and riding like there is no tomorrow!
A Short Wiki-Like Bio of Big Chief Including His Married Life:
Apart from having immense love for his cars, Justin Shearer a.k.a Big Chief also has a wife in his life who he has been happily married to for a long time. He is married to his long run girlfriend now wife Allicia Shearer since September 29, 2006, and the two have two adorable kids as well.
He recounts the day he first met Allicia in such words,
I met my wife Allicia when she came into the full service gas station I worked at when I was 18 years old. I instantly got nervous and I knew that I would have trouble with this girl... and I was right. I've been in trouble since that day!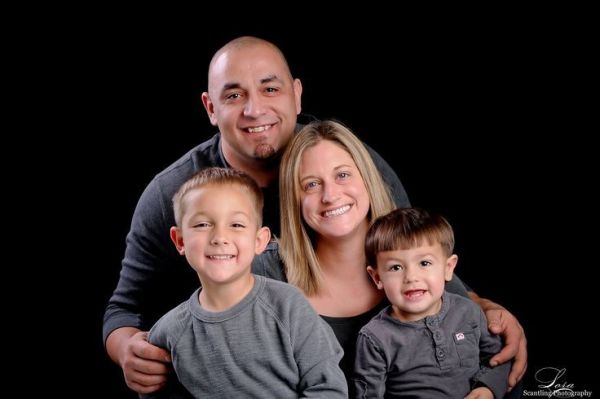 Caption: An adorable Family picture of Big Chief.
Photo Credit: Scantling Photography.
The world knows him by his professional name, Big Chief. He is best known for his racing career on the show "Street Outlaws" where he has been since 2013.
Born on December 9, 1980, in Louisville, KY, he has been someone who has been very dedicated and determined. The blood and sweat he has put through in his career have resulted in getting paid in a healthy amount of salary, and as a result, he has a net worth of $800 thousand.
Rumored to be in an Affair with the mysterious lady?
In recent days, rumors have hit the media that Big Chief is having an affair with a mysterious woman. Well, we might just have justification to the rumors currently surrounding Big Chief.
Big Chief has been rumored to have an affair with a lady named Jacklyn Braasch.
If you take a peek at the above post, you can clearly spot the identifier tattoo of Big Chief which proves that he was with Jacklyn at that instant. More interestingly, when one of the followers of Jacklyn commented " so happy for you, miss you and the puppies ????," she replied with emoji of love. She also posted a cryptic image on her Instagram post, which syncs to the current speculation.
Both have not publicly accepted or declined the rumor but there are speculations that she might be Big Chief's new girlfriend.
Stay with us for latest updates on Big Chief!
Published On: 5th May 2017 2:12 pm, Last Updated On: 9th May 2017 11:14 pm