Entertainment
Is J Boog, 32, Married? He Did Have Girlfriend And Family With Her
J Boog is someone who has recovered from his allegation of horrible domestic violence. Has he learned to keep his private life out of the limelight?
So let's dive into his personal life to know if he is married or not with his longtime girlfriend.
A Look at J Boog's Marital Status:
J along with his longtime girlfriend Jondelle Michelle Lee had a blissful dating affair. The couple together had three children, one daughter, and two sons; Anaia Jolie Houston, Jarell Damonte Houston Jr. and Tru Crater Houston. According to sources, J got engaged to his girlfriend Lee turning her into his fiance.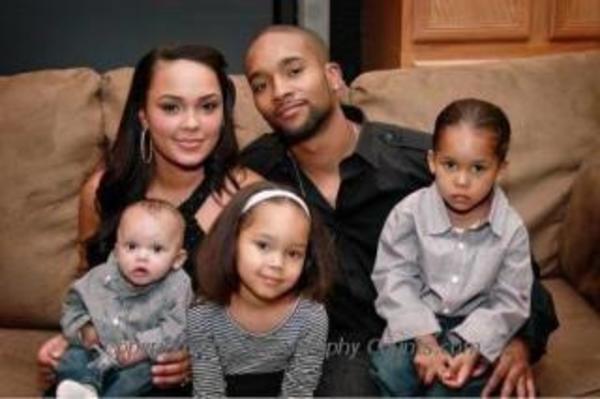 J Boog and Lee with their children (Photo: myspace.com)
However, despite having a family together, the former B2K singer J-Boog was arrested for domestic violence in Los Angeles on January 4, 2010. Cops cuffed him at his home for 'corporal punishment on a spouse,' and outstanding warrants on a supposed bad driving record. Despite the charges, it was hard to believe that the silent J would enrage his fiance like that.
Moreover, J eventually got released from the jail and wanted to clear his name. Boog then declared the statement, stating that he wanted to reach out to his fans right away to clear up the allegation circulating on the web. He expressed,
"I wanted to reach out to my fans right away to clear up the allegations circulating the web I did not get charged with any form of domestic violence against the mother of my children. I love and respect all of the women in my life and would never harm any of them. Domestic violence is a very serious matter and one that should be treated that way, however this was not a case of domestic abuse. I was taken into custody due to outstanding traffic violations. I took care of the situation, no charges were filed, and I was released Tuesday evening. Thank you to my fans who stood by me regardless of any circulating rumors. I am looking forward to a great year in 2010 for Fizz & Boog and hope that you will continue to support. Thank you."
As per Boog's statement, he was taken into custody just because of the outstanding traffic violence. He took care of the situation very well, and no charges were filed against him.
Moreover, after his release, no information about the engaged couples taking their relationship further getting married circulated. Therefore, as for now, his married life is mysterious along with his relationship with Lee. However, his veiled married life ignited the assumption among his followers about him belonging to the gay community, but since his dating affair with Lee and parenting their children is a known fact, concluding on his sexuality is fatuous unless Boog himself come out as gay.
J Boog's Life In Nutshell
J Boog is an American R&B singer, rapper, and actor born on August 11, 1985, in Compton, California, the USA.
J's first influence was his sister, who sang and played the piano. When J's sister got a book of Bob Marley's classic songs, J began singing along, and when he was at the age of nine. J along with his sister performed a cover of "One Moment in Time"- by Whitney Houston at a family reunion. Raised on an eclectic musical diet of classic reggae, West Coast hip-hop, vintage R&B, and a dash of hard rock, J eventually gravitated to the laid-back attitude, and he began writing and recording his own tunes during the downtime from his job at an oil refinery.
In 2005, J traveled to Hawaii, where he met one of his favorite singers, George Beikoso; J gave him a copy of one of his mixtapes, and George thought J showed promise. George helped produce J's 2007 debut album, Hear Me Roar, which cracked the Top Ten of the American reggae charts. After that J absorbed reggae's history during a visit to Jamaica. J then released a self-titled EP in June 2011, with his second full-length album, Backyard Boogie, appearing three months later. Featuring the singles "Let Me Know," "Let's Do It Again," and "Sunshine Girl," Backyard Boogie was a major success for J, rising to the top of the 'U.S. reggae album charts' in 2011, and claiming the top spot again in 2012 and 2013.
After making guest appearances on releases by Gappy Ranks, Morgan Heritage, and Raging Fyah, Boog released the Rose Petals EP in March 2016. The release was a warm-up for J's third full-length album, Wash HOuse TIng, which was released in November 2016.
J's actual net worth is still under review but with his striving career, J probably must be earning in millions.