Entertainment
Jameela Jamil Still Shines Bright Even After Dealing A Series Of Problems Like Break-Up With Boyfriend And Cancer Battle
Some people are not just successful in their field but are an inspiration to many individuals as well. Even after many failures and series of problems, they still manage to mark their position in the field.
Same goes for the Thirty-year-old TV Presenter Jameela Jamil, who managed to shine brightly in her career, despite a series of problems in her life, including a break-up with her boyfriend and a vicious battle with cancer.
Break up with her long-time boyfriend
In the year 2013, Jameela was spotted enjoying a romantic afternoon with a mystery man in the park in Primrose Hill. The seriousness of the relationship was evident as the pair couldn't take their eyes and lips off of each other.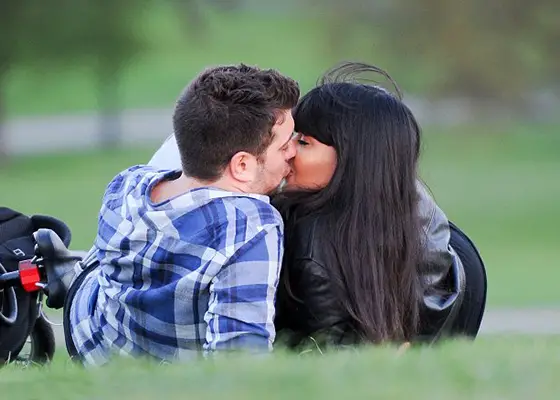 Jameela Jamil and her alleged boyfriend kissing in Primrose Hill (Photo: Dailymail.com)
But during an interview with The Sun Newspaper in 2015, Jameela revealed how she separated with her boyfriend whom she described as her "true love."
She provided no more information about her love but stated that she separated in good terms and her separation was amicable. Regarding the break-up and plans of another relationship, she said-
"We parted with all the love in the world. I'm going travelling all over the place, so I don't have time for a boyfriend. It's sort of like Eat, Pray, Love but more like Eat, Eat, Love. I want to go while I've no responsibilities."
Was she mentioning the mystery man from the Primrose Hill as her "true love" or was there someone else whom she was dating? It remains a mystery.
Moreover, Jameela revealed about falling in love with a married man, while discussing her friend who also happened to go through the same. In her Cosmo column, she wrote-
"I've almost been there myself, A few years ago I fell in love with a man before realising he was married. First he told me they were separates. Then he told me that they weren't separated - but that they hated each other and slept in different beds. He said she was sleeping with her ex and was only using him for his money. My heart went out to this poor man. He was being bled dry by his evil wife who had clearly tricked him into marriage."
However, Jameela refused to sleep with him when he was still someone else's husband. According to her, he is happily married to his wife along with their children.
Don't Miss: Jacqueline Mazarella Bio: Husband & 20 Years Of Married Plummets?
But after her mild heartbreak from her ex-lover, it is just recently that the TV presenter is seen to have found love in the musician James Blake. It was in May 2016, that the singer had spilled the bean to their tie to The Guardian saying that he was dating a British comedy writer and actor.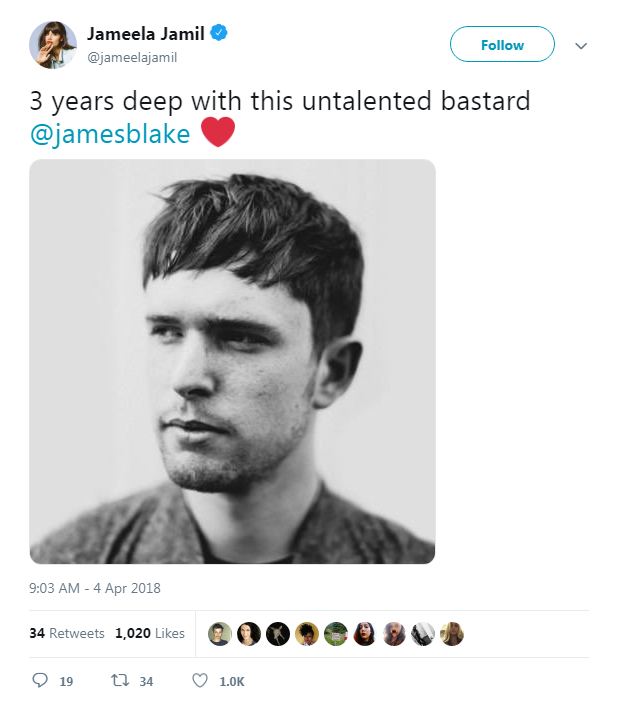 Jameela tweets about her 3-year relationship with her boyfriend (Photo: Jameela Jamil's Twitter)
He explained her as:
"She was instrumental in helping me grow, very often, you only make changes when you feel like there's something to save. That's an incentive to look in the mirror."
Keeping their entire love life under the wraps, it was only when their social media post that confirmed that James was indeed dating Jameela.
Jameela has been dating the Grammy Award Nominee for more than three years now, and their relationship has been going stronger than ever before. James had been a huge support in her life, and the surprising thing is that she has helped him equally during his dark days.
The pair live together in LA and share a happy time together!
Impeded Health From A Deadly Accident To Cancer: Jameela Still Remains Undefeated!
Jameela already had a reminder about life's unpredictability when she discovered that she had a lump on her breast. Born partially deaf, she was now battling cancer along with the damage in the spine because of a car accident.
Similar Story: Eddie Olczyk Survival, Wife & Family Pulled Him Through Cancer, How?
Recalling the fear of cancer, she said-
"Three women in my family, close relatives, have had breast cancer, and two have died from it, and still I never thought it could happen to me. I didn't even regularly check my breasts."
After battling her health issues for two years, Jameela is now in excellent health, but her hearing is affected while traveling through airplanes. Moreover, she has severe shellfish and peanut allergy.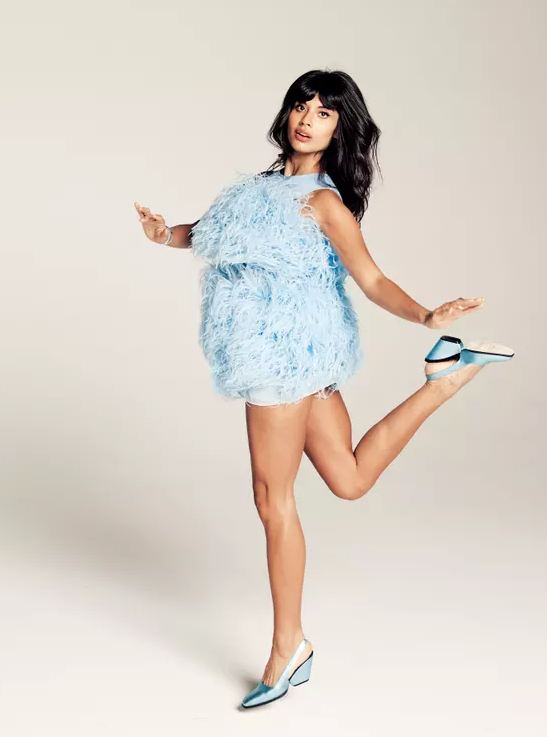 Jameela has one unbreakable spirit for a lady who has been tossed with a series of health impediments. (Photo: The Guardian)
She said that went she was undergoing the surgery after the accident, she was under so many steroids, that it affected her health severely. She wrote a 2013 column for Company Magazine saying:
"I was on steroids to help my recovery, and I gained five-and-a-half stone [77 lbs.], The steroids made me so hungry that I was eating a loaf of bread with every meal. The weight gain completely changed the way I felt about my body, and I became very negative – I started trying to cover myself up all the time to draw as little attention to myself as possible."
But after getting a physiotherapy, she slowly started coming back to the track and started losing weight. Jamil said helped her recover and she started losing weight.
With so much impeded health issue the 28-year-old actress, doesn't hold herself back from experiencing more from life. After that severe episode of cancer, she moved ahead with her thirst of acting and started screening works in the industry.
Read Also: Comedian Tracy Morgan Fatal Truck Accident Survivor Cherishing Wife & Family
To a person who hadn't acted once before in her entire life, Jameela held the beginner's luck as she got her role for the series The Good Place. Ever since her one audition down the road, she has embraced her talent to the whole world and won the spotlight for the same.