Entertainment
James Fitzgerald, Retired FBI Agent's Static Married Life! Wife & Family Status Now
American criminal profiler, James Fitzgerald, who is best known for his role in the UNABOM investigation, is a retired FBI agent. During his career as an FBI agent, James has found remarkable success as he was responsible for the arrest and conviction of Ted Kaczynski, the person behind the mail bombings.
Ted had led the FBI on the infamous, and most expensive, 18-year manhunt, but the case was cracked by the lesser known FBI agent James. While James was determined to catch the guy, he lost track with his wife and family.
In the process of convicting the criminal, he was led to estrangement from his wife with ended in a divorce. However, James found love again and as of now he is engaged.
Married Life Comes To End; Kids As First Priority
James Fitzgerald, who is also a forensic linguist, used to be married. He shared the marital bond with his loving wife for decades but his work schedules led to the end of their marriage.
James was married to Ellie. James and his wife, Ellie tied the nuptial knot sometime around in 1976. The couple were going strong in their relationship and even had a family together. They were blessed with two sons Sean and Dan.
The couple was going strong with their relationship until he was selected to attend the National Academy Session and staying away from home for three months became difficult.
Don't Miss: Candice DeLong, 67, Married And Separated! Personal Life Status Now
But as he was living in Philadelphia, he could make it home on most weekends. Later in 1987, James became an FBI agent and served for next twenty years as a special agent. Sometime later, he was blessed with his third son Ryan.
With James's involvement with FBI and biggest criminal cases, he drifted from his family. When Ted's case arrived at his desk and he started working in it, he grew more distant from his wife which eventually ended his marital relationship.
He was determined to catch the guy which drove him far from his wife but despite it, his children were his first priority. James, who prefers to keep most part of his personal life away from the social media, revealed the happiness of addition of grandchildren into the family.
You May Also Like: Is Rick Cosnett Married? A Little More About This Gay FBI Agent From Quantico
He posted a picture holding his two days old granddaughter, Bryan Aoife Fitzgerald, back in August 2017. Well, he sure seems to be blessed with a family despite parting ways with his wife.
Personal Life Now
Despite the end of his relationship with his wife, James did not give up on love. He gave it another chance and found it in his now-fiance Natalie. After the end of his marriage with Ellie, James found love with Natalie.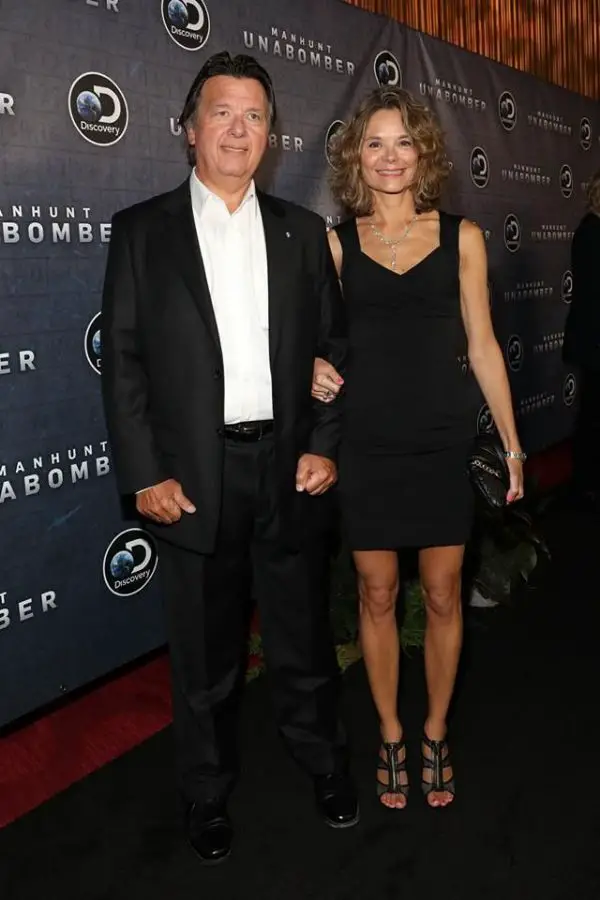 James Fitzgerald with fiance Natalie at a red carpet. (Photo: James Fitzgerald's Facebook)
But Natalie was not in the picture until he had arrested Ted Kaczynski. However, in the series based on the life of James, Natalie portrays as the linguist professor who helps Jams find the key to Kaczynski's writing.
However, nothing similar happened in his actual life. Instead, he fell for Natalie after solving the most notable case in his career.
Role On Manhunt: Unabomber; Hosts "Book Signing And Discussion" Event
The experienced FBI agent, James Fitzgerald, stars in the Manhunt: Unabomber, which is a miniseries that tells the story of the FBI's hunt for the Unabomber in the 1990s. During the hunt, the FBI agent faces an uphill battle tracking while tracking the infamous criminal. While doing so he also faces a fight against the bureaucracy of Unabom Task Force.
More From Liverampup: Is Coy Stewart Gay At Age 20? Personal Details Reflect 'Agents of S.H.I.E.L.D' Actor's Status
Well, apart from it, James is also been involved in organizing various events such as book signing and discussion which was held on 8th August at the Avalon Free Public Library, in New Jersey.
There was no charge for attending the event and according to the facebook event planner, the event was aimed for the discussion of his book.