Entertainment
Jamie Foxx Reveals Dating Affair With Actress Girlfriend Slowly; Has Any Plans On Getting Married To Her?
Some celebs might want their private life to flaunt publically, wanting their fans to be updated about what's happening, while the others love having space in their private life keeping it all under the Radar. It's an individual's choice and preference, and we should cope with it despite the fact that knowing everything about our favorite Celebrity is what the fans desire the most.
Similar was in the case of Eric Marlon Bishop Famously known by his stage name Jamie Foxx, a talented man well renowned as an actor, Comedian, Singer and many other traits that he carries under his sleeves. After keeping his relationship details close to his chest for years has now finally spoken about it. Let us find out what is beeing cooked and what are his plans for the marriage.
Who is Jamie's Girlfriend?
Jamie seems to be funny most of the time and has a very easy going nature, being a comedian and an actor he is fun to be involved in a conversation. Jamie was recently seen on 'The Tonight Show' presenting his comic and impersonating skills during a Segment in the interview:
Caption: Jamie was playing the Musical genre challenge with Jimmy Fallon.
Girls usually tend to fall for such a light-hearted guy, and it is no surprise that he is very famous amongst the Girls. Back in 2013, Jamie was rumored to be dating Katie Holmes, Tom Cruise's ex-wife when they were found dancing together, but the duo didn't enlighten the facts about their relation.
However, Katie now seems to have gone 'head over heels' for Jamie and is finally ready to spill the beans about their romance. A source told UsWeekly that Katie was worried about the attention before and now she is done hiding about their relation.
Foxx's close friend Claudia Jordan also confirmed the relationship and also said:
"He is very happy with her. I like that he seems very happy."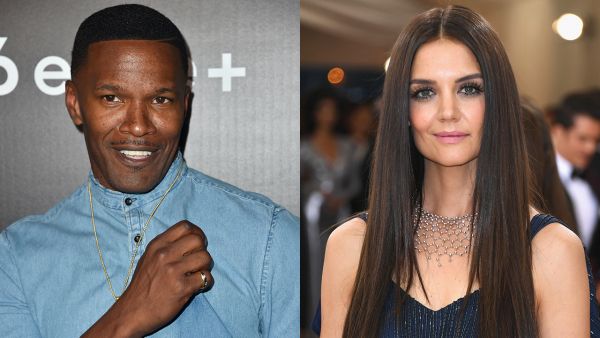 Caption: Jamie Foxx and his rumored Girlfriend; Katie Holmes!
Photo Credit: Etonline.com
However, the duo is yet to provide an official statement about their relationship status, but it seems like Katie is his girlfriend.
Jamie's daughters and his take on marriage:
Jamie has been linked up with many girls in the past. However, Jamie has two beautiful Daughters namely; Annalise, 7, and Corrine, 22, from two different women. Corrine is a Model by profession and Jamie is proud of her, here's an Insta Post made by Jamie himself:
Jamie always kept the identity of his daughter's mother a secret, but he was spotted spending some Family time with Annalise and her mother back in 2014: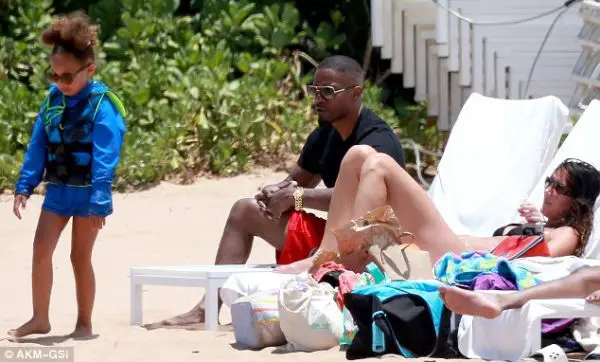 Caption: Jamie with his daughter Annalise and her Mother relaxing at the beach.
Photo credit: dailymail.co.uk
Jamies Elder, Daughter Corinne's mother, was also pictured for the first time in 2016 with her another child: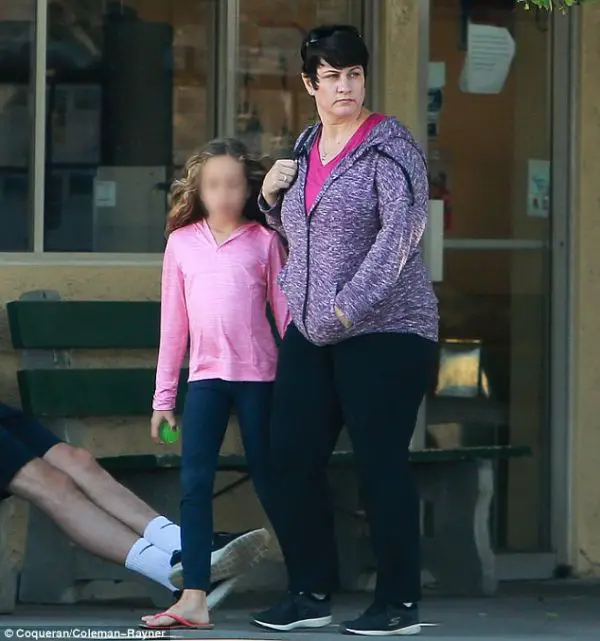 Caption: Corinne's mother, Connie Kline with her another daughter.
Photo Credit: dailymail.co.uk
Father of two beautiful daughters is yet to get married. Speaking about marriage in 2012 with Oprah Winfrey on her show Oprah's next chapter he said:
"I don't know if I'm built for marriage,I know one thing, I'm a very loving person. When it comes to connecting with somebody then being like there...I know I could be long-term in our connection."
Now that he seems ready to reveal his love relation with Katie Holmes, maybe the couple will get married to each other somewhere down the line, as they look perfect together.