Entertainment
Janina Gavankar Once Knitted Dating Affair With Music Mogul But How Did That Go? A Lesbian Or Is It Just A False Claim?
Janina Gavankar is a name, not many are far from knowing. She is beautiful, bold and talented and she has been able to do good with her professional career. Also, her fanbase is strong, and she is loved by many.
But how many of you know her "relationship" with a well-known music personality? Also, people question her sexuality and accuse her of being a lesbian. What is the truth?
So let us have a sneak peek at her personal life.
What was the nature of Janina and Simon Cowell's connection?
Janina is smart, she is beautiful, and she also resides in the hearts of many. But those who keep her in their hearts and mind also ponder about her love life. Has she been in a dating relationship with anyone? Well, she was believed to have had some sort of encounter with music mogul Simon Cowell.
The speculations first fueled when Simon and Janina swapped flirty tweets with each other, and that grabbed the media attention towards the rumors.
Following this exchange of tweets, they were also spotted leaving LA's trendy Cecconi restaurant in 2012 which added more to the rumors of them dating each other.
Janina, who people often term similar to Simon's ex-fiancée Mezhgan Hussainy (who Simon dumped without getting married), looked at ease while Simon was a bit unamused to be captured by the media as he had just learned that Cheryl Cole was suing Fox for £1.4 million following being axed from the X Factor USA.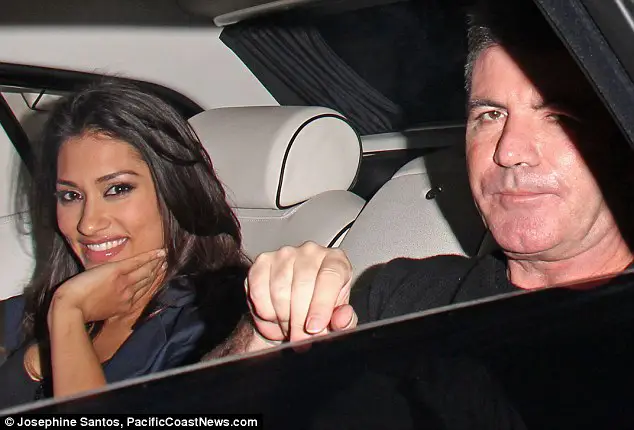 Caption: Janina and Simon have seen leaving LA's trendy Cecconi restaurant, 2012.
Photo Credit: dailymail.co.uk
But that might just be it for the two as Simon and Janina were not reported to have taken things forth with their connection.
Also, speaking of Janina and her past relationship, she was in a relationship with Deviant Art CEO, Angelo Sotira, who she was in a relationship from 2004-2010.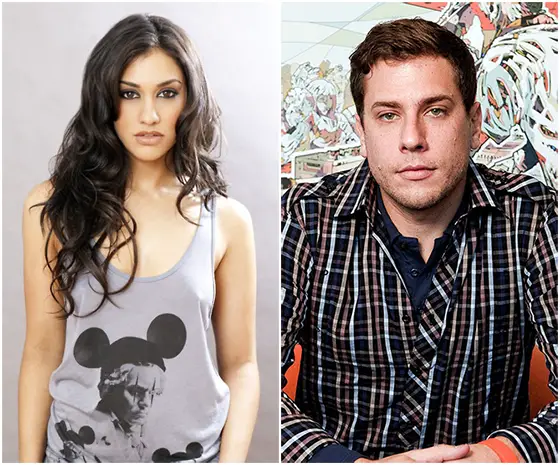 Caption: Janina Gavankar had her first relationship with Deviant Art CEO, Angelo Sotira.
The reason for their split cited as her work on Kanye West's music video which is yet to be confirmed, but since then, she has kept her personal life to herself which is fair enough as she is entitled to keep her private things low key.
Also, more speculations of her having a boyfriend often surround her which she has addressed in her Instagram post as well where you can see her a bit shocked to know that she has a boyfriend as she has to know it via some other sources.
But it is not yet verified, and so, we will have to wait and see if she comes forth with any sort of information on her current love status. Also, for those wondering whether or not she has a husband and is married, the answer might be a "NO" as no such revelations have been made thus far.
Is Janina a lesbian? The truth behind her sexuality:
Having been a part of several lesbian roles, Janina has captured people's attention a lot, and people often wonder if she is indeed a real-life lesbian.
She famously played "Papi" a lesbian in "The L Word." She has portrayed the role with such a beautiful art that people were bound to question her sexuality.
But she, herself revealed her sexual orientation when she said that she is pretty straight in an interview, in June of 2010, where she said;
"I'm straight," "I. Love. Men. I love men."
Caption: Janina plays "Papi" in the series "The L Word." Published on Apr 14, 2016.
Born on November 29, 1980, in the state of Joliet, Illinois, USA, as Janina Zione Gavankar, Janina Gavankar is an American actress who has been able to make a firm hold in the industry with her hard work and dedication. She is talented and is skillful enough to earn success and respect of people in an ample amount.
Famously, she has been a part of hit projects like "True Blood" (2008), "The League" (2009) and "Far Cry 4" (2014) and with all that, she has been able to accumulate an estimated net worth of $500 Thousand.