Entertainment
Jay Harrington Is Handling Married Life With Wife Like A Pro Amid Escalating Career! Relationship Goals?
"Better Off Ted" actor Jay Harrington needs no second introduction to the people who watch this ABC sitcom. Not only in the sitcom, but he is also an equally successful person in his married life with his wife who he madly loves.
The two have been raising the bar for other couples in terms of romance, and that is why we, as well as the fans, term them as "relationship goals."
However, if you are not that aware of their love and their beautiful marriage, we might as well help you know as to why we call these two "relationship goals."
Blissful Married Life of Jay Harrington & His Wife!
Jay Harrington married his TV host, wife, Monica Richards back in August 2016 in Wequassett Resort and Golf Club. The relationship between them has been heart-meltingly adorable since the very beginning; when they were dating, sharing a girlfriend-boyfriend relationship since they met back in 2010.
See Also: Mookie Betts & Girlfriend Plan Baby Before Wedding, Young Age Love Strong
The couple has been documenting their romance on their social media showing total appreciation for each other. Their respective posts that they shared on the happy occasion of their marriage over on Instagram shows how happy they were to become a married couple officially.
Not only that, the two flaunting their love for one another over on social media shows the depth of their relationship. Adding to it, they even make an effort to appreciate on other through the posts while making their special days as well.
Back in November 2016, Monica posted a picture in which her husband held her in his arms while they both shared a constant eye contact. The black and white picture came along with a birthday wish for Jay.
Don't Miss: Calum Hood Totally Open To Dating! Ideal Girlfriend Is Way Cool; You Should Meet Her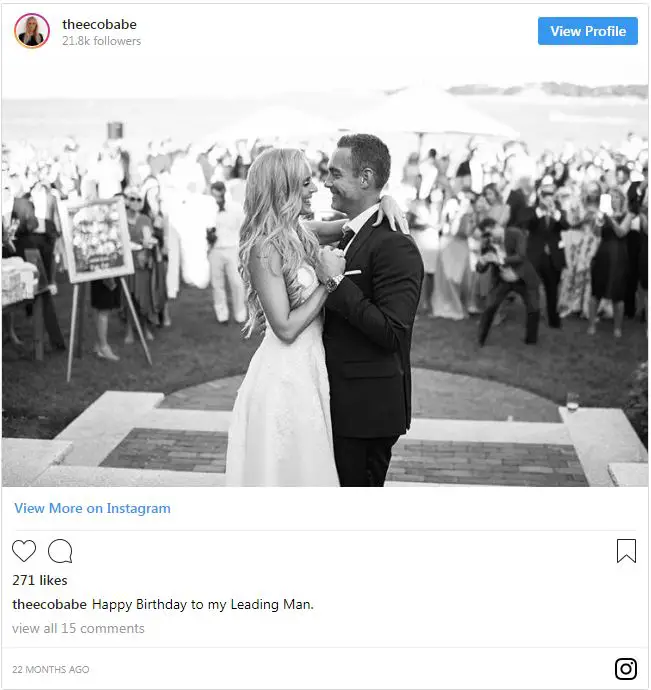 Jay Harrington with his wife Monica Richards. (Photo: Monica Richards's Instagram)
Similarly, Jay shared a vibrant looking picture of his wife on the occasion of their 7th anniversary together back in May 2017. The post not only showed the strength that they have developed over the years in their relationship but also a realization of having Monica in his life.
Married Life Shuts Downs Gay Rumors
Moreover, what the blissful married relationship between these two further does is, it shuts all the gay rumors that often surround Jay since he appeared alongside gay character in the movie Partners.
Jay Harrington, who stands over 6ft in height, is someone who has been very successful in his career with his scintillating works in projects like American Reunion, Better Off Ted and Octopus.
You May Also ike: Is Drew Fuller Married? What is His Personal Life Status?
The success of all his projects has helped his finances the world of good. However, Jay is yet to disclose any official statement regarding the actual figure of his net worth. But his 2017 project, 'S.W.A.T.' has surely added more to it as it is set to appear for the second season.
Stay with us for the budding updates on Jay Harrington!